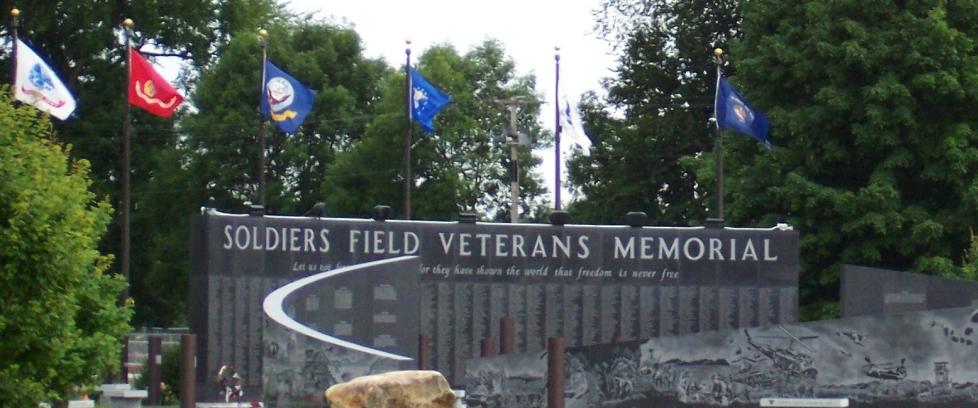 Soldiers Field Veterans Memorial
Looking for things to do this Memorial Day weekend in Rochester, MN? It will be a vibrant three days in the city, with the centerpiece event being a Memorial Day procession and program to honor our veterans. In addition, there's the Med City Marathon, the first waterski show of the season, and many opportunities for outdoor recreation and indoor fun, including live music and entertainment. Rochester, MN has plenty of options to keep you busy this weekend! 
Consider these activities occurring from May 26-28, and check out our Events Calendar for additional ideas.
Saturday, May 26, 2018
7:30 am - noon  Rochester Farmers Market near the Government Center. This growers-only Farmers Market is the perfect place for visitors to experience the true flavors of southeastern Minnesota. The freshest produce and meats, tantalizing baked goods, honey straight from the hive, and more. 
10:00 am Terra Loco Run and Fitness Expo at Mayo Civic Center. Check out dozens of health and fitness vendors handing out free samples, product demonstrations, and shopping opportunities.
12:30 pm Kids Marathon | Med City Marathon at Mayo Civic Center. The Kids Marathon is on a 1.2 mile course on all trails to keep kids safe from vehicle traffic. Free for preregistered runners, courtesy of Prairie Care. 
2:00 pm Wine Walk Through the Vineyard at Salem Glen Winery. You're invited to "walk, run, skip, stroll, or crawl" along Salem Glen's .5k path through the vineyard, equipped with pop-up tasting booths along the way. 
7:00 pm Tim Dallman Live at Canadian Honker. Tim Dallman is a guitarist and vocalist who writes and performs his own material, as well as an extensive collection of classic and contemporary rock, pop, country and folk cover songs.
7:30 pm & 10 pm Aaron Kleiber & Ali Sultan Live at Goonie's Comedy Club. Enjoy these stand-up comedians deliver energized, crowd-pleasing live performances, 
9:00 pm Fire at the Falls Live at Kathy's Pub. Alternative and punk music. 
Sunday, May 27, 2018
7:00 am Scheels Med City Marathon, 20 Mile, Half, Relay Marathon Full marathon starts in Byron and ends at Mayo Civic Center.
1:30 pm Cave Tour and Historic Hike at Quarry Hill Nature Center. Tour Quarry Hill Park's sandstone storage cave, carved in 1882, followed by an optional hike to the park's historic quarry.
6:30 pm Jazz Jam at Forager Brewery. Bring your horn or voice and join in the jazzy fun. Sign up to play a few tunes with The D'Sievers: Kurt Savela (drums), Denny McGuire (bass), Eric Straubmuller (keys), and John Sievers (trombone). 
Monday, May 28, 2018
9:15 am - noon The Rochester Memorial Day Program will start with music from the Plummer Carillon at 9:15 a.m. At 9:45 a.m., there will be a procession from the American Legion/Central Park to Soldiers Field Veterans Memorial.  After the procession, the Memorial Day Program at Soldiers Field Veterans Memorial will start at 10:30 a.m.   After the program, the local veterans' organizations will be honoring the dead whose remains are buried at sea at the Center Street Bridge at noon. 
1:00 pm Skidox Waterski Show near Fisherman's Inn on Lake Zumbro. The SkiDox Water Ski Team, formerly known as the Rochester Water Ski Team, has been providing family entertainment since the 1950s in the Rochester area and throughout the Midwest. See some impressive waterski tricks and jumps on Memorial Day!
Need more ideas? Consider heading out on a family-friendly hike, check out a Rochester MN scenic spot, or explore the public art we have in Rochester MN! Also, check out our top ideas for summer fun, or visit the Rochester MN Moms Blog for additional family-friendly events this weekend.