New Restaurants in Rochester, MN
8 Fresh Dining Options  
There's a "restaurant renaissance" occurring in Rochester, MN, as the city transforms into a vibrant center of entertainment, dining, and nightlife. Get a taste of Rochester at these dynamic new restaurants (and a can't-miss donut shop) that have opened in 2017 and 2018!  
Opened in October, 2018, Bar Buffalo is the newest addition to downtown Rochester's lively Historic Third Street, a popular block for dining and nightlife. Bar Buffalo serves a full selection of food--including a vegan menu as well as fare for omnivores--along with tap beers and craft cocktails.  
Grab a tossed-to-order salad at Lettuce Unite, opened in October, 2018. Located in the skyway-level food court adjacent to the Shops at University Square, Lettuce Unite serves up "the next generation of salads, featuring proteins, greens, healthy carbs, sweet, spicy, sour, crunch." Twelve specialty salads include "Beet It," "Steak and Potato," and more, or create your own made-to-order salad. For a "good thyme," visit Lettuce Unite. 
Opened in October, 2018, Taco Jed is a "fast casual" taco restaurant billed by its owners as being "built for people who don't like to wait but don't want to be rushed."  Order at the counter, but after that relax and order extra food or drinks from roving waitstaff. Serving tacos, other Mexican food, margaritas, and more, take your time enjoying a fresh meal and refreshing drink--and hanging out with friends or family--at Taco Jed.  
Satisfy your donut craving at Drift Dough, which opened in September, 2018. This establishment is a donut-lover's dream, offering all your classic favorites as well as creative, tasty flavors like cotton candy, sweet corn, matcha, and more. Vegan and gluten-free doughnuts are available, so everyone has the opportunity to indulge their sweet tooth!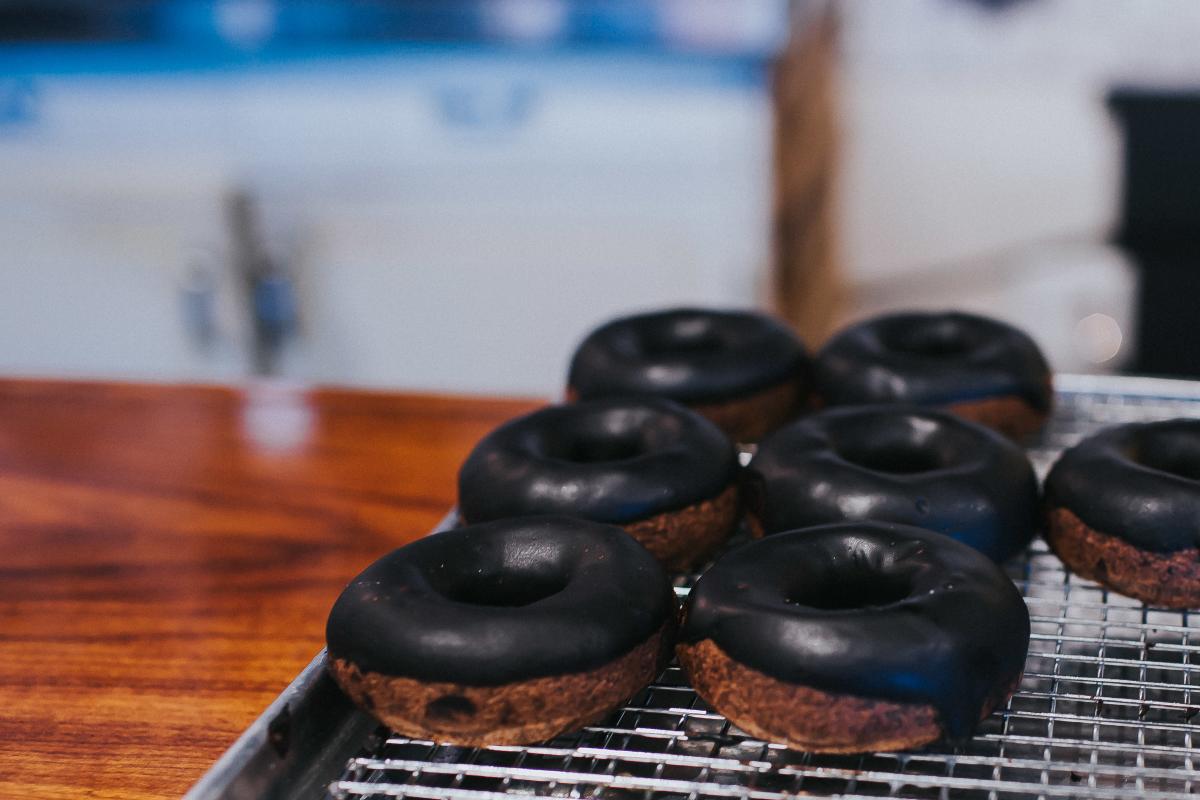 Drift Dough | AB-PHOTOGRAPHY.US
Roll down to Rochester's newest sushi restaurant. Get your fill of all-you-can-eat sushi, or order from a menu of over 100 freshly prepared items. Selections include appetizers, sushi and sashimi, maki roll, donburi, noodle soup, hibachi, and more. Also serving beer, wine and sake.
You'll love the combination of "fine dining" and "fun dining" at downtown's Bleu Duck Kitchen, which provides innovative American cuisine in a welcoming atmosphere. The menu emphasizes locally-grown produce and meats, and features an exhibition kitchen for you to follow the action as your food is prepared. Chef/Owner Erik Kleven describes the restaurant as "experimental, relaxed, and friendly."  The best compliment he's received? "When people tell us they feel like they're in a big city when they dine at the Duck."
Bleu Duck Kitchen | www.olivejuicestudios.com
A great burger is a work at art at this tasty new establishment, located near Apache Mall. The menu includes 17 burgers. Most are beef, but there is also a turkey burger, a lamb burger, a tuna burger, and a chick pea burger. Features a full bar as well as side dishes and desserts like wings, cheese curds, milkshakes, and frozen candy bars. You'll keep going back!
Discover the big taste of Little Italy at this family-friendly restaurant on the south side of downtown Rochester. Co-owner and head chef Pasquale Presa (born in Italy, raised in New York) prepares mouth-watering New York-style pizzas and authentic Italian calzones and strombolis. "Pizza is only the foundation of what we're about," Presa says. "Pasquale's is all about our culture! We welcome everyone to our tables, we break bread, and we grow relationships!"
Check out a full list of restaurants in Rochester, MN. Bon appetit!