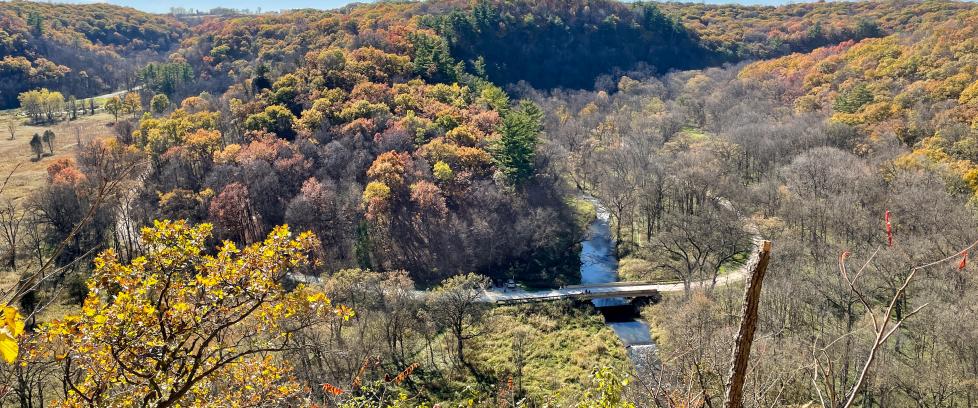 Experience Rochester
Get active and enjoy the tranquil beauty of southeastern Minnesota's forests, streams, and prairies on a hike in or near the city of Rochester, MN. With over 85 miles of paved, interconnected walking and biking trails and over 100 parks within city limits, Rochester provides appealing options for hikers of all ability levels and ages. If you're willing to take a short drive outside the city, your opportunities for finding "happy trails" expand even further. So put on your walking shoes, grab your water bottle, and head out to some memorable local hiking spots!
Hiking Spots in Rochester 
Quarry Hill Nature Center is a local gem that makes a great morning or afternoon activity. Minutes from downtown Rochester with easy access to great parking, Quarry Hill has more than 8 miles of trails for all ages and abilities. 
Indian Heights Park is another hiking spot practically in the middle of town, making it a great activity to burn off some energy without a long drive. 
Douglas Trail is a fantastic option to get outside and still be "on the beaten path." The trail begins in NW Rochester, travels through the small town of Douglas (for which the trail is named) and terminates in Pine Island. It is generally level and stroller/wheelchair accessible.
Izaak Walton League is another quick excursion for shorter legs. Located in SW Rochester, this park has about a mile of trails in a unique wetland environment.
Hiking Spots within 40 miles of Rochester, MN
Oxbow Park  Families with young children may be familiar with the Zollman Zoo portion of Oxbow Park, anchoring their environmental education program. However, over 620 acres are now dedicated to hiking, camping, and ski trails, making it a unique resource just 20 minutes west of Rochester.
Whitewater State Park is a true destination in our region. With over 2700 acres and year-round activities, Whitewater hosts a combination of easy, moderate and challenging trails that take you from bottom land along the river, to the bluffs and valley overlooks-all just 25 miles east of Rochester.
Read about several more hiking spots within 40 miles of Rochester and get tips on how to make the most of your hike at the Rochester MN Moms Blog.