Joe Ahlquist - Post Bulletin
Serving things like Lake Time Oreo Speedwagon Nitro. Lemon Olive Oil Vinaigrette. Texas Twinkies. The King Kong. The Funky Buddha. The readers of Rochester Magazine picked five of Rochester's best new restaurants.
Crave
220 South Broadway | 507-512-3800 | craverochestermn.com | Opened Sept. 2020 (and your Best New Restaurant winner)
King Kong Lives: Crave, your winner, might float your boat with their sushi boats ranging in size from the Hoshii to the Samurai. The Samurai includes five of the chef's choice specialty rolls like the King Kong with assorted sashimi. If sushi isn't your thing, the menu offers everything from burgers, steaks, and seafood to dishes for those with gluten sensitivities and tasty vegan or vegetarian options.
One of the best views in Rochester: The Crave atrium—with its retractable walls and high glass ceiling—offers a breezy ambiance like a roof-top patio in the summer and hovers above the hustle and bustle of the ground-level street noise perched on the second floor. Front of house manager Hannah White says a winter meal in the heated atrium feels like you're dining inside a snow globe.
Smoked? Double oaked? At a loss for what to order as an appetizer and beverage? Try the Bamboo Bite Roll with tempura shrimp and cream cheese topped off with avocado and jalapeno. The smoked Manhattan couldn't hurt either. Why not double down on some double oaked bourbon?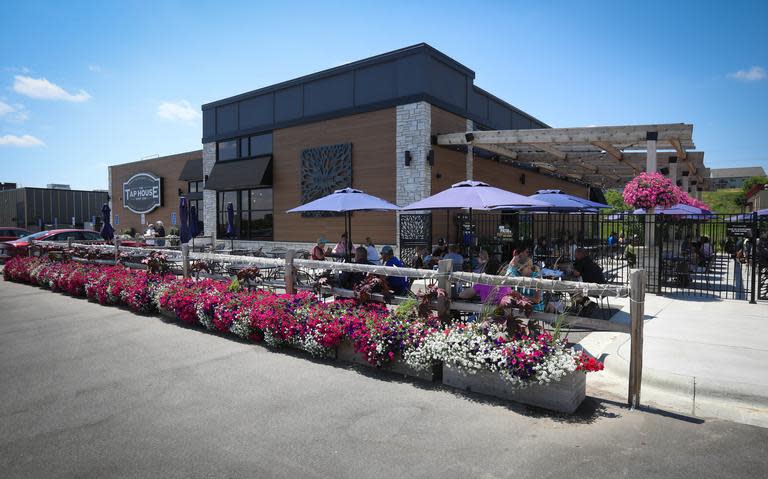 Tap House West End | Ken Klotzbach, Rochester Magazine
Tap House West End
2365 Commerce Drive NW | 507-361-3250 | taphousemn.com/westend | Opened March 2020
100!: In heaven, there may be no beer, but at The Tap House West End, happily, you can't say the same. Living up to its name as a tap house, the establishment offers 100 different craft beers—from Loon Juice Extra Juicy to Lake Time Oreo Speedwagon Nitro—on tap.
Here's your order. You're welcome: Co-owners Christine Stahl and Natalie Victoria recommend you try a blackberry mojito, an order of cheese curds, and some shrimp tacos (one of their customers' favorite menu items). They serve around 300 orders of shrimp tacos a week.
Team Tap House: During the government-ordered shutdown caused by the pandemic this last year, Tap House West End staff worked for tips on take-out orders. They divided up the hours and volunteered to work required shifts. Co-owners Christine Stahl and Natalie were left speechless and say their unbelievably generous staff is part of what makes their tap house a gem.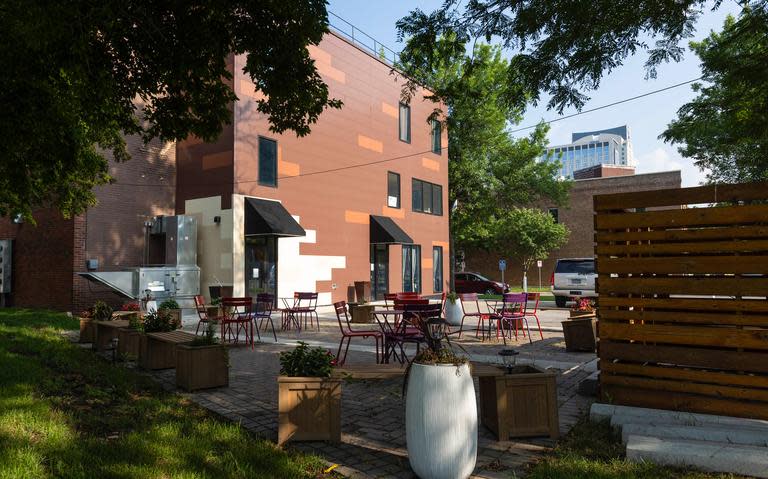 Chez Boji | Ken Klotzbach, Rochester Magazine
Chez Bojji
301 North Broadway | 507-288-0274 | chezbojji.com | Opened October 2020
France, meet Spain. In my mouth.: When husband and wife team Chef Youness Bojji and Amber Bojji opened their first restaurant in 2015, they only had $60 left in their pockets. Several locations later, Moroccan-born Chef Bojji is still bringing his experiences with French and Spanish flavors to Rochester's hungry mouths. He might also regale you with a story about one of the dishes he's created in one of the five languages he speaks: French, Arabic, Moroccan, Spanish, or English.
"The Chef's Choice": The "Fresh Catch" featuring everything from halibut to red snapper is one of the most popular items at Chez Bojji, but if you don't know what you're craving, let the Le Choix Du Chef take you on a taste adventure. It's a unique culinary creation crafted by the Chef's sophisticated palate just for yours.
The Funky Buddha: If you want the calm of a monk but also like a little spunk, then check out the Chez Bojji's Funky Buddha. It includes a duo of jumbo hand-made crab cakes with pure Alaskan crab meat. The roasted peanuts, Thai basil, and fresh cilantro keeps your palate pleased.
Saladworks
Marriott Subway Level, 101 First Ave. | 507-361-3333 | saladworks.com | Opened December 2019
What came first? The chicken or the Asian Crispy Chicken Salad? At Saladworks, there is no question. Since they sell about 200 Asian Crispy Chicken Salads a week, it's clear the salad comes first, second, and third.
In the subway, eat fresh: Saladworks is something of a buried treasure. It hides out in the subway below the Marriott Hotel just off of Peace Plaza. Once you find it though, perhaps going to and fro on your way between medical appointments, it offers up a large variety of dishes besides salads such as wraps, sandwiches, panini melts, soups, and grain bowls.
We're speaking from experience: Be careful if you order anything with the house-made Green Goddess or Lemon Olive Oil Vinaigrette dressings because you might get addicted. About twice a month, guests become so enamored of the specialty dressings they try to buy them by the gallon to take home. Unfortunately, that's not an option, so if you love the dressings, be ready for many return visits.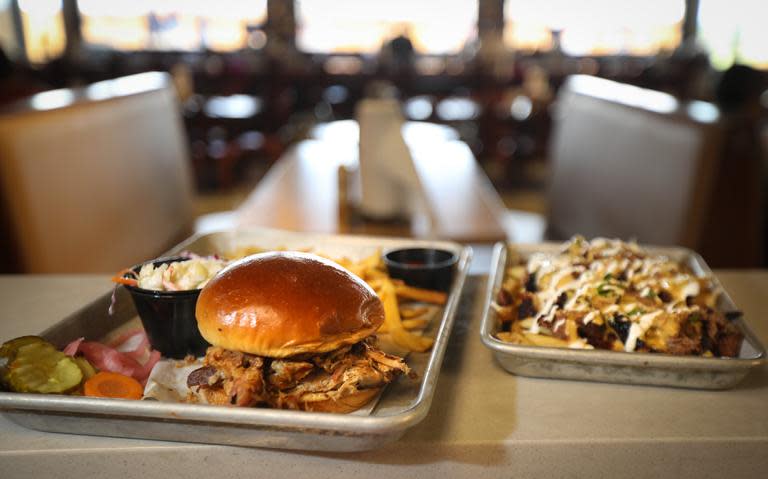 Smoak | Ken Klotzbach, Rochester Magazine
Smoak BBQ
2291 Commerce Dr. NW | 507-361-7427 | smoakbbqmn.com | Opened December 2019
That's more than 2/3 of a ton: If you want a heavyweight in the Texas BBQ scene, Smoak has you covered. No one could call their commitment to brisket half-hearted. In fact, their weekly sales of brisket tip the scale at 1,400 pounds.
You can't spell Smoak without "oak.": Smoak is all about blowing smoke, but not just any smoke will do. They only smoke their meats with white oak wood, which explains the "oak" in their name. They pride themselves in smoking meat every day, and you can smell it in the air sitting at their all-seasons bar.
30 minutes to fame: Anyone who manages to finish Smoak's Bucket Burger in 30 minutes or under wins a T-shirt and a bottle of BBQ sauce, not to mention a photo on The Bucket Wall of Fame. Be careful you aren't biting off more than you can chew, though. The Bucket includes two grilled cheese sandwiches, two hamburger patties, bacon, pulled pork, jalapeno cheddar sausage, and a fried chicken breast. It's also topped with Texas Twinkies, cheese curds, and pastrami as well as a side of fries.