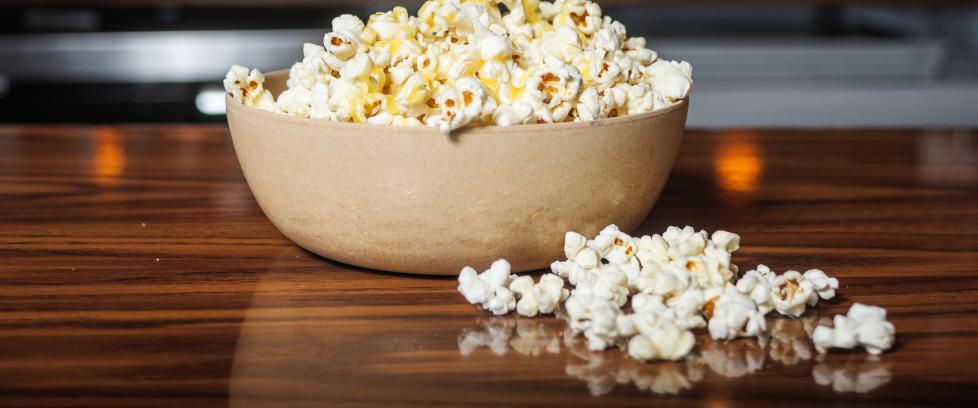 Rochester Magazine
Each year, we hold our annual Best Restaurants voting and asked you to tell us your favorite places for bar popcorn. Then we talked to those favorites to see if they were really worth their salt.
Each of them had some kernels of wisdom about the popcorn business.
We do say business, although the popcorn is free at all of these places (which, yes, makes it taste better).
Here are your favorites, in no particular order (except Newt's, the winner, which is first).

Newt's
1201 S Broadway, 507-258-7575
U.S. 52, 5231 E Frontage Rd., 507-226-8266
22,000 pounds. Yes. Thousand. Two years ago, Newt's locations measured the amount of popcorn they went through in a year, North/South location manager Jakob Kruckenberg says. That's about as much as the weight of four 30-foot RVs (which you could probably fill with all those kernels).
Gold Mine. No, that's not how Newt's thinks of its popcorn (because it's free). It is the brand of corn they use, though.

Hot Chip Burger Bar
1190 16th St. SW, 507-424-0080
Every day I'm trufflin'. Wondering about that earthy edge to Hot Chip's popcorn? It's truffle oil, which is sprayed on each batch after popping for a little extra panache. And no, the decent-grade stuff is not cheap. "We spend a lot of money on free popcorn," chef Justin Schoville says.
For every batch, turn, turn, turn. There is a seasoning, turn, turn, turn. Hot Chip cares a lot about the popcorn seasoning, which is why all of the staffers are trained to measure precisely according to the house recipe—no eyeballing!—and use a popcorn blend of salts, whey, and seasoning salt for maximum yum.

Whistle Binkies Olde World Pub and Whistle Binkies on the Lake
3120 Wellner Dr. NE, 507-289-9200
247 Woodlake Dr., 507-424-1227
No butter? Whistle Binkies doesn't add any butter to their popcorn—just the Sysco brand Butter-It soybean oil, which sits in by the machine for ease of staff use. "Some of our customers will add it to their popcorn," manager Craig Kangas says. "We tell them it's not really butter, it's a cooking oil. But they do it anyway."
That's 15,000 cups of popcorn. Whistle Binkies serves about 300 pounds of kernels a week … per location.
Gimme my corn! "People just want something to nibble on while they're conversing with friends," Kangas says. "If our machine's ever down, it's almost worse than having no power. People expect popcorn."

Rooster's Barn and Grill and Rooster's Too!
2280 Superior Dr. NW, 507-226-8885
4576 Maine Ave. SE, 507-206-6799
A secret blend: The secret to good popcorn, in Ross Manahan's book, is a mixture of oils. "What we've learned over the course of time is people don't like bland and dry popcorn," he says. "If you use all popcorn oil, it gets kind of greasy. So we use a popcorn oil and then some other kind." What kind? That's privileged info, sorry.
Just a pinch. Or, uh, more than that. Roosters uses Flavacol popcorn seasoning in lieu of normal salt, for that movie theater taste.

Glynner's Pub
1643 1/2 N Broadway Ave., 507-252-8800
Are you in the majority? Roughly 85 percent of the people who come through Glynner's doors get popcorn, estimates owner Brad Glynn. Which is probably why the bar goes through 140 pounds of kernels a month.
Glynn's tip: Use a good oil (that Sysco Butter-It) and make it fresh. Just keep popping!

Beetle's Bar and Grill
230 20th Ave. SW, 507-529-9599
The secret to good bar popcorn? It's the Sysco Butter-It oil, front-of-house manager Jeff Kothenbeutel says. We're sensing a trend here.
Six batches in the morning. That's how much popcorn the Beetle's staff starts the day with. After that, it's all hands on deck to keep the machine (from Big Eye) full until the last customer is gone.
And that adds up to… about 200 pounds of kernels a week.