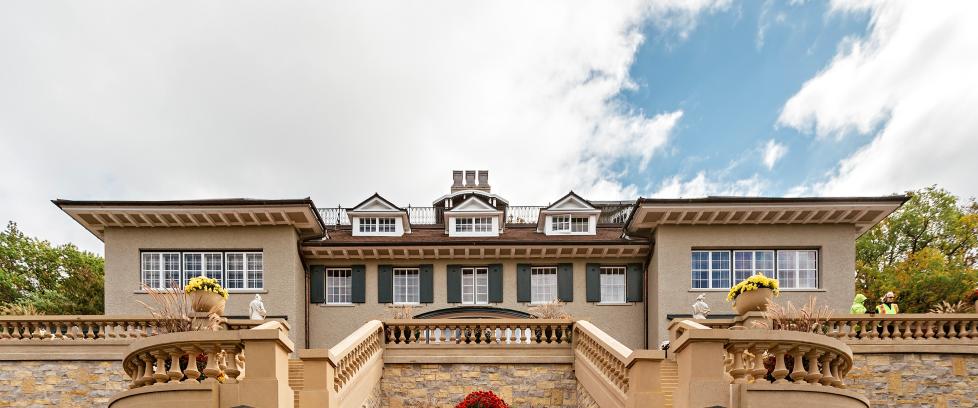 AB-PHOTOGRAPHY.US
If walls could talk, Mayowood's might direct you to the white oak tree beneath which Dr. Charles H. Mayo designed the 48-room mansion. In 1911, the family moved in, and for the next nearly 60 years, three generations of Drs. Mayo lived in the stately home in the countryside near Rochester, MN.
The Mayos furnished their mansion with treasures, many collected during travels abroad.
Now Mayo Clinic owns the house and the History Center of Olmsted County the contents, and Mayowood is on display to the public. Guided tour-takers can marvel at its elegance, admire splendid antiques and see in its courtyard its designer's favorite white oak tree.
Following is a peek at Mayowood, a mini-visit that may tempt you to take the grand tour.
"A real family lived here"
The heirlooms will delight you--Chippendale chairs, Limoges china, a Belgian lace fan that belonged to Empress Josephine, Waterford crystal chandeliers, a Louis XV desk, Chinese scrolls (circa 1725), an 1810 English Regency Style four-poster bed and much more.
You'll learn about the Mayos. "What I like most about Mayowood is the generations who lived here and their stories," says Chuck Potter, manager of Mayo Clinic's historic properties. "A real family lived here, and they are absolutely fascinating."
They are:
Charles H. (Dr. Charlie) and Edith and their six children, two adopted children and foster son. It was Dr. Charlie, his brother Dr. Will (William James Mayo) and their father Dr. W.W. Mayo who established Mayo Clinic.
Charles W. (Dr. Chuck) and Alice and their six children and two adopted nephews.
Charles H. II (Young Dr. Charlie) and Carolyn and their two children.
Family photos adorn the foyer walls, and a quote from Dr. Chuck introduces a story: "Imagine living in a house so vast, our children once kept goats in a downstairs room for two weeks before we discovered them."
One of the culprits was Young Charlie, who later remarked that hiding one goat was a cinch, but when they added another, the odor overwhelmed the household.
Antiques and opulence abound
Music room attractions include a 1913 player Aeolian pipe organ, a marble statue of Napoleon and a Steinway grand piano.
A carved 17th century doorframe outlines the entrance to the living room. The doorframe came from a castle in Germany, and the living room measures 1,150 square feet. The area rug is Mashhad Persian, 32.5 feet by 20 feet. It's hand-loomed and signed, and when your tour guide tells you the tale of horses in the house, you'll applaud the exquisite rug's durability.
"This whole house is huge, but to me it's very comfortable," says tour guide Jerri Peters. "You could live here."
Mayowood's many works of art include paintings and sculptures by talented Mayo children, some of whom became artists.
Treasures preserved and lost
Alice liked to keep track of how tall her children and grandchildren grew. You can view their height measurement markings on the wall by the library windows. 
But some treasures can't be viewed on the tour -- they are only retained in storytelling. For example, while playing catch in Mayowood's woods, Young Charlie and his brother Ned lost the baseball. Not their ball. This one belonged to their dad, Dr. Chuck -- the baseball signed for him by Lou Gehrig.
Tours
Guided tours take place from March to October. Then from early November until mid-December, the mansion is decked out for the holidays and reopens for Christmas visits. Plan your visit to Mayowood Mansion.