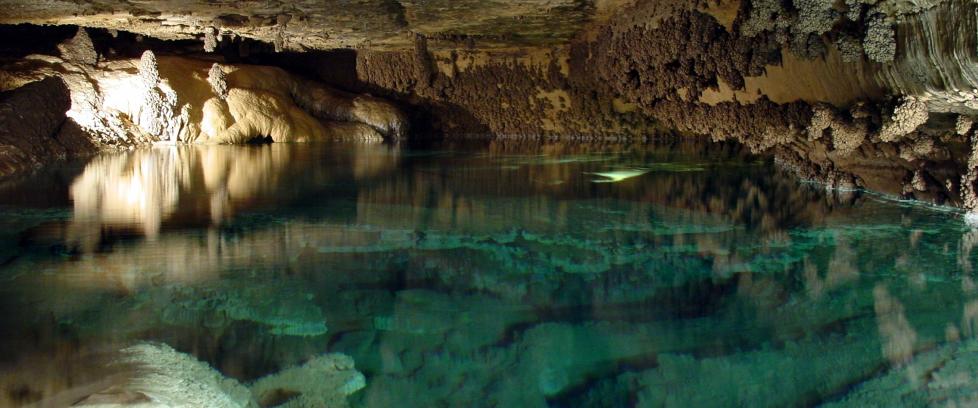 Mystery Cave in Forestville State Park | Photo by Minnesota DNR
Within a short drive of Rochester, MN, there are multiple opportunities to make lasting memories at Minnesota state parks. Watch dragonflies zip over a bubbling stream or catch a glimpse of white-tailed deer lithely jumping through a hardwoods forest. March with them through tall grasses, listen for the croaking of toads and gaze at the infinite night sky full of twinkling stars. There are many diverse ecosystems available to us to explore in southern Minnesota. 
Below are ten State Parks within 30 to 90 minutes driving distance from downtown Rochester. 
Whitewater State Park (30 mins.) 
19041 MN-74, Altura, MN 55910
Rochester's go-to state park. Named after the river it hosts, it is surrounded by striking tree-covered bluffs. Hikes to Chimney Rock and Inspiration Point are recommended or check out the Elba Fire Tower, a nearby extension of the park for a unique climbing experience. Just a short drive, this park has so much to offer. You'll find yourself returning to this treasured area time and again. Ten miles of hikes, trout-fishing, year-round camping with multiple different sites available, several picnic areas, a sandy beach area for swimming, snowshoe rentals, and a dynamic visitor center. Sites for camping fill up quickly so book early. 
Whitewater State Park | AB-PHOTOGRAPHY.US
Carley State Park (30 mins.)
50366 County Rd 4, Plainview, MN 55964
This enchanting park is a well-kept secret. Tucked away in the Whitewater River valley, the north branch of the river runs through it, and bluebells and wildflowers carpet the forest in early May. This land was preserved due to the native old white pines. Enjoy serene hikes and keep your eyes open for great horned owls, white-tailed deer, and migratory songbirds. There is a picnic area, playground, and rustic camping. According to their website, the entrance gate to this park closes in the winter, but you may still access the park for day use. Just hike in to use the trails.
Rice Lake State Park (40 mins.) 
8485 Rose Street, Owatonna, MN 55060
Head straight west toward Owatonna and you'll get to the headwaters of the Zumbro River, named Rice Lake. When the Dakota people roamed this area, they harvested wild rice here. Today this 700-acre shallow lake is a rest stop for migratory waterfowl.  Hike around the lake and keep your eyes open for great blue heron, wood ducks, and the occasional tundra swan. Hiking trails also extend into areas of hardwood forest and grasslands. Canoe and kayak rentals are available at the park office. There is a warming house available in the winter and snowshoeing and cross-country skiing are available on ungroomed trails. Picnic and playground sites are available. Camping sites, which include canoe-in sites, are available spring through fall.
Forestville/Mystery Cave State Park (50 mins.)
21071 County Rd 118, Preston, MN 55965
Meander south through the gently sloping land of Amish country until you reach the south bend of the Root River. Hike or rent snowshoes from the park office to explore either the tall prairie grasses where grouse and monarch butterflies may be spotted, or amble where maple, basswood, and oak tower above and sweep the sky. Picnic grounds, year-round camping, trout fishing, and a warming house in the winter are some of the highlights. This park features two very unique experiences worth the day trip.
In the summer, reenactors hosted by the Minnesota Historical Society tell the story of the historic town of Forestville located in the park.  Step back in time with a visit to the general store, walk through the front parlor, and learn about churning butter and baking in the kitchen of the Thomas Meighan family. Enjoy the outdoor gardens and farm buildings. 
Park naturalists give guided tours of Mystery Cave from late spring to late fall. Descend within the earth and learn about naturally formed limestone structures. Squeeze through the narrow passageway, and gaze on the natural beauty of smooth walls that have been formed over a millennium from rainwater and underground rivers. 
Frontenac State Park (55 mins.)
29223 County 28 Blvd, Frontenac, MN 55026
Frontenac State Park offers panoramic views of the towering sandstone bluffs that hover above Lake Pepin. Lake Pepin is a naturally occurring widened area of the impressive Mississippi River. It sports an avid sailboating community. Due to recovery efforts, the bald eagle can be spotted easily here. Look for them in the early morning. Walks in the autumn to several lookout points offer fantastic views of vibrant red, brilliant oranges, and vivid yellows. Year-round camping, hiking, snowshoeing, and cross-country skiing are ways to enjoy this special area. Trails are groomed in the winter for skiing, and a sliding hill with a nearby warming house makes it possible to appreciate this park year round.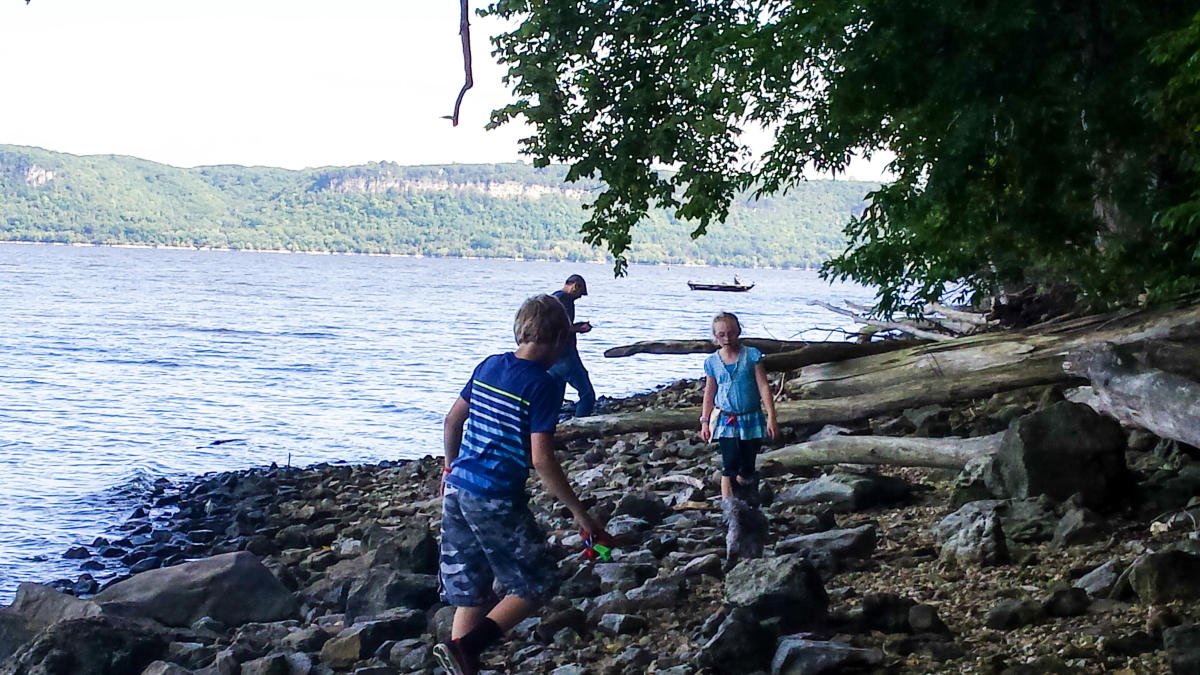 Frontenac State Park – Lake Pepin shoreline | Photo by Melissa Meyers
Nerstrand Big Woods State Park (55 mins.) 
700 170th St E, Nerstrand, MN 55053
If you want to go deep into a forest, visit this park. They're known for their vivacious fall colors where an abundance of sugar maples create a spectacular hue. In the spring, wildflowers dot the landscape. Hiking in Nerstrand Big Woods is easy to moderately difficult. Children, adults, and dogs appreciate the enchanted Hidden Falls. Water gently cascades over a sudden drop to create a soothing melody. This is a popular spot for pictures, sneaking a romantic kiss and having your children experience ethereal beauty. Standing by this gem of nature, it seems possible that fairies exist, and that you might glimpse a little red cape skipping off to pay granny a visit.  Camping, picnic spots, and hiking are the highlights of this park.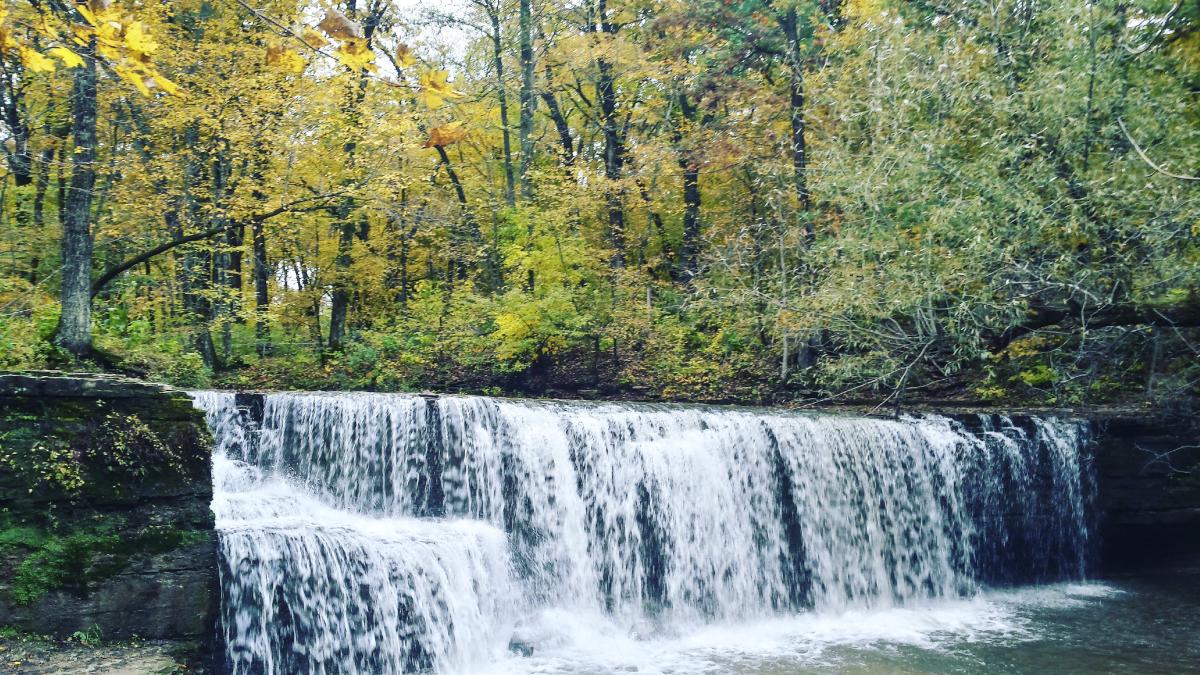 Nerstrand Big Woods State Park – Hidden Falls | Photo by Melissa Meyers
Great River Bluffs State Park (1 hour)
43605 Kipp Dr, Winona, MN 55987
This park is located in what is known as bluff country. Hike the "King's Bluff Trail" to experience spectacular views of the Mississippi River Valley, and leave knowing you have gained an appreciation for the vastness of the natural world. In moments like this, the world quiets and the weight of your problems become momentarily insignificant. Search the skyline for our national bird, the bald eagle. Camping and hiking are highlights of this park. It possesses a sliding hill and groomed cross-country trails, and snowshoeing on ungroomed trails is allowed. 
John A. Latsch State Park (1 hour)
US-61, Minnesota City, MN 55959
Located in the Driftless Region of Minnesota, here hiking enthusiasts can scale the steep bluff of Mount Charity at this daytime-only park. Mount Charity offers an arduous 1/2 mile hike. At the top, you can gaze over the Mississippi River Valley and note the two other nearby bluff heads, Hope and Faith. John A. Latsch, a nature enthusiast, along with another land owner, donated the land in 1925 for public usage. Take a picnic along and dine in the fresh air at the lookout point. It is as near as you can come to a mountaintop experience in southern Minnesota. 
Myre-Big Island State Park (1 hour)
19499 780th Ave, Albert Lea, MN 56007
Head straight west to Albert Lea Lake. Myre-Big Island, a 116-acre island, sits in the middle of this migratory hotspot for waterfowl. Rent a canoe, kayak, or paddleboat for water exploration. They are available at the park office May through September. The hiking trails consist of rolling hills or forest areas where the lake can be spotted at several areas. Due to the low lying land and marsh areas, mosquito repellent is a must for park enjoyment. Multiple camping options are available. 
Afton State Park (1 hour 20 mins.)
6959 Peller Ave S, Hastings, MN 55033
For this park, you'll head north. It is a bit of a further drive than the other parks but has so much to offer. The trails for hiking, cross-country skiing, and snowshoeing overlook the St. Croix River Valley, offering impressive sights. Rolling hills of restored prairie grasses speckled with wildflowers lead into steep ravines, and rugged terrain makes up most of the park's hiking trails. Year-round camping is available in the several four-season cabins. If you ever wanted to stay in a yurt, this park offers two that can be rented. They are heated by wood stoves in the winter. Snowshoes are available for rent at the park offices. A two and a half mile cross country trail is groomed for use if you bring your own skis. 
Tips for enjoying your State Park experience:
Fill up your car with gas prior to going.  Bring a water bottle. Pack a lunch or snacks. Picnics are not just for summer, either. Fill up a soup thermos for winter outings. Have coffee in the woods. Bring travel mugs and a thermos of your favorite hot beverage. Wear weather-appropriate clothing and shoes. In the summer, never forget mosquito and tick repellent (this IS Minnesota). Stop at the park station for maps and advice for must-sees. Most have geocaching, bird-kits, and even fishing poles for free usage. Don't forget to pay for your day or year-round pass. Follow my father's number one rule: leave the woods how you found it. 
Want to experience the great outdoors within Rochester, MN city limits? Learn about our dozens of parks and great spots in the city for hiking and biking.  Or, check out other popular Day Trips within 30 to 90 minutes of Rochester, and discover some of our region's Hidden Gems.