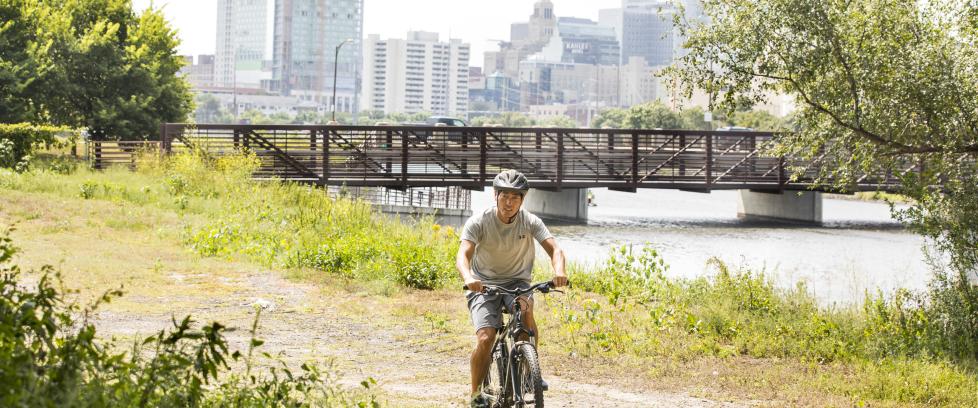 Bike around Silver Lake Park in Rochester, MN | TJ Turner
Minnesota's Rochester is a bicycle-friendly community with an extensive, 85-mile system of paved trails linking the downtown area to many parks and businesses around the city. Rent a bike at Silver Lake Boat & Bike Rentals, then see the city and enjoy some active time outdoors on these six fun, family-friendly bike rides.
Silver Lake
At just 1.8 miles around the lake, those looking for a workout may need to do a couple of laps. But the shorter distance makes this route close to downtown Rochester a perfect bike ride for families. With plenty to see at Silver Lake (watch out for the geese!) and lots of bridges and places to stop and play, it may take awhile to make it all the way around-enjoy! 
Douglas Trail
Ready for a longer ride? This 12+ mile trail is smooth and mostly flat, traveling north from Rochester on an abandoned railroad grade. Taking you through the small town of Douglas, you can pedal all the way to Pine Island, MN before turning around. This ride is great for families with older children, or anyone who can make the 26 mile round- trip trek. 
Soldiers Field
Soldiers Field Memorial Park in downtown Rochester is another great hub for a shorter looped or out and back ride, or a place to jump on the trails and start exploring. Connected to the whole 85+ miles of trails, you can start or finish with lunch at a nearby cafe or restaurant or even a swim at Soldiers Field Pool!
Kutzky and Cooke
This out and back 5k meanders along Cascade Creek and includes two parks to stop and stretch at. But you've been warned, lots of fun local businesses might divert your attention in the Cooke Park Design District! Grab locally roasted coffee or a vegan snack at Old Abe Coffee Shop before stopping at Dwell Local for unexpected upcycled, found and vintage items. Have a bit more time? Head over a few blocks and hang out on the patio at popular Forager Brewery.
Downtown Tour
Here's an easy 3 mile route that takes you from the Rochester Art Center, along the river to Mayo Field and back on the other side! On a Saturday morning between 8 and noon you can grab a donut at the Rochester Farmers Market before hitting the trails. With plenty to see, and a park along the way, this one is a favorite for littles with short legs, and those looking for a shorter ride in the middle of the action!
Cascade Lake
Cascade Lake trail is great as a family ride. It is a loop around the lake itself with no intersecting roads. A great place to park is on Lachencrest Lane in the Interlachen neighborhood. Additionally there is a longer 6.5 mile loop with hills here.
Get more bike riding tips from the Rochester MN Moms Blog, or plan your outdoor adventures in scenic Rochester, MN today!