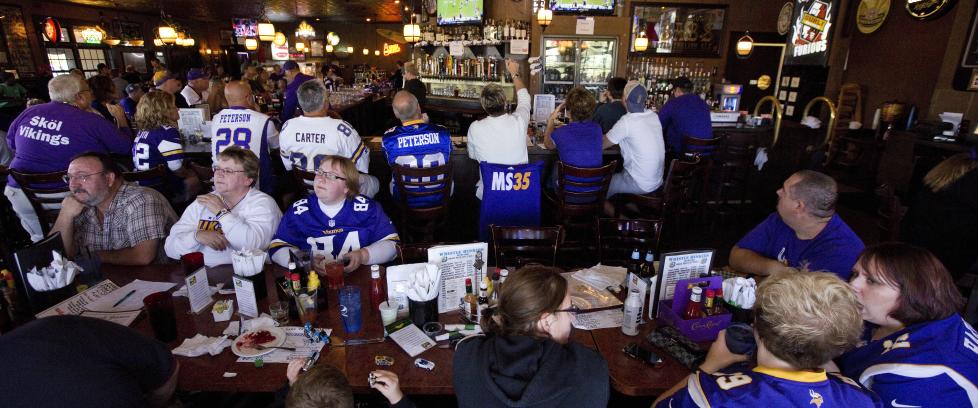 Whistle Binkies South | Rochester Magazine
Score! Local sports fans selected the top sports bars in Rochester, MN where you can watch the game and cheer your team to victory.  These Rochester, MN sports bars--voted as favorites by readers of Rochester Magazine--can't be beat for their football-friendly environments (it gets loud in there on Sunday afternoons!) and top-notch bar food. Have a winning weekend at these local hangouts.
Are they really that football friendly? Yes. With 18 well-placed TVs at the South location, Whistle Binkies takes great advantage of its open spaces and—to add to it—cranks up the Sunday game day specials to cover just about anyone's tastes (classic favorites include the Bloody Mary bar, mimosas, and Rusty Truck pints). 
What about food? An annual favorite in Rochester Magazine's Best Restaurants bar food categories, Whistle Binkies South offers the Sampler Platter (egg rolls, potato skins, chicken fingers, Scotch eggs) for game day groups, though the most popular order is the nachos.
But, really, why should I go there? The special deals, atmosphere, and a "Pick the Score" game which provides an opportunity to win gift cards or money. Also, a trumpet player gets the crowed going with the 'Skol Vikings' before, during, and after each game. A larger musical group provides entertainment during the two Vikings-Packers games. 
If I can only order one thing for the big game, what would they recommend? Totchos.
Follow up question. What are totchos? Crispy fried tots topped with homemade cheese sauce, melted cheddar-jack cheese, cowboy sauce, chopped bacon, sour cream and green onions.
Can I see the games from anywhere? Yes. With a big open space, and 20 TVs, there's not a bad seat in the house at Wildwood.
But, really, why should I go there? Well, the service, for one. Wildwood won Best Waitstaff in 2016's Rochester Magazine Best Restaurants voting. And it comes down to the basics: Fun, giveaways, and great food.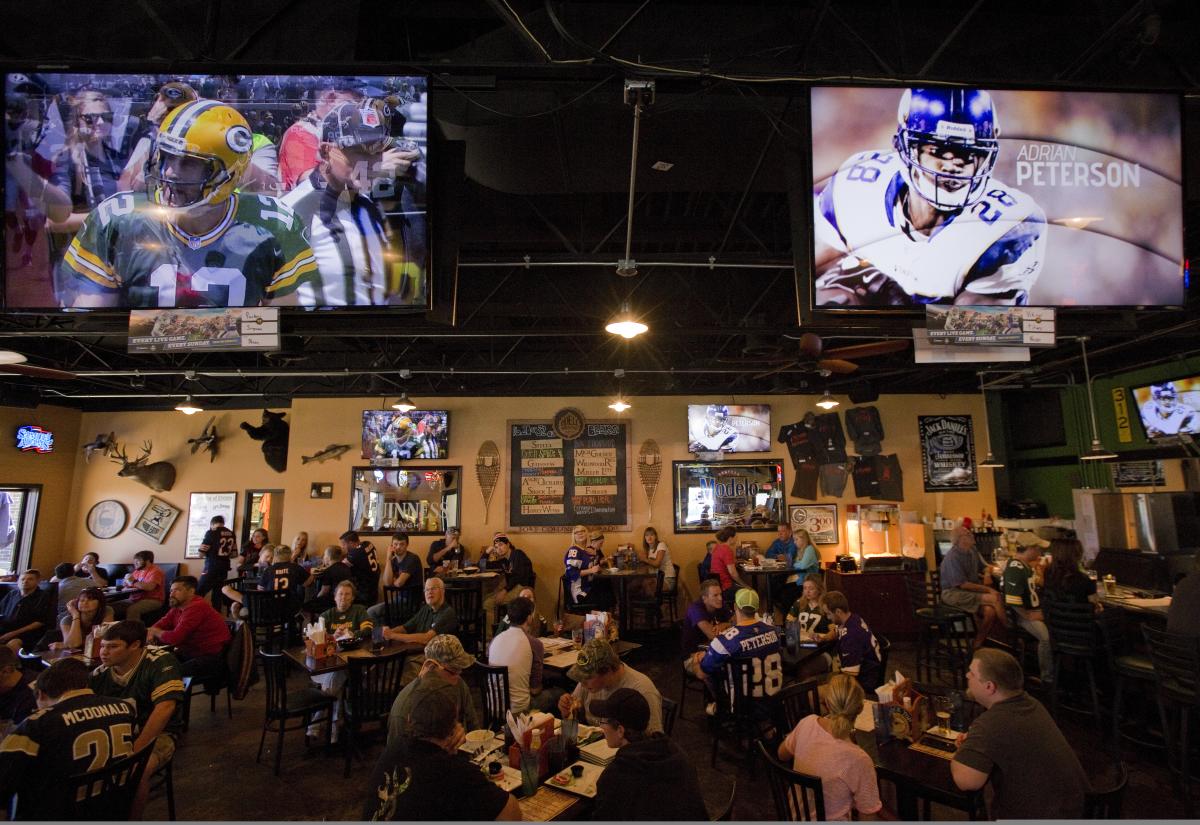 Wildwood Sports Bar | Rochester Magazine
They do have a lot of TVs, right? Yes. A lot of TVs. More than 40, in fact, including seven big screens and one really, really big screen, at 140 inches. That's almost 12 feet.
Is this a wing place? Um, yes. (And note, Buffalo Wild Wings opened a second Rochester, MN location in summer of 2018.  Check out Buffalo Wild Wings South also!)
What's the most popular order during game days? Um, wings (see above). Their traditional wings come with 15 different sauce options (from Mild to Blazin', which is made with ghost pepper). Though we're partial to the Medium and the Buffalo Dry Rub. The Ultimate Nachos (warm corn tortilla chips loaded with chili, house-made pico de gallo, shredded lettuce, fresh jalapeños, queso and salsa) is a distant second when it comes to game-day food orders. 
But, really, why should I go there? Seven large-screen TVs and an additional 35 TVs allow Buffalo Wild Wings North to give every sports fan the game they are looking for and the sound to hear the big game as well. In addition, BWW can accommodate large parties with ease and has 24 different beers on tap.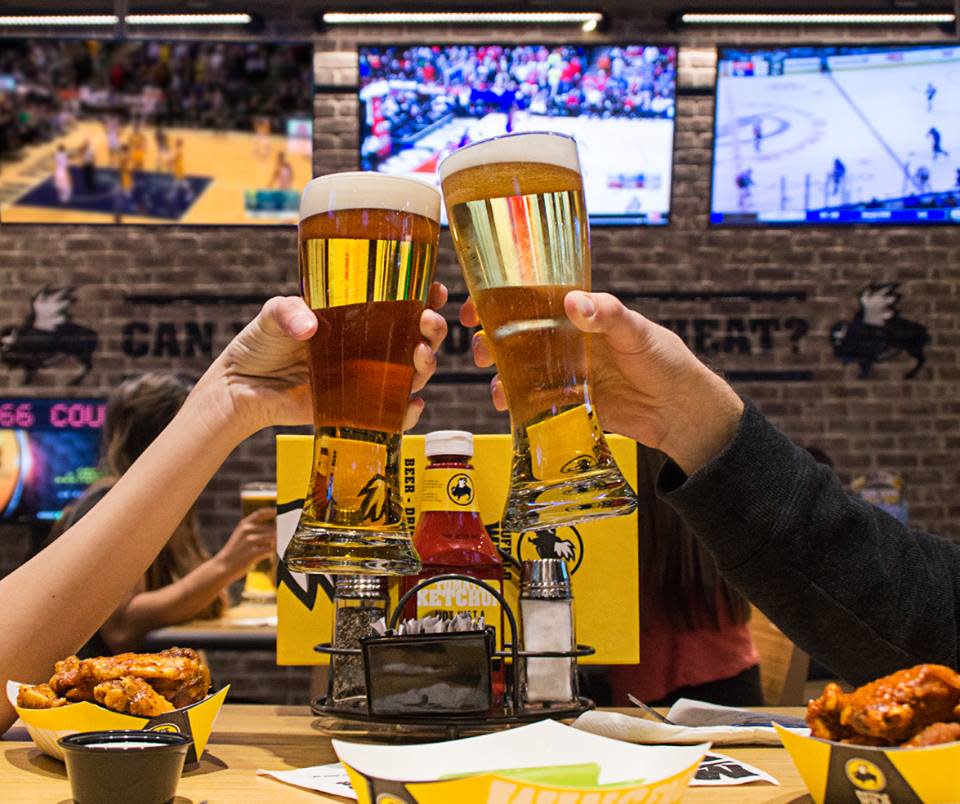 Buffalo Wild Wings | Rochester Magazine
Want to learn more about Rochester, MN restaurants and bars? Discover Rochester, MN's Best Appetizers, Top Sandwiches, Downtown Happy Hours, and restaurants that offer Outstanding Outdoor Seating. Check out 6 Team-Friendly Restaurants if you're out with your teammates or another big group.