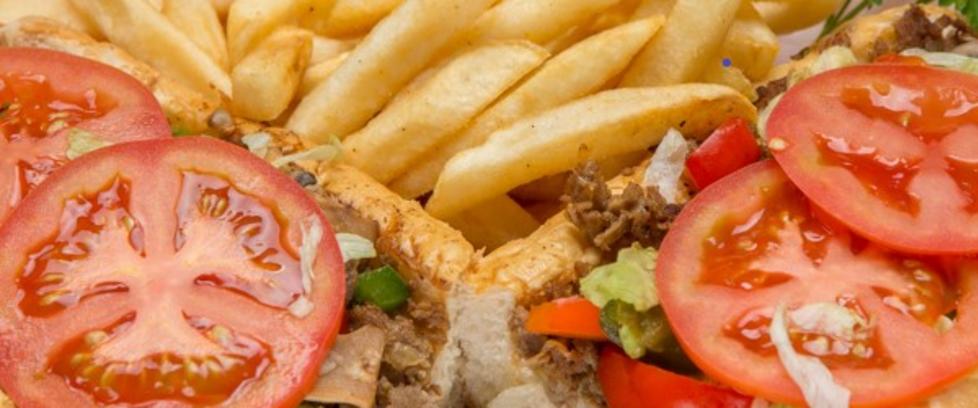 Jersey Jo's
Rochester Magazine readers voted on the best sandwiches in Rochester, MN, and these seven scrumptious creations were the winners. Feast your eyes on these wow-worthy sandwiches, lovingly created and expertly prepared by the chefs and sandwich-masters at seven outstanding restaurants in Rochester, MN.  
Great Harvest Bread Co. 
Two locations - Central and West
Great Harvest Bread Co. | Traci Westcott, Rochester Magazine
BEST BREADS AROUND. Great Harvest sandwiches are made with some of the best bread in town. Don't believe it? Stop in for a free slice off the breadboard, spread with butter or simply savored  on it's own. 
BUILD TOWARD A FREE SAMMY. Who
doesn't love a free sandwich? With a Great Harvest sandwich punch card, you get one free sandwich after earning 10 punches–regardless of which location you purchase from.
AND WHILE YOU'RE THERE… Elevate your sandwiches at home with freshly baked bread, sold by the loaf. A rotating schedule of specialty breads are available each month. Maybe snag some  cookies while you're at it for a sweet finish to your lunch.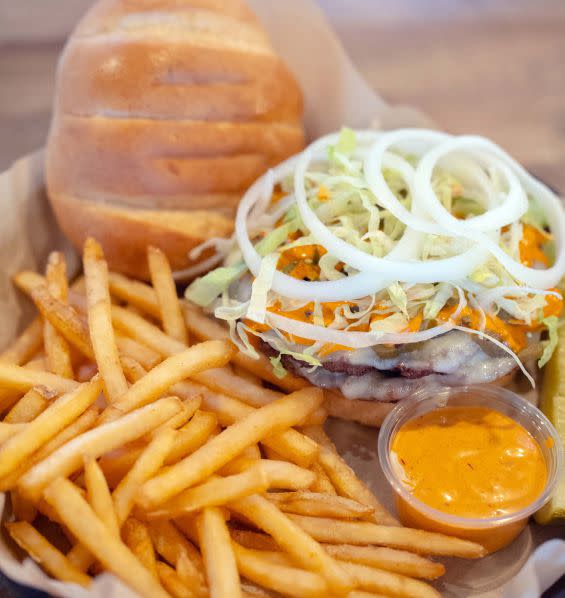 Townie's Grill'd Philly Subs and More | Joe Ahlquist, Rochester Magazine
STEAK-ING A CLAIM. It's all about grilled Philly cheesesteaks at Rochester's newest sandwich shop. Townie's opened in January 2022, and it took home Rochester Magazine's Best New  Restaurant title (and Best Sandwich Place) this year. Owner Cody Livingood says the rapid success is testimony that Townie's offers something unique to Rochester's sandwich scene. 
CLASSIC WITH A TWIST. Twists on a traditional Philly cheesesteak abound at Townies. They have four protein options (steak, pork, chicken, and vegan meat) or a veggie option. And you can get it just about any which way, with numerous combinations of toppings and sauces to mix things up just the way you want it.
SECOND LOCATION COMING. Given Townie's explosive success, Livingood plans to expand. Though he can't say exactly when or where a new location will be, he says Townies fans will be able to patronize their favorite sandwich spot on the south side of Rochester sometime this summer.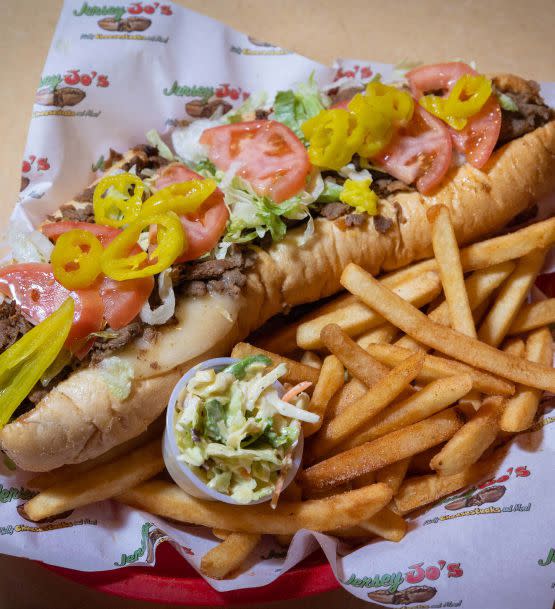 Jersey Jo's | Ken Klotzbach / Image Conscious Photography
NOT LOCAL ... FOR A REASON. All sandwich bread and meat is sourced from Philadelphia suppliers, to nail the most authentic taste. "Cheese steak is just two things: cheese and bread," says owner Joe Phillips. "If you get either of them wrong, you don't have a product."
CHESS AND CHEESESTEAKS. On Thursdays from 4-6 p.m., Jersey Jo's hosts casual chess for all abilities. Stop in for a few pickup games against Jersey Jo himself (or against his kids. Or against the regular members of the Rochester Chess Club.)
JUICY FOR A REASON. Jersey Jo's withholds responsibility for soggy bread when customers order for takeout or delivery– their generous helpings of meat and cheese sauce are best enjoyed fresh and hot. And speaking of cheese sauce, Cheddar is always better. Phillips says nothing beats cheddar for an authentic cheesesteak experience. However, you can also order a Jersey Jo's sandwich with provolone if you prefer. (Though Joe may try to talk you out of it.)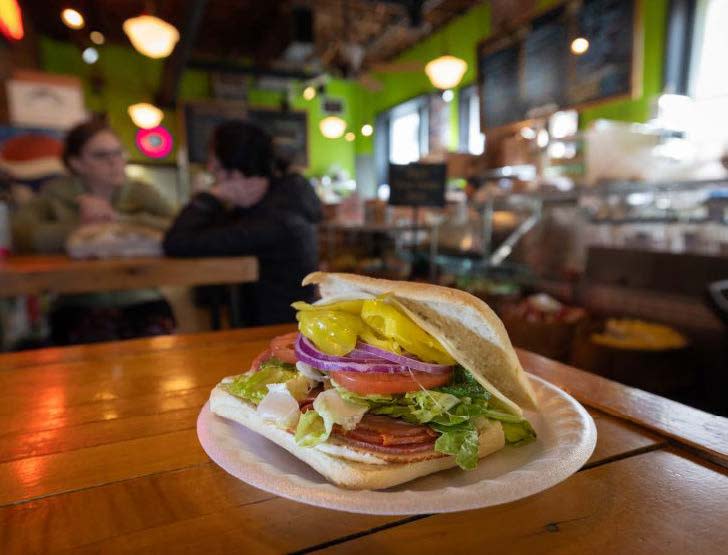 City Market | Ken Klotzbach / Image Conscious Photography
ROCHESTER STANDBY. City Market has been voted one of Rochester's top sandwich stops seven times (starting in 2005). Think New York-style sandwich deli, except in downtown Rochester  where your fellow sandwich fans will hold the door for you on your way to a top-notch sandwich. 
MAKING THE CUT. The Turkey Club and the Roast Beef Gouda are past runners up for Rochester's Best Sandwich and continue to garner praise from lunchers. 
HANDY STOP FOR A SOUP AND SANDY. Located just a few minutes walk from Mayo Clinic's downtown campus, City Market is conveniently located for the lunch crowd—just make sure you get
there before they close at 2 p.m.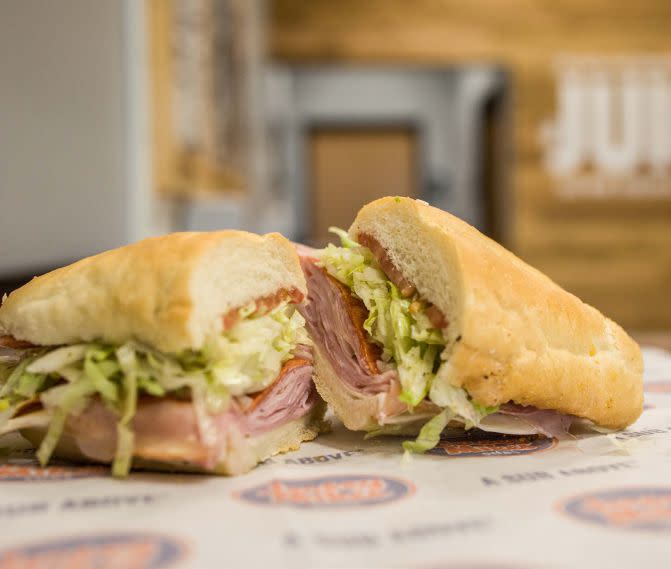 Jersey Mike's | Traci Westcott, Rochester Magazine
IT ALL ADDS UP. One secret sandwich is the Number 99, which is a combo of the Number 43 (Chipotle Cheese Steak) and the Number 56 (Big Kahuna Cheese Steak). Called the "Big Kahuna Cheese Steak with Chipotle Mayo," it features grilled steak, grilled onions, peppers, mushrooms, jalapenos, American cheese, and spicy chipotle mayo.
SLICED TO ORDER. What makes Jersey Mike's different from other sandwich shops is that each sandwich is sliced in front of you—not just bread but the meat and cheese too. That's how you know it's fresh.
"MIKE'S WAY" IS TRIED AND TESTED. Most sandwiches are topped "Mike's Way," with an in-house specialty of onion, lettuce, oil, red wine vinegar, salt and oregano. It's a tangy dressing you'll
come to associate with Jersey Mike's.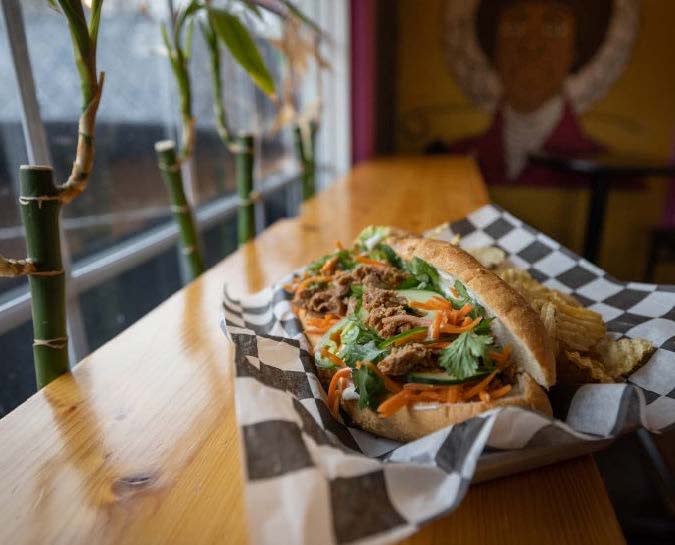 Old Abe & Co | Ken Klotzbach / Image Conscious Photography
BAHN MEAT-LESS. Old Abe's is Rochester's only vegan restaurant. It's most popular sandwich is the "Pork" Banh Mi, which has won Rochester's Best Sandwich in past years for its house pulled vegan pork and Herbivorous Butcher's bacon. Owner Abe Sauer says "people love the unique flavor combinations of the banh mi, especially the way the sweet and salt play with vinegar."
A DIFFERENT KIND OF DINNER ROLL. Another popular "sandwich" on Old Abe's menu is the monster-sized Springrito. Picture the biggest spring roll you've ever eaten. The Springrito is bigger, packed with carrots, radish, lettuce, cilantro, cucumbers and vegan meat. 
DON'T FORGET TO TREAT YOURSELF. Old Abe is home to Drift Dough's rotating selection of small batch donuts—stalk them on social media to find the day's selection and get them before  they're gone! If you missed the donuts, instead sample the various CBD and THC infused gummies and other products Old Abe has on offer.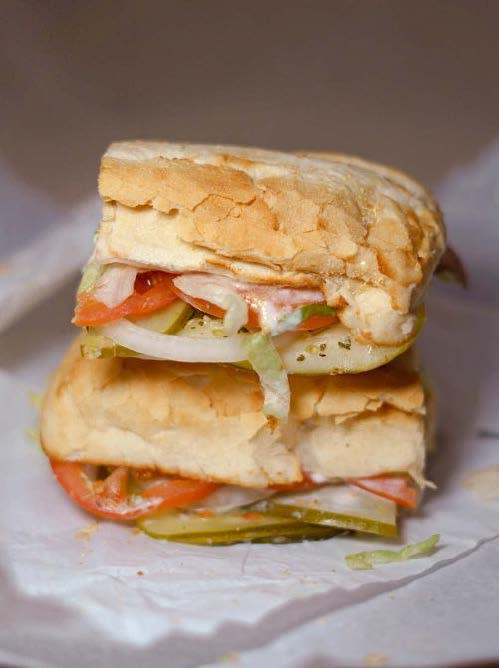 Potbelly Sandwich Shop | Joe Ahlquist, Rochester Magazine
YOU HAVE TO GET WRECKED. This signature sandwich is a meat lovers delight: meat on meat on meat inside a crispy loaf. Specifically, that's turkey breast, hickory smoked ham, Angus roast beef, and salami.
WHAT'S IN A NAME? Here's the backstory, right from their website: "In 1971, Peter Hastings started an antique store, Hindsight, at 2264 North Lincoln Avenue in the Lincoln Park neighborhood of
Chicago. The store had an old potbelly stove, which Hastings began using to make toasted sandwiches to serve to shoppers."
ORDER A CUP OF COMFORT. If a standalone sandwich isn't quite enough to satisfy those mid-morning or lunchtime tummy rumbles, add a hearty soup, creamy mac, or savory salad. The Potbelly menu strikes that balance of just enough choices but not so many you lose precious minutes deciding what to eat.