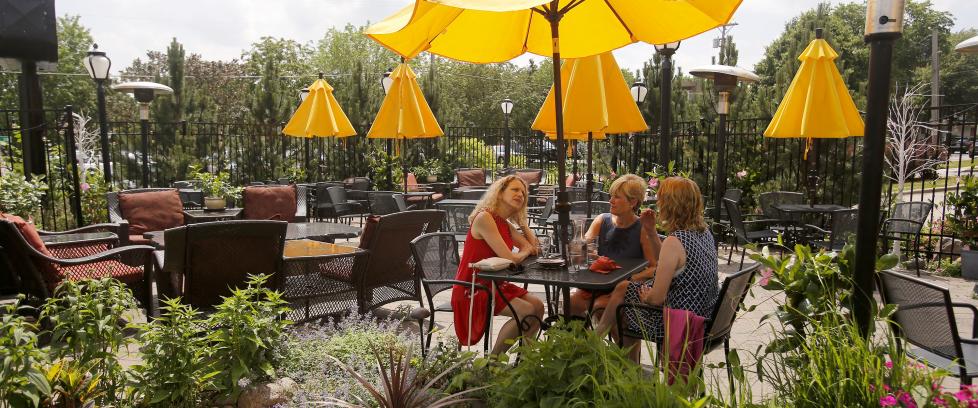 Rochester Magazine
Dine outdoors at these four outstanding Rochester, MN restaurant patios and courtyards, selected by the readers of Rochester Magazine as their favorite places to "take it outside" this spring and summer. 
With its fetching, peppy yellow umbrellas on the patio, this oasis is a place you'll be tempted to go after merely glimpsing it from Sixth Street Southwest. 
"It's the space" that lures them in, says Lauren Fumagalli, marketing and sales associate. "The space on the patio is really nice with the stream, flowers, and vegetation."
Indeed, foliage surrounds the patio and gives it a certain secret garden vibe that will have you forgetting you're on the edge of downtown. So grab a seat by a fireplace, order up some shared gluten-free plates—a Twigs specialty—and dive in.
Best seat in the house: By a fireplace, or tucked over by the stream.
What you gotta know: "A lot of people are surprised by what a fun outdoor dining experience it is," Fumagalli says. They're also shocked by the expansive menu, adds operations manager Liz Marti. "There's definitely something for everyone, from price point to food."
Making a night of it: Fumagalli recommends starting your night inside at the bar with pre-dinner drinks, then taking your party outside. "It makes a nice place to lounge for a while," she says. And the hot rock meals—you grill your choice of meats and seafood on a 650-degree cooking rock that's brought to your table—are as cool as it gets. 
The Tap House is a craft beer powerhouse that opened in November 2012 to immediate fanfare, in no small part because of its prime time downtown rooftop dining option. "We love the views," Stahl says. "I'll never forget walking out there for the first time. It's just breathtaking."
Once the weather turns warm—and we mean, immediately—people flock to The Tap House's outdoor patio, featuring two fireplaces, a large open-air bar and, on the other side of the building, a deck. "People want to be outside," Stahl says. "It's super valuable space for us."
Best seat in the house: On the patio by the fireplace.
What you gotta know: The Tap House hasn't been known for its dinner fare, but that's changing. They feature Taco Tuesday with half-priced tacos, and half-priced burgers on Wednesday nights with $4 pints. "It's a struggle getting people to come to us as a dinner destination," Stahl says. "But it's not just about the beer anymore. We have great tacos and burgers."
Making a night of it: Park in the nearby downtown ramp, and hit the full block of bars and restaurants. The Tap House is situated halfway between Bitter and Pour and The Half Barrel, and to Stahl it's an ideal placement. "Business brings business," she says. "The more businesses you have doing well here, the more it brings people down. It's good for everybody." Oh, and try the Buffalo Cheese Curds.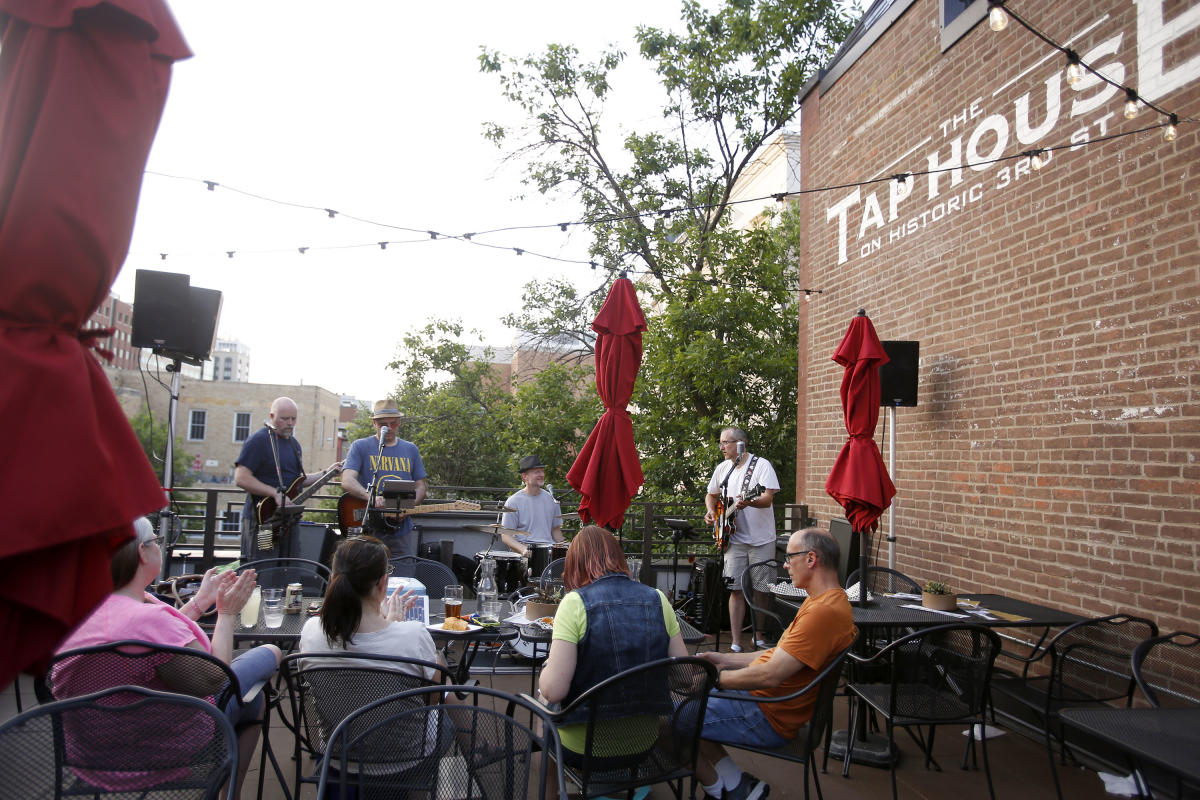 photo courtesy of Rochester Magazine
Whistle Binkies on the Lake is a little bit like Netflix—you wish you'd thought of it first. Because who would have guessed a remote, southwest restaurant tucked into a hard-to-find commercial neighborhood would be such a raging success? Not us.
But a raging success it has been since opening 11 years ago. Between the seating for 200 people inside and 200 outside, Whistle Binkies on the Lake draws in people year-round. But during the summer, this is 'the' place to be. Volleyball teams take over the adjoining courts four nights a week, and low-top and high-top tables with umbrellas are all the rage for people who want to watch.
"For sure the patio, the lake, the water, the scope of the patio, and the fact that we can do parties out there makes us popular," says manager Craig Kangas." It definitely is a destination."
Best seat in the house: Patio high-top tables facing east toward Wood Lake. 
What you gotta know: Binkies on the Lake rolls out weekly salad specials during the summer; they're almost as popular as the restaurant's summer-favorite mojitos. "We are very fortunate to be busy every night of the week in the summer," Kangas says. And watch their online Binkies event calendar for news about upcoming live music shows.
Making a night of it: "People always say, 'I see you (from Highway 63), but I could never figure out how to get there,'" Kangas says of the restaurant's challenging location. But people manage, because they're coming in droves to Binkies on the Lake. (If you go, just remember to take the 40th Street exit to get to Woodlake Drive and you'll be set.)If it gets cool in the later evening hours, retire to The Beer Garden—Binkies' three-season porch—and mojito the night away.
photo courtesy of Rochester Magazine