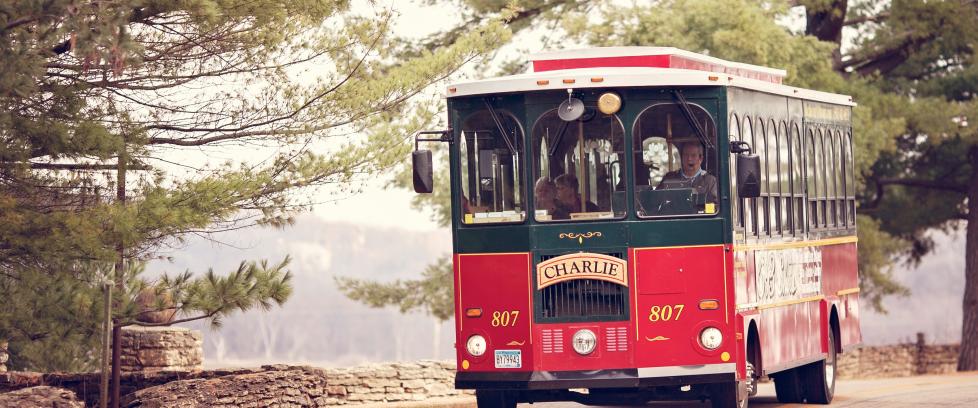 AB-PHOTOGRAPHY.US
The number one question area waiters, hotel concierges and other service folks get asked by Rochester, MN visitors is this: what's there to do here? Luckily, we have the answer.
Two supreme options for filling time between medical appointments, sports games, or during the weekends are Rochester Trolley & Tour Company and Scheels, a sporting goods store that also features a variety of entertainment venues. 
 
At Scheels recently, one visitor remarked, "Big store!" and a second oohed, "Oh cool!" upon spying the Roller Ball Mini Bowling feature on the store's second floor. Those are typical responses from folks visiting either while here for Mayo Clinic treatments or for regional sporting events, says Scheels Store Leader Aaron Schmitz.
 
Then there's Rochester Trolley & Tour Company, which offers week day and weekend tours that are incredibly popular with people from all over the country and world. Earlier this summer, one week on the trolleys found visitors from Australia, Canada, Columbia, England, Ireland, Norway, Japan and Saudi Arabia, among other places, says Founder Dan Butterfass.
 
"Trolley tours, you don't find them everywhere," Butterfass remarks. "We try to be unique and in tune with what our city has to offer by ways of culture, scenery and history."
At Scheels, located in the Apache Mall, fun is the name of the game, says Schmitz. "We sell fun, so we want our customers and their kids to have fun while they're here," he says.
 
Scheels: Sporty fun for the family
Among the fun features at Scheels in Rochester are a kids' climbing gym for small children, roller ball, laser shot, the Buck Hunter arcade, photo opportunities with four presidential statues, and sports simulators where you can test your skills at golf, soccer, hockey, baseball, football and basketball. It's the biggest Scheels store in Minnesota, Schmitz says. And dare we add, possibly also the most fun?
 
"It's a fun place to work and that's reflected to the customers," chimes in Assistant Store Leader Lauren Belter. "Customers get that excitement from the crew."
 
Scheels staff members are also hired in part because of their sports expertise or passion. They're then placed within that specific department, and taught even more about the sport or activity that ranks as their fave. Staff undergo several weeks of training before they're allowed to be on the floor selling merchandise. Why? Scheels wants all employees to be pros in their area.
 
The training philosophy "encourages our team to get their hands on the product themselves and use it," says Schmitz. They in turn can be more informed when responding to customer inquiries about specific product lines.
 
Customers can easily pass a few hours at Scheels, so plan your outing accordingly. You can even grab a bite at the store's little restaurant on the main level called Gramma Gina's. "It's just a fun place to look around and shop," Belter says. "There's an attraction around every corner. You can't go too far without finding something to do."
 
Rochester Trolley & Tour Company: Engaging visitors from all over the world
 
Butterfass founded this company because of his interest in history, and it shows on these trolley tours. You'll learn gads about Rochester and its medical pioneer history, among other topics, while touring the city on quaint, old-fashioned trolleys named -- historically apropos for Rochester -- Mayo, Alfred, Will, Charlie and Henry, all medical pioneers from decades prior.
 
He wanted to help bring light to the "unique history of Rochester," says Butterfass. Plus, "we have the opportunity to meet, engage and interact with visitors from all around the world. That's a true bonus for us."
 
As many as fifty people per day are taking trolley tours, and that will grow in the coming year considering that Rochester Trolley anticipates adding a sixth trolley to its fleet.
 
Among the favored tours are the Wine Trail & Microbrewery Tour, the Rochester City & Mayo Historical Trolley Tour, the Old Order Amish Country Tour and the Scenic Mississippi Valley Country Tour, among others. Tours are available during the week and on weekends.
 
Some folks are eager to hop on board the Sunday trolley tours before they start a week of Mayo Clinic appointments on any given Monday, Butterfass says. They're also adding a ladies' night out, have added an Iconic Rochester trolley tour recently and feature private events, as well.
 
"We've been at this since 2006, so that's allowed us to really understand the Rochester market and expand to make tours available to more and more guests," Butterfass says. "We started to fill a perceived need and it has definitely taken on a life of its own since 2006."
Find more Rochester, MN events and activities.