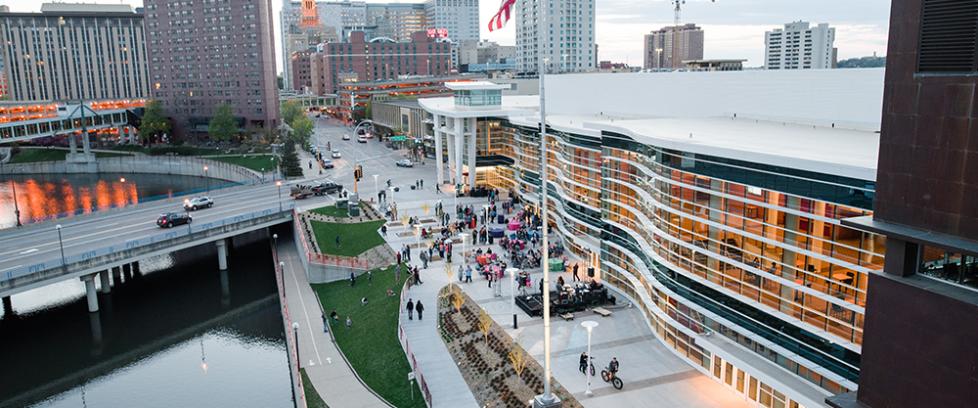 Time Into Pixels Photography
If you're attending a conference or event at Mayo Civic Center in downtown Rochester, MN, you're within easy walking distance of many fun things to do and places to go. Mayo Civic Center, Rochester's convention and event center, is connected via climate-controlled skyways and underground pedestrian walkways to an abundance of unique activities and entertainment options, as well as dozens of exceptional restaurants and a vibrant nightlife scene.
Things To Do Near Mayo Civic Center
Consider these entertainment options and activities in the flourishing downtown area near Rochester, MN's convention and event center, the Mayo Civic Center:
The Rochester Art Center is located at the Mayo Civic Center and features contemporary art exhibits from some of the country's most talented artists. During a break in your conference, stroll through a strikingly-designed, spacious gallery that serves as a cultural center for innovation and creativity in southeastern Minnesota.
The Rochester Civic Theatre, also located at the Mayo Civic Center, presents a variety of professional and community theater, music, and dance performances. Attending a production at the Civic Theatre is just the ticket to an entertaining evening after your last meeting of the day!
Dozens of unique boutiques and stores are located at the Galleria, connected to Mayo Civic Center via skyway, and in the underground pedestrian walkway system. You'll find only-in-Rochester gift shops and clothing boutiques, as well University of Minnesota Rochester apparel at the M Gear Store. (Bonus: no sales tax on clothing in Minnesota!)
For convention attendees interested in health and wellness, the Mayo Clinic Healthy Living Program, located in a state-of-the-art 7-story Healthy Living Center, is open to the public. Enjoy a free 20-minute personal wellness consultation, take a tour of the wellness facility, book an appointment in the Rejuvenate Spa, and more. The Mayo Clinic Healthy Living Program also creates custom group retreats that could be a memorable experience for convention groups or teams traveling to Rochester, MN together.  
Festivals on Peace Plaza are always popular with convention attendees. During the summer months, the city hosts a weekly outdoor festival, Thursdays Downtown, formerly called Thursdays on First & 3rd. Bands perform on two stages each week, and downtown streets are lined with booths serving up delicacies from local restaurants and featuring items handcrafted from local artists. For a long weekend every winter, Peace Plaza is transformed into an outdoor ice bar experience, SocialICE. SocialICE features several uniquely designed and themed ice bars – each with signature drinks – as well as lighting effects, ice sculptures, and more.
The outdoor Rochester Farmers Market is a must-do for visitors who are in town on a Saturday morning from May through October. Meet our local farmers and explore dozens of booths featuring fresh veggies, fruits, meats, flowers, and more. Be sure to try the scrumptious warm cinnamon rolls while you're browsing! Located at Graham Park, rain or shine.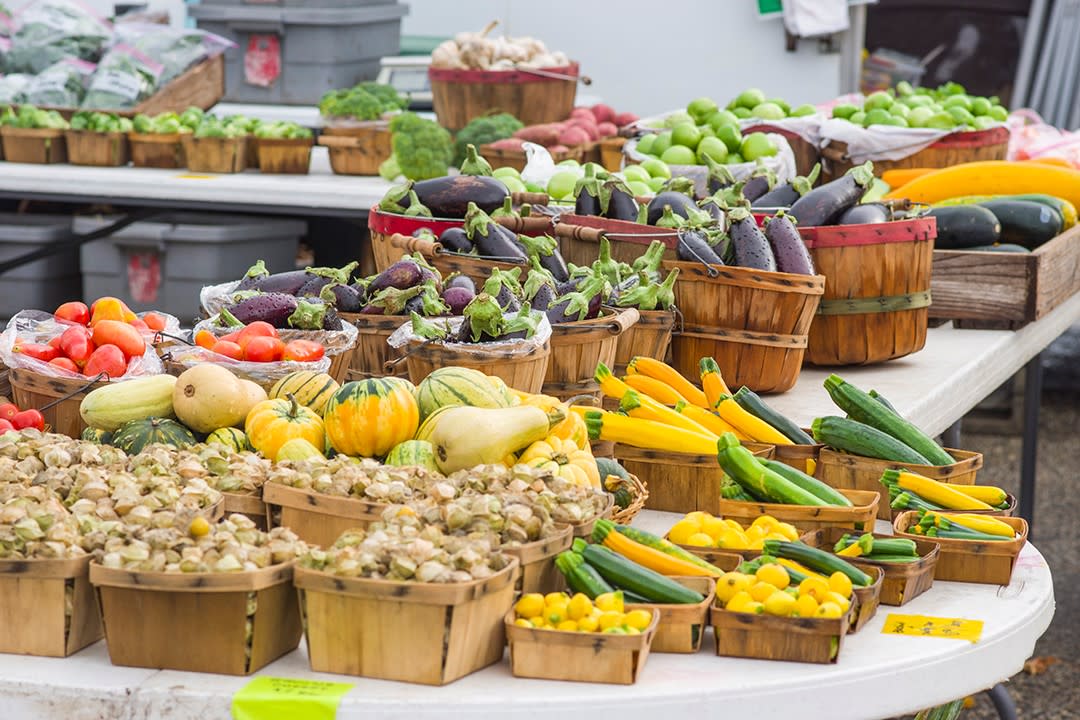 Rochester Farmers Market | photo by choochoo-ca-chew
If you only have a few minutes to spare, several walking routes begin at the Mayo Civic Center. You can access Rochester's 85 miles of paved, interconnected biking and hiking trails right outside the center along the Zumbro River.
Enjoy a quick walk with downtown skyline views during a break in your day.
Restaurants Near Mayo Civic Center
A wide variety of locally-owned, only-in-Rochester restaurants are within blocks of Mayo Civic Center. Here's a taste of a few restaurants that convention attendees may want to try:
ThaiPop - ThaiPop is a full service restaurant at the corner of Broadway Avenue and Historic Third Street, serving Thai cuisine and creative Thai inspired cocktails.
Terza Ristorante – Convention attendees and event-goers always give rave reviews to Terza, which hand-crafts and serves fresh pastas and desserts "with amoré" in a stylish, friendly environment. 
Bleu Duck Kitchen – You'll love the combination of "fine dining" and "fun dining" at Bleu Duck Kitchen, which provides innovative American cuisine in a welcoming atmosphere.
Bleu Duck Kitchen | photo by TJ Turner
The menu emphasizes locally-grown produce and meats, and features an exhibition kitchen for you to follow the action as your food is prepared.
Chester's – A favorite spot for downtown visitors to grab lunch or enjoy Happy Hour, Chester's offers casual upscale dining and made-from-scratch food. Sit on the patio (seasonally) just steps from the beautiful Peace Plaza Fountain.
Nightlife Near Mayo Civic Center
Continue enjoying the city of Rochester after your meetings conclude for the day. Here are just a few nightlife hot spots located within a few blocks of the convention center and downtown hotels:
Bitter & Pour -- Enjoy a cozy, intimate setting tucked away on Historic 3rd Street. Serving cocktails, wine, craft beer, and small plates.
Kathy's Pub -- Treat yourself to a cocktail and a view from the third floor rooftop patio at Kathy's Pub. Features live band performances, pool tables, darts, and a sports bar.
Check out more things to do, dining, and nightlife opportunities as you plan your visit to Minnesota's Rochester!