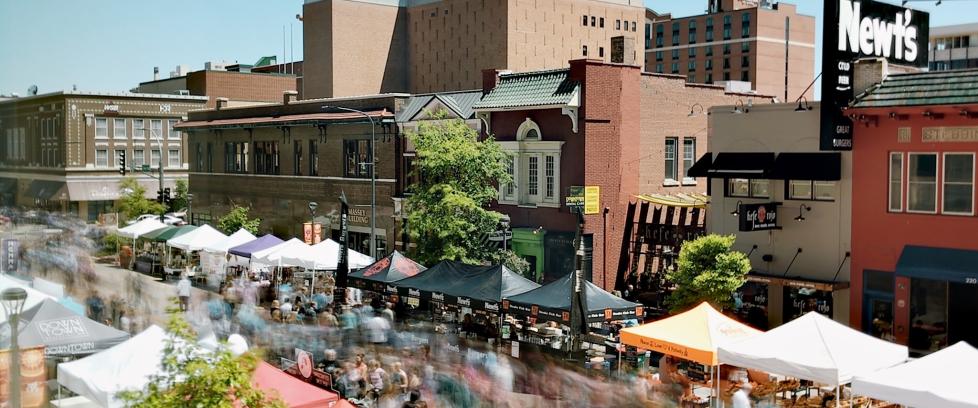 AB-PHOTOGRAPHY.US
One of Rochester, MN's most beloved things to do in the summer is the weekly outdoor Thursdays Downtown festival. (Watch a short video showcasing Thursdays Downtown.) Held in downtown Rochester every Thursday from June 1 through August 31, 11 a.m. - 8:30 p.m., Thursdays Downtown features more than 100 art, craft and food vendors, as well as live entertainment. With two stages and a rotating schedule of bands, music lovers can get their fix!
Thursdays Downtown (formerly called Thursdays on First & 3rd) was started over a decade ago by the Rochester Downtown Alliance, and attracts large crowds of local residents and visitors to Rochester. This is a unifying event that provides a free option to simply enjoy life, feel a sense of place, and interact with others!
Consider these helpful hints when visiting Thursdays Downtown:
Better Than Your Typical "Fair Food"
One of the best parts of Thursdays Downtown is the variety of food choices, and you can get a slightly more sophisticated version of "fair food" at this event. From gelato to tacos, burgers to beer, pad thai to popcorn...you're going to find something there that you want to eat.
Food vendors are grouped in two areas at the festival: at the south end of First Ave. near Third St. as well as on or near the Peace Plaza. At lunch hour and after 5 p.m. the festival can get congested, so consider eating at a non-peak time or eating your food on the Peace Plaza grass (bring a blanket!). If you're visiting with kids, the Peace Plaza fountain is a fun place for kids to splash and play.
Prepare To Be Entertained
There are two main stages where you can hear music at different times of day: the Bremer Bank stage by First Ave. and Third St. and the Rochester International Airport stage on the west end of Peace Plaza near the Kahler Hotel and Gonda Building. The Rochester International Airport stage usually provides shade--nice on a hot, sunny day.
Musicians perform (in a variety of genres) from 11:30 a.m. - 1 p.m. and 5:00 p.m. - 7:00 p.m. on both stages. 
Don't miss Thursdays Downtown, and other popular fairs and festivals in Rochester, MN. Visit our Event Calendar to discover what will be happening when you are in our vibrant city!