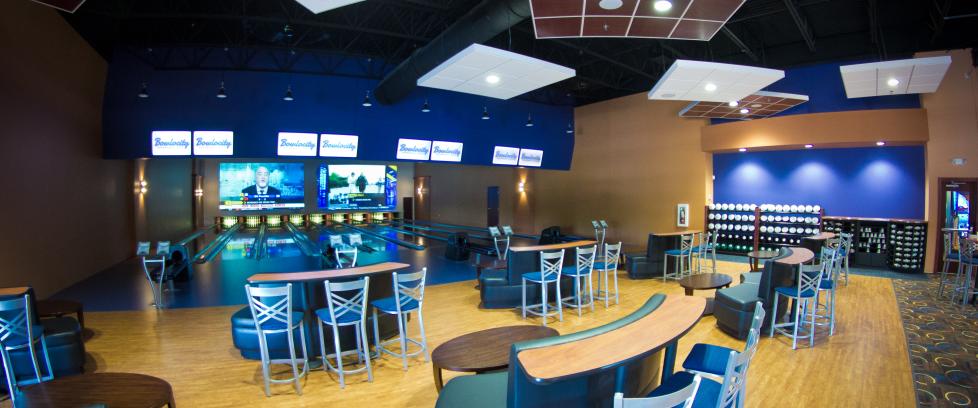 Bowlocity Entertainment Center
Rochester, MN has plenty to offer teenagers. Whether you're a visitor or resident, here are some hot spots and fun activities to check out.
Open Ice Skating at the Rochester MN Rec Center
21 Elton Hills Drive, Rochester MN, 55901 // (507) 328-2500
Hit the rink with friends and polish up your skating skills at the Rochester Recreation Center.  Admission to the Rec Center is $4 for ages 6-17 and $5 for 18 years of age and older. Skate rental is $2.  Please be sure to check the website as open skate times are subject to change.
Open Skate Times:
Fridays: 7:00 – 9:00 PM
Saturdays: 11:30 AM – 3:00 PM and 7:00 – 9:00 PM
Sundays: 7:00 – 9:00 PM
3160 Wellner Drive NE, Suite 102, Rochester MN 55906 // (507) 322-0132
Buy and play board games, tabletop games, and miniature games at D6 Games, which provides a clean, safe, and inviting place to play, learn, and purchase games. Check out D6's event calendar for an extensive list of scheduled open and league play events. Enjoy a great selection of snacks, pizza, and sodas while gaming. Don't miss the complimentary popcorn!
6071 Rome Circle NW, Rochester MN, 55901 // (507) 218-1500
On the first Saturday of every month, Roca Climbing & Fitness offers the first five high schoolers that come in after 5 PM a free Clip & Go climbing pass to try indoor climbing! Then there's a discount for high schoolers after that on Saturday evenings. For more information check out the High School Climbing Club. 
MegaWatt Video Game Party Trailer
Have fun at a video gamer party with your friends!  The MegaWatt luxury video game trailer is high-tech and state-of-the art for ultimate video game fun. With seven stations, great video games and consoles, stadium style seating and more, teens will have a blast with their friends.  The MegaWatt Video  Game Party Trailer is available for birthdays and special occasions.  Watch their Facebook page for pop-up gaming nights all over Rochester!
1607 Highway 14 East, Rochester MN, 55904 // (507) 322-6197
Air Insanity is Rochester, MN's premier indoor trampoline park!  This 32,000 square foot facility is fun for the entire family and teens will especially have a great time with their friends.  Here are some of the activities they can do at Air Insanity: jump on 130+ interconnected trampolines, challenge your friends to a Nerf War, play an extreme game of dodge ball, defeat the Ninja Warrior style obstacle course and more.  There are several important things to keep in mind when you visit:
If a jumper is under 18, a waiver MUST be signed by an adult
A jumper must wear a special pair of grip socks.  These are available for $2.50 at Air Insanity.
It is $14.99/hour to jump.  Additional 1/2 hour time increments can be added for $4.99 to any jump time.
Weekend Hours: 
Fridays: 4:00 PM – 9:00 PM
Saturdays: 10:00 AM – 11:00 PM
Sundays: 10:00 AM – 8:00 PM
Complete hours can be found here. 
2810 North Broadway, Rochester MN, 55906 // (507) 288-2601
Bowlocity is an exciting entertainment center in Rochester, MN. In 2014, Bowlocity completed a $4 million expansion to modernize the facility. This expansion included a suites bowling area with eight blue lanes that include couches. They also added a 45-game redemption arcade and a 20-vest, state-of-the-art, two-story laser tag arena. Prices vary for bowling, the arcade and laser tag. Find complete pricing information on the website.  If you are bowling, you may call to make reservations.  Shoes can be rented for $3.49.  No reservations are taken for laser tag.
Hours:
Monday – Saturday: 9:00 AM – 11:00 PM
Sunday: 9:00 AM – 10:00 PM
Teen Events at the Rochester Public Library
The Rochester Public Library located in downtown Rochester, MN provides programming and things to do for all ages, including teens!  Parking is available in the attached ramp and is free after 5:00 PM on weekdays and all day on Saturday and Sunday.  Here are some teen specific things to do at the Rochester Public Library:
Get Graphic - This is a social gathering for teens who love to talk about and create graphic novels. 
TeenScape Mondays - Play games, make art, color, build a puzzle – something different is happening every Monday!
Chess Club - Anyone age 9 or older and interested in playing chess is invited to meet each week. Whether you are a beginner or an experienced player, all are welcome.
Thursdays Downtown
Hang out with friends at Rochester, MN's weekly summer festival located in the heart of downtown on First Avenue SW and 3rd Street SW.  With food vendors, live music, special events, shopping and more, there is always something to do.  If relaxing and people-watching is the goal, spend some time in the Peace Plaza in front of the fountain.  Thursdays Downtown (formerly called Thursdays on First and 3rd) occurs every Thursday from 10:00 AM – 8:30 PM from June – August.  
1/2 Price Appetizers at Applebee's
Applebee's is an extremely popular weeknight and weekend hang-out for Rochester area teenagers.  All menu appetizers are 1/2 off the listed price after 9 PM on weekdays and 10 PM on weekends.  Applebee's focuses on casual dining while serving up mainstream American fare.  
1010 Apache Mall, 1201 12th Street SW, Rochester MN, 55902 // (507) 206-6330
Like the arcades of old, only better!  Instead of using tokens or coins, guests pay one flat fee based on age: 13 and above is $10 for all-day play, 8-12 is $5 for all-day play, and children 7 and under are free!  Enjoy classic arcade games such as Pac-Man, Donkey Kong, Centipede and more.  Private party bookings and machine rental is also available.
Families with younger kids should check out Things to Do with Kids in Rochester, MN.