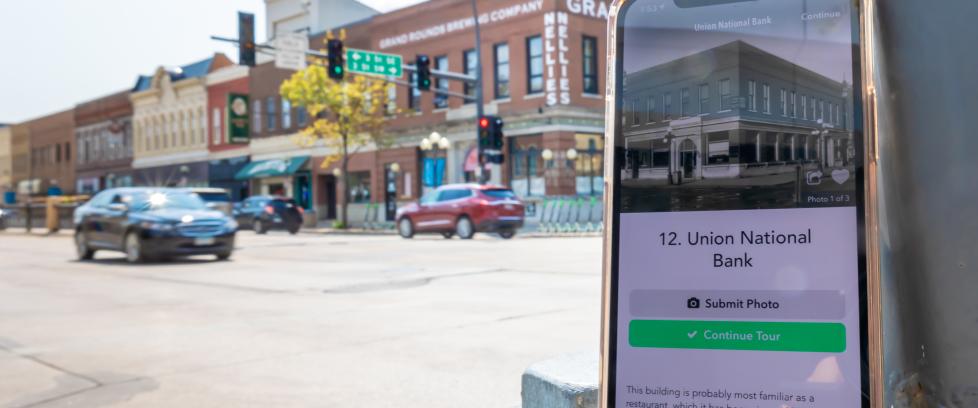 The History Center of Olmsted County has a new way for Rochester residents and visitors to experience our area's rich history: Tour the city as it was 50, 100, and even 150 years ago through its new app-based, self-guided tour of the downtown area.
The tour is about one mile long and features 20 historic sites and shares the history of the earliest settlers and the founding of the world-famous Mayo Clinic. It takes about an hour and a half to complete.  
"We were looking for ways to get back into the downtown area," explained Kevin Whaley, Collections Manager at the History Center of Olmsted County. "Our presence is very much out on the southwest side of town, with the history center's location and Mayowood Mansion, where we give tours."
To create the walking tour, History Center volunteers helped research historic buildings and businesses in downtown Rochester. Then, using the center's vast collection of historic photos, they created the tour using a free app called PocketSights.
The tour starts and ends at two sites likely familiar to Rochester residents – the Plummer Building and Chateau Theatre – but the stops in between may be lesser known. For example, the tour points out where a lumber company, a cigar store, and multiple theaters used to be located.  
"It was amazing how many different theatres used to be downtown. Most are almost all completely gone or have been converted to other things," Whaley said. "The Chateau Theatre is one of the few that still keeps that theatre presence."
The tour launched earlier this year and Whaley says the most common reaction is surprise.
"The biggest thing we're hearing is that so many people didn't know the history of the different sites or that there used to be a lot of different types of industry downtown," he said. "Rochester's always been evolving, always been changing and we'll keep changing and learning about these businesses and the people that came before us."
Next, the History Center plans to create a tour of the Pill Hill Residential Historic District, and it always welcomes suggestions for future tours in Olmsted County.
To go on the self-guided tour:
1. Download the free PocketSights Tour Guide app, available on the Apple App Store and Google Play.
2. Make sure Location Services are enabled.
3. Tap the "Downtown Rochester" tour.
4. Tap "Start Tour"
5. Select "Standard Tour Mode" to follow the suggested route or "Free Roam Mode" if you want to visit the points in any order.
6. Using your location, the map will provide directions and point you toward each stop on the tour.