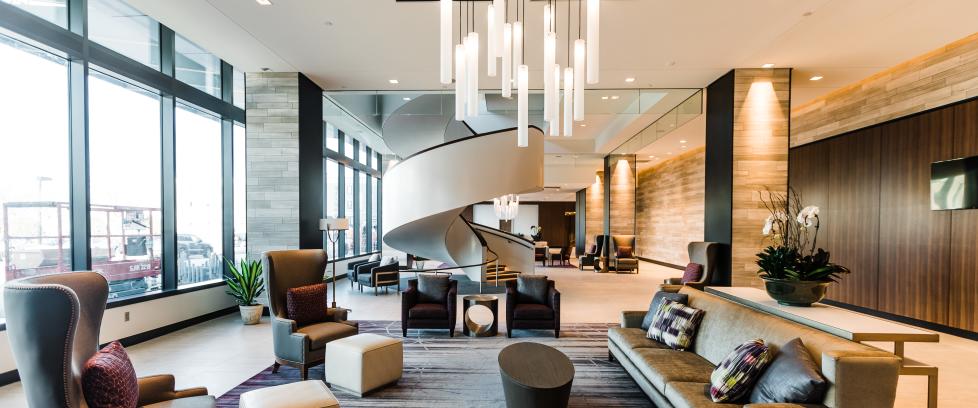 Hilton Downtown | AB-PHOTOGRAPHY.US
Minnesota's Rochester is transforming into an even more exceptional destination for visitors as several new hotels have opened in 2019 or are anticipated to open in the next few years.
By the end of 2020, downtown Rochester (the location of Mayo Clinic's main campus) is expected to add hundreds of new hotel rooms, which will raise the downtown room count to more than 3,000 and the citywide room count to more than 7,000.
These downtown hotels are connected via climate-controlled skyways and underground walkways to Rochester's downtown convention and event center, as well as to Mayo Clinic's downtown buildings and dozens of restaurants, stores, and nightlife options.
"We are excited to be in the middle of a development boom that will benefit Rochester's  visitors. Our downtown guests will soon be enjoying some beautiful new hotels, with exciting new restaurants and stores being developed in tandem," said Mary Gastner, interim executive director of Experience Rochester MN. "We think these new hotel complexes, combined with our city's unmatchable hospitality and spacious new convention and event center, will appeal to visitors and keep them coming back!"
Some hotel projects include:
Hilton Downtown Rochester. The 264-room Hilton Downtown Rochester is a new 20-story upscale hotel that opened in April, 2019 at the southeast corner of South Broadway and East Center Street. It features two grand ballrooms, a conference center, five-star dining at Pittsburgh Blue Steakhouse, a full-service luxury spa, outdoor terrace and underground parking, and retail shops. This is one of the first projects under the city of Rochester's Destination Medical Center (DMC) initiative, a public-private partnership to position Rochester, MN as the world's premier destination for health and wellness.  DMC is the largest economic development initiative in Minnesota and one of the largest in the nation.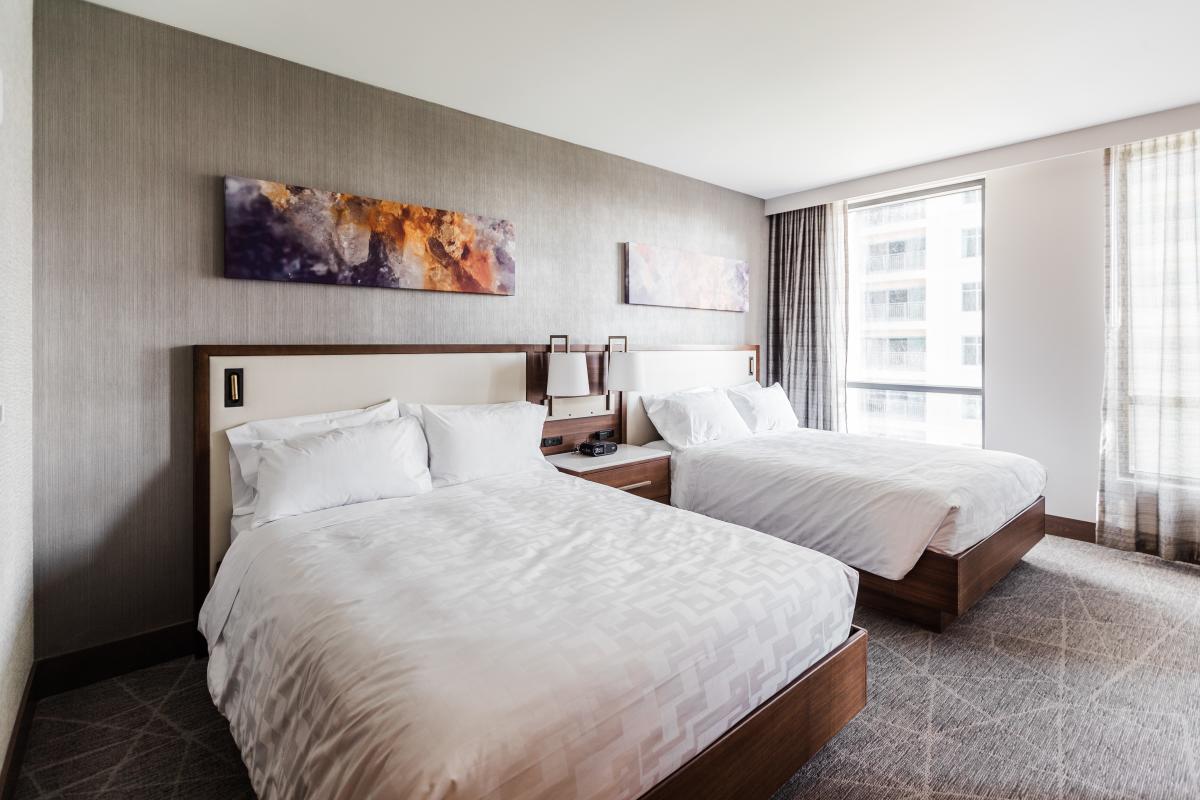 Hilton Downtown Rochester  // photo: AB-Photography.us  
A hotel on the top of Mayo Clinic's Gonda Building. In September, 2018, Mayo Clinic and Pontiac Land Group announced plans for an 11-floor expansion of the Gonda Building on Mayo Clinic's downtown Rochester campus. The 11-floor expansion will include four floors of new clinical space and seven floors for a premier hotel. Mayo Clinic and Pontiac Land Group will jointly own the hotel, which will be operated by a major hotel group to be announced at a later date. Preliminary plans are for construction to begin by the end of 2019 or early 2020, with the project being completed by the end of 2022. 
A Civic on First hotel project. Construction is expected to begin in 2019 on a unique, extended stay 172-room hotel project with parking spaces and retail components. The 8-story hotel is expected to carry the Hyatt House brand and will be located on the previous site of the American Legion at First Ave. NW and Civic Center Drive.
A new Hotel Indigo in the current location of the downtown Holiday Inn on South Broadway. The 173-room Holiday Inn was recently purchased and the new owners plan an extensive renovation of the establishment into a modern, high-end boutique hotel. The Holiday Inn ceased operations and renovations began in September, 2018. The new hotel is expected to be complete in 2019. 
A new hotel and mixed-use development to replace the Days Inn on the northeast corner of West Center St. and First Ave. NW. This project is in initial stages of discussion. Tentative plans call for a 16-story mixed-use building that includes a 200-room hotel, 120 apartments, 317 parking stalls and 8,000 to 10,000 square feet of retail and restaurant space. No formal applications for this project have been submitted to the city.
A new, five-story "Eleven 02" hotel across from Mayo Clinic's Saint Marys campus. Located about a mile from the heart of downtown Rochester, this new, extended-stay 150-room hotel is planned to open in 2020 on the site where  Virgil's Auto Body is currently located. 
Plan your visit to Rochester, and find out more about our accommodations both downtown and in other parts of the city.