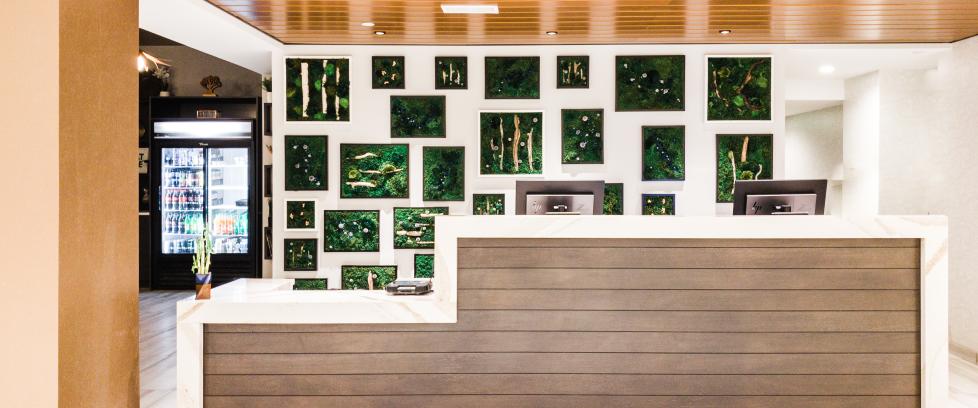 AB-Photography.us
Minnesota's Rochester is transforming into an even more exceptional destination for visitors as several new hotels have opened in the last few years. 
Rochester (the location of Mayo Clinic's main campus) has added hundreds of new hotel rooms, which raises the downtown room count to more than 2,100 and the citywide room count to more than 5,700.
These downtown hotels are connected via climate-controlled skyways and underground walkways to Rochester's downtown convention and event center, as well as to Mayo Clinic's downtown buildings and dozens of restaurants, stores, and nightlife options.
Some hotel projects include:
A new Hotel Indigo in the location of the former downtown Holiday Inn on South Broadway. The new hotel opened in 2020 and features skyway access, a CRAVE restaurant with retractable roof, and amenities and decor that convey its "nurtured by nature" theme.  Guest rooms feature hardwood floors with rugs, bathrooms with glass enclosed showers and barn door closures.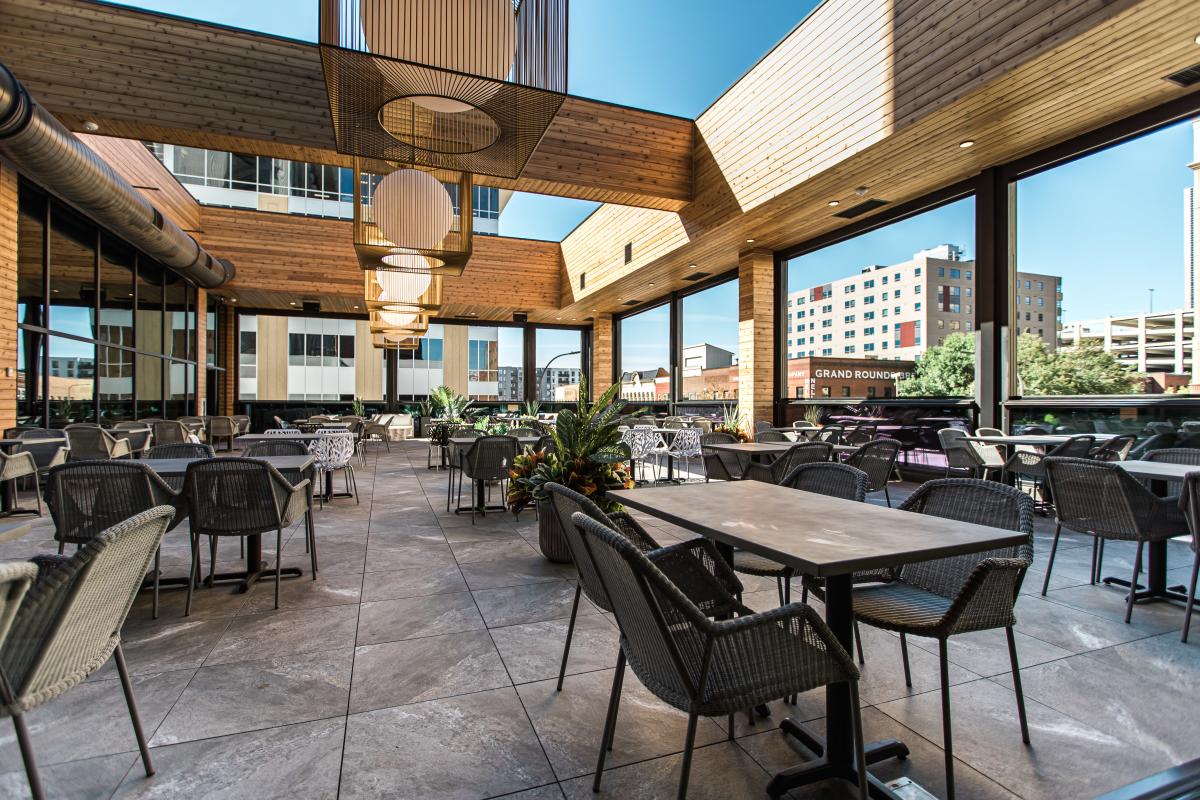 Hilton Downtown Rochester | AB-PHOTOGRAPHY.US
Renovation of Kahler Grand Hotel and The Towers at the Kahler Grand. In December 2018, the Kahler Hospitality Group began a major renovation project of Rochester MN's iconic Kahler Grand Hotel as well as the luxurious The Towers at the Kahler Grand. The renovation includes a total remodel and restyling of 605 guest rooms on levels two through 11. The Kahler Grand Hotel saw the conversion of 192 rooms to 130 larger, contemporary rooms and also increased the number of rooms which are accessible to guests with disabilities. Mayo Clinic patients who stay at the hotel have more options for a comfortable stay. The Towers at The Kahler Grand saw luxurious improvements to its 44 guest rooms as well as modernized and fine finishes for its exclusive Towers Concierge Lounge. All of these renovations increased Rochester MN's profile as a top destination to hold meetings and conventions.
Hilton Downtown Rochester. The 264-room Hilton Rochester Mayo Clinic Area is a new 20-story upscale hotel that opened in April 2019 at the southeast corner of South Broadway and East Center Street. It features two grand ballrooms, a conference center, five-star dining at Pittsburgh Blue Steakhouse, a full-service luxury spa, outdoor terrace and underground parking, and retail shops. This is one of the first projects under the city of Rochester's Destination Medical Center (DMC) initiative, a public-private partnership to position Rochester, MN as the world's premier destination for health and wellness.  DMC is the largest economic development initiative in Minnesota and one of the largest in the nation.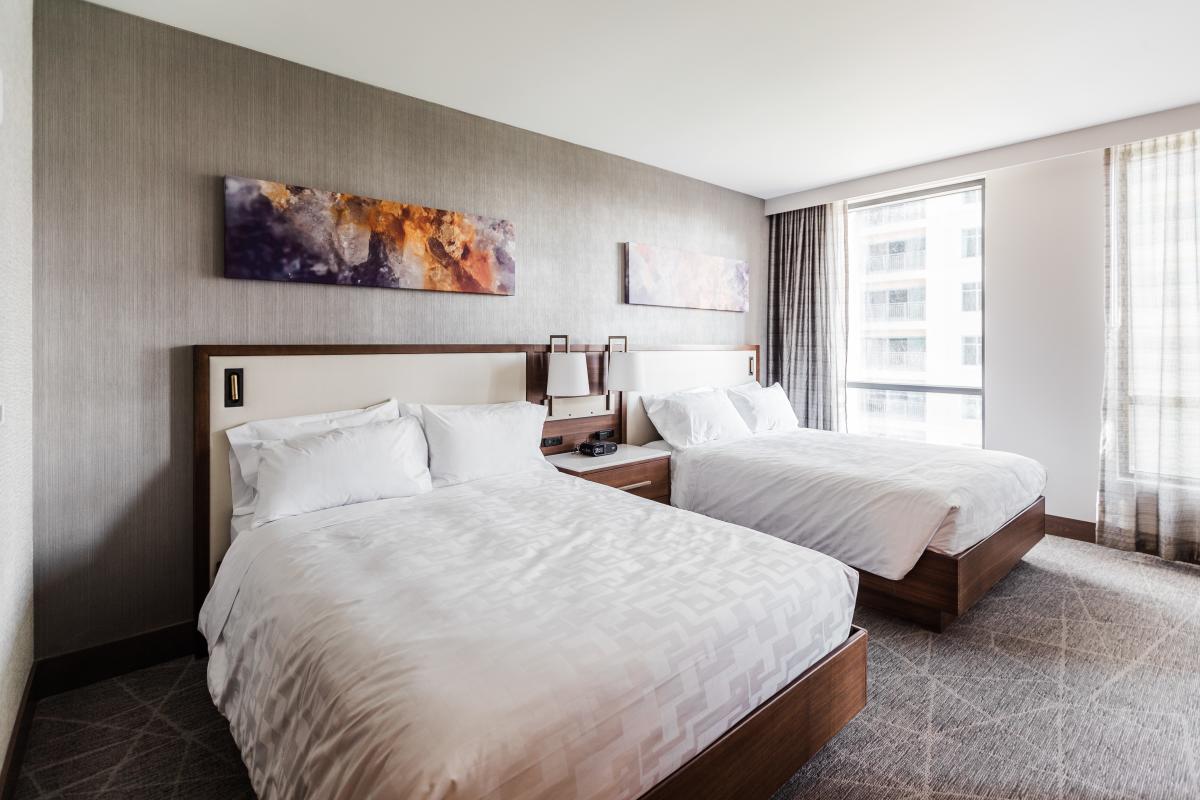 Hilton Downtown Rochester | AB-PHOTOGRAPHY.US 
A new Hyatt House extended-stay hotel. Hyatt House Rochester Mayo Clinic Area is a unique, extended stay 172-room hotel with parking spaces, bar and restaurant, and a pool. The 8-story, pet-friendly hotel opened in spring of 2021 and is located at First Ave. NW and Civic Center Drive.
A new, five-story dual-brand hotel across from Mayo Clinic's Saint Marys campus. Located about a mile from the heart of downtown Rochester, this new, 150-room hotel opened in the spring of 2021. The Staybridge Suites and EVEN Hotel by IHG have a special focus on energy, health and wellness.
Plan your visit to Rochester, and find out more about our accommodations both downtown and in other parts of the city.