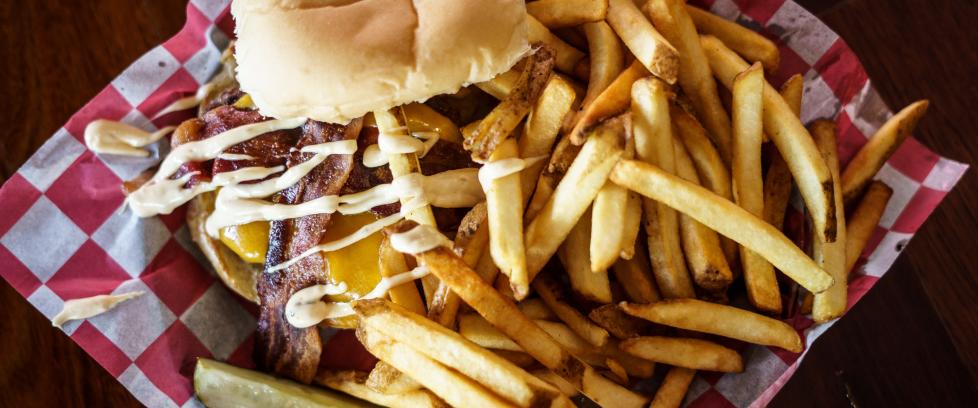 Marvin's Burger at Newt's | Rochester Magazine
Sink your teeth into these seven brilliant burgers, voted the best in the city by the readers of Rochester Magazine.
The Marvin at Newt's
Newt's North: 5231 US 52, 507-226-8266; Newt's Downtown: 216 First Ave. SW, 507-289-0577; Newt's South:1201 S. Broadway, 507-258-7575
In Rochester's realm of burger places, there is one joint that continues to sit on the (cast) iron throne, reigning supreme. Newt's has been voted by Rochester Magazine readers as having the best burgers since 2003, and this year is no different. The Marvin's Burger is marvy, as they say, with its tantalizing blend of hardwood-smoked hickory bacon, chipotle mayo, and cheddar cheese. When you sink your teeth into one of these bad boys, you'll understand how Newt's somehow manages to go through two tons—tons!—of ground beef a month, and why it's still your number-one burger in town.
The Forager at Forager Brewery
1105 Sixth Street NW, 507-258-7490
While its name may suggest that searching is in order, you won't have to look far to find the best burger at Forager. The Forager Burger explodes with intense flavors—from the AmaBlu cheese hailing from Faribault to the smoked-and-sliced-in-house bacon. Even the pickled onions have a story—they're from local farms. The bartender recommends that you pair the Forager Burger with a Slope Life IPA—the crispness will complement the rich flavors you encounter in each burger bite. And pretty much any day of the week you can expect to be entertained with live music. Great burgers, great brews, great bands. You'll find what you're searching for.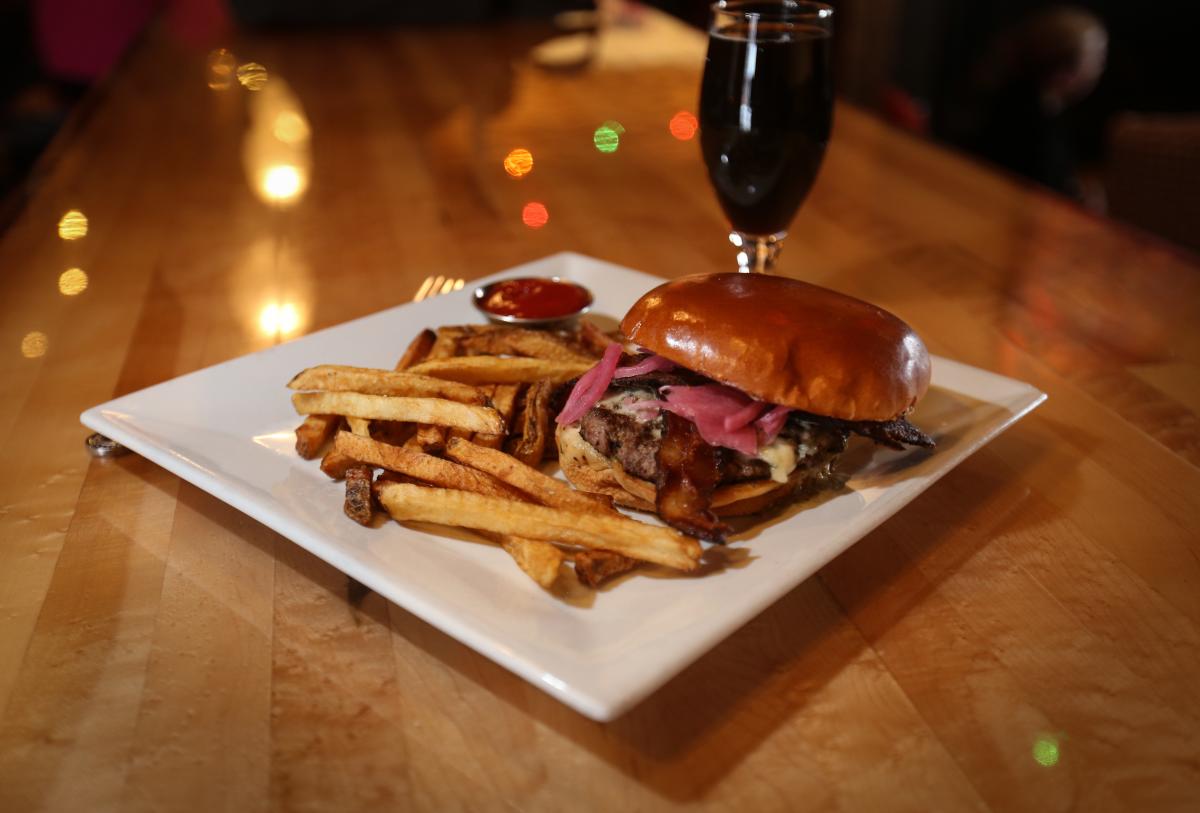 Forager Burger | Rochester Magazine
Mushroom Burger at Brothers Bar & Grill
812 S. Broadway, 507-281-8902
For 28 years, Brothers Bar & Grill has been one of the city's go-to sports bars. And its forté is crafting tasty sandwiches and burgers. You voted the Mushroom Burger as your favorite—rich with savory mushrooms and no shortage of mozzarella cheese. The juiciness of this burger is paramount. That's why the beef is seared and cooked in a broiler, maximizing the tenderness of the meat and the intensity of the flavor. Pro tip: Visit during lunchtime when the mushroom burger is featured as a special for $6.75. Pair it with a craft beer and you're having a really good day.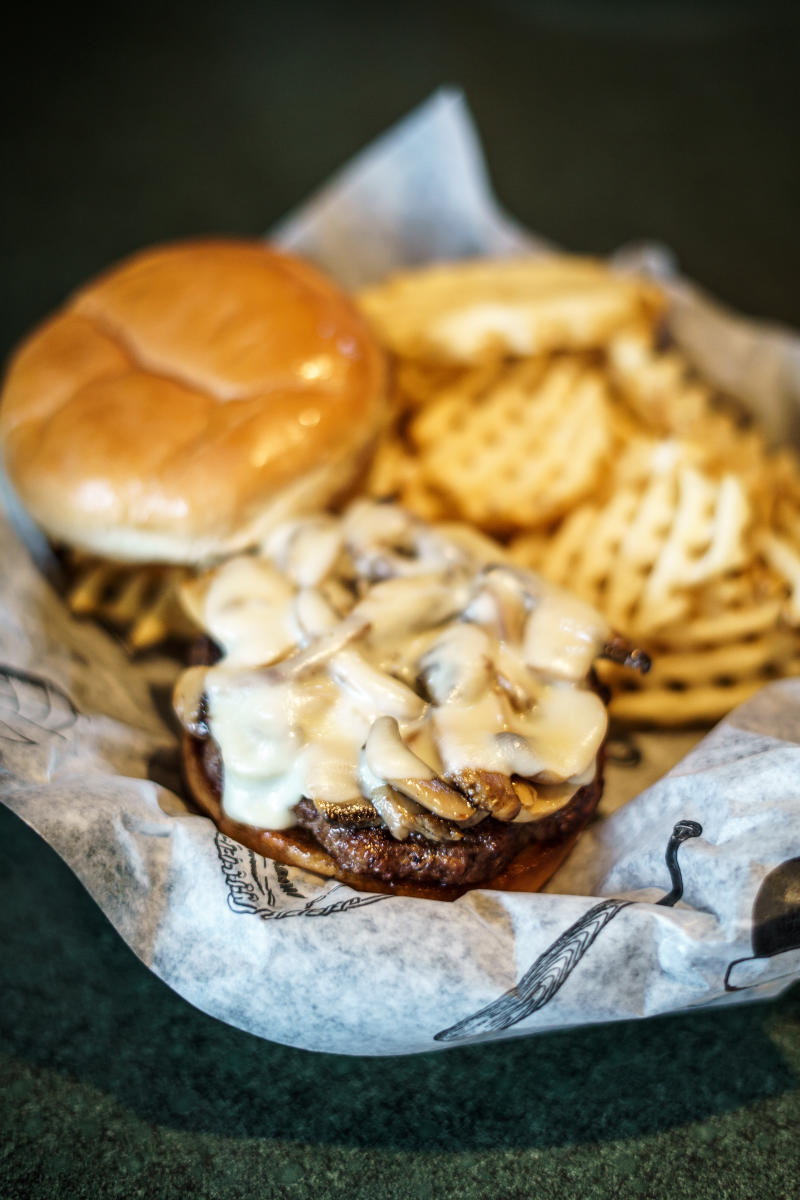 Mushroom Burger at Brother's Bar & Grill | Rochester Magazine
The Classic at Hot Chip Burger Bar
1190 16th St. SW; 507-424-0080
Hot Chip Burger Bar is an ode to the '90s and early aughts, that bygone era of the slacker ethos, Britney Spears' hits, and Simpsons humor. The guys who opened Hot Chip are all children of the '90s, and it was their dream to have a greasy-spoon diner that served damn good burgers, fries, and shakes, all in a nostalgic setting. And the secret to making those burgers so good? Local ingredients: a chuck-and-brisket mix from Minnesota farms (meat that it would be sacrilege to freeze; fresh is the only way), buns from a bakery in Minneapolis, and Tony Packo pickles, to name a few. The Classic Burger, of course, is one of Hot Chip's bestsellers. The special sauce that gets slathered on it is very special indeed, with traces of charred jalapeños, aioli, and sweet-n-hot pickles.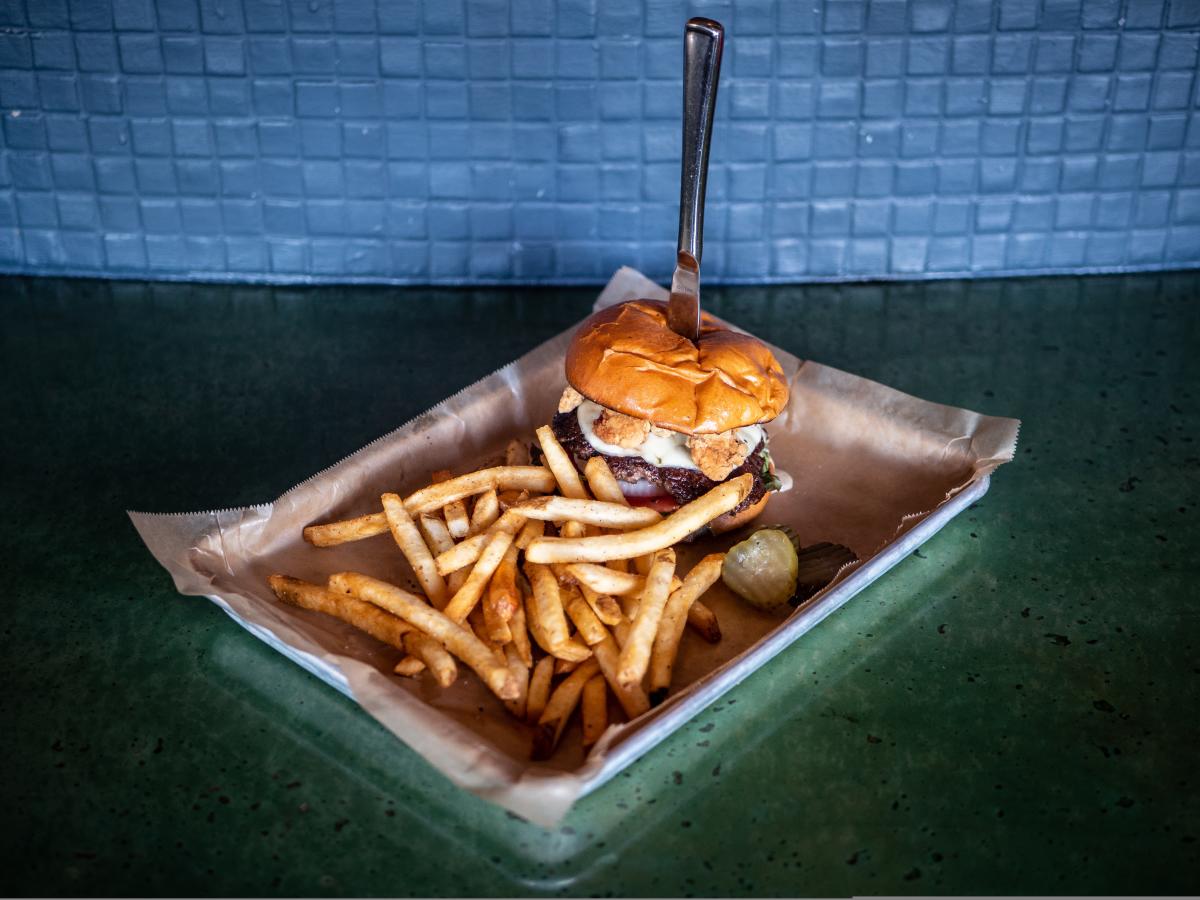 The Classic at Hot Chip Burger Bar | Rochester Magazine
Abbots Gold at Canadian Honker 
1203 Second Street SW, 507-282-6572
Let it be known—the Canadian Honker slings a mean burger. And a lot of locals know it. Last year, more than 20,000 burgers were served from the kitchen, and a good chunk of those were Abbots Gold Bacon Cheddar burgers. While a lot of burger joints offer a bacon-cheddar option, this one has a few secrets that make it exceptional. First, the burger is cooked in a stand-up broiler (most cooks use a flat-top stove or grill). This is crucial because the broiler method promises that the juices will be sealed in the meat patty. Second, that cheddar is phenomenal, with a hint of caramelized onions. Third, all the ingredients are high-quality—from the thick slices of bacon to the local hamburger buns (from Rochester's Gingerbread House Bakery). While the Honker may be known for its walleye, the burger is giving that fish a run for its money.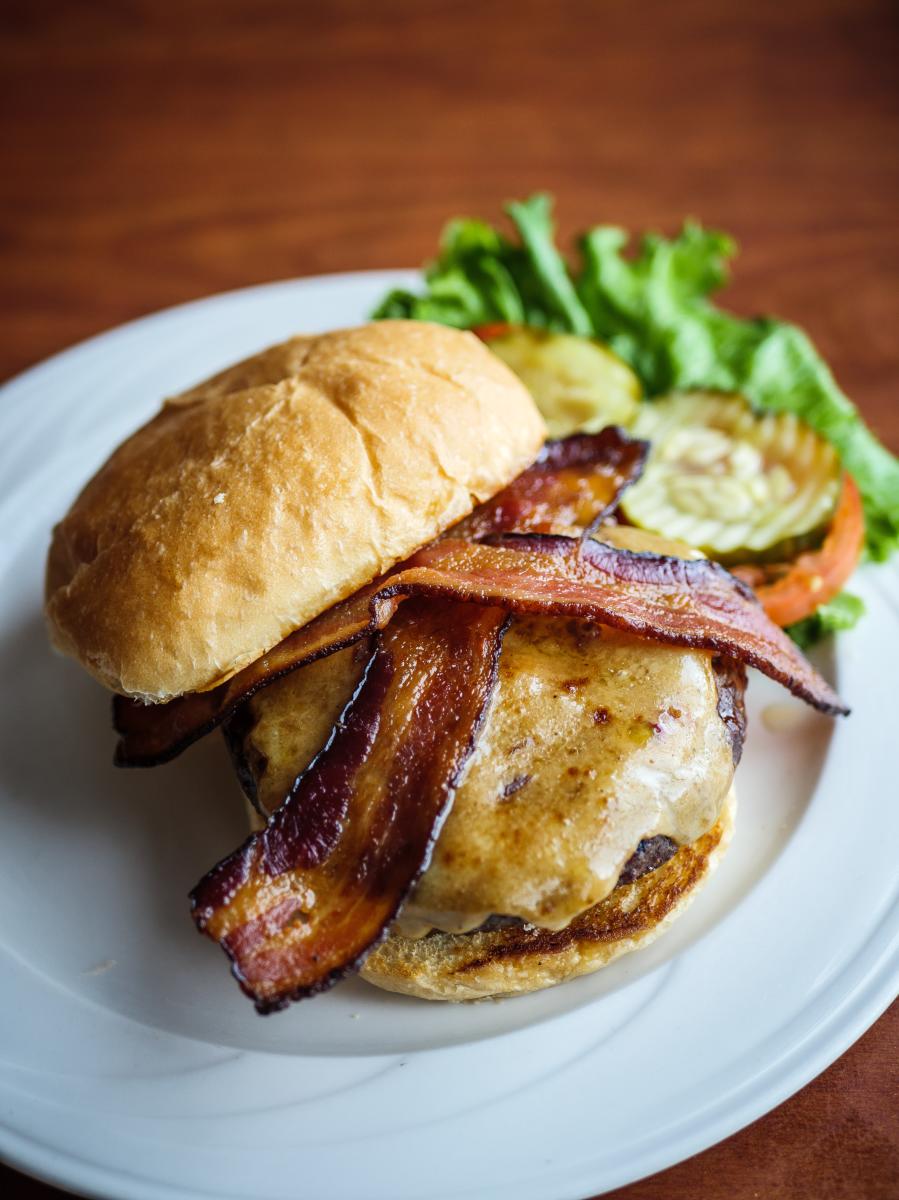 Abbots Gold Bacon Cheddar Burger at Canadian Honker | Rochester Magazine
The Double at Five Guys
2800 41st St. NW, 507-288-1464
The Five Guys burger chain dates back to northern Virginia in 1986, when founder Jerry Murrell opened a tiny burger joint with a simple mission: to make really good burgers. And really good burgers they are. This fast-food business expanded into a chain of 1,400—including the one that opened in Rochester in 2010 (and was a finalist for Best New Restaurant). As anyone who's indulged in a Five Guys double burger will tell you, this is not your typical fast food fare. Five Guys ingredients taste super fresh, and you can add "all the way" toppings at no additional cost. (We recommend grilled onions and grilled mushrooms.) And one of our favorite parts—as you watch your burger sizzle on the stove, you can munch on in-shell peanuts.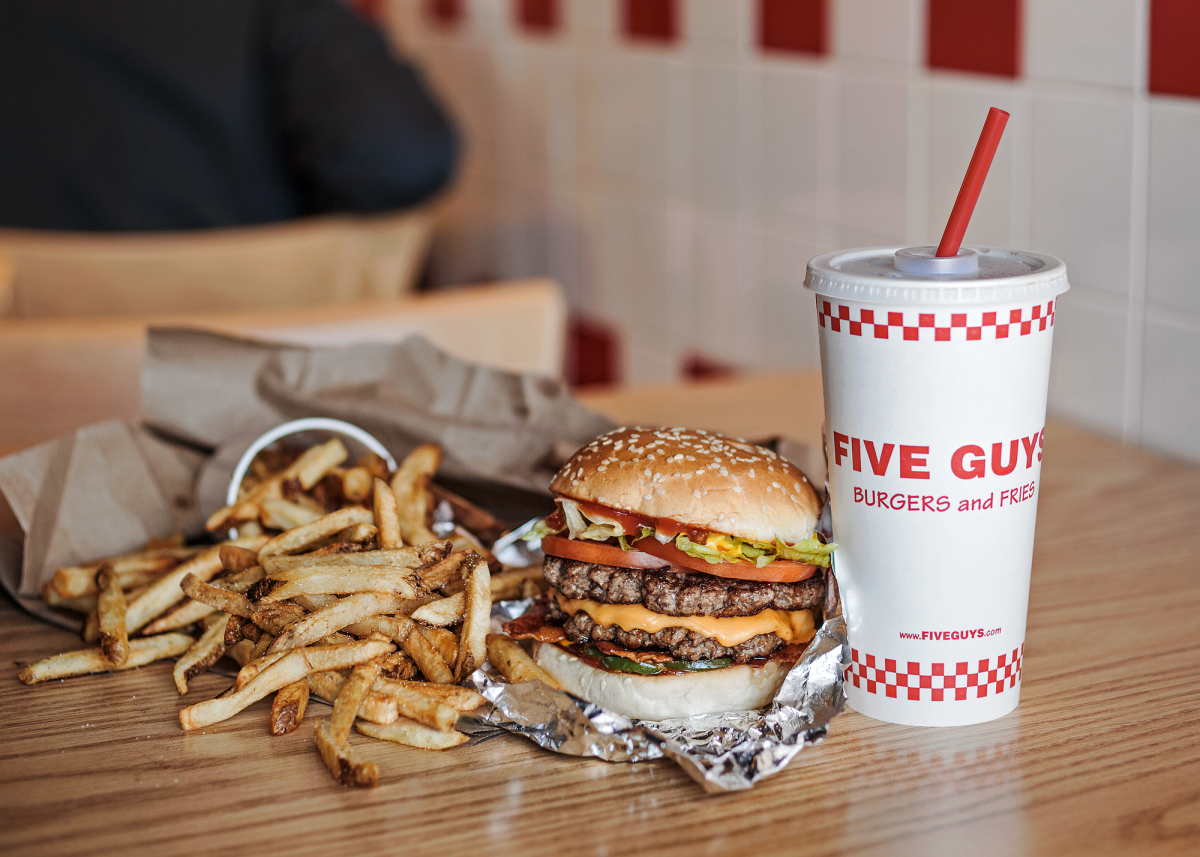 Five Guys Double Burger
My Bleu Heaven at CB3
9 Third Ave. NW, 507-361-1910
Formerly known as Crossings Bistro, just off Third Avenue in the Kahler Inn, the revamped restaurant adopted the curtailed name CB3. Boasting cozy sports bar vibes, this eatery is an ideal place to tune into the game and order a handcrafted burger. The My Bleu Heaven burger is a favorite, packed with mouthwatering ingredients: applewood-smoked bacon, bleu cheese crumbles, lettuce, tomato, and a crispy onion ring. The staff will tell you that the Angus Beef and the brioche bun really make this burger sing. Pair it with the sweet potato fries and an Alaskan Amber ale, and you'll be sittin' pretty.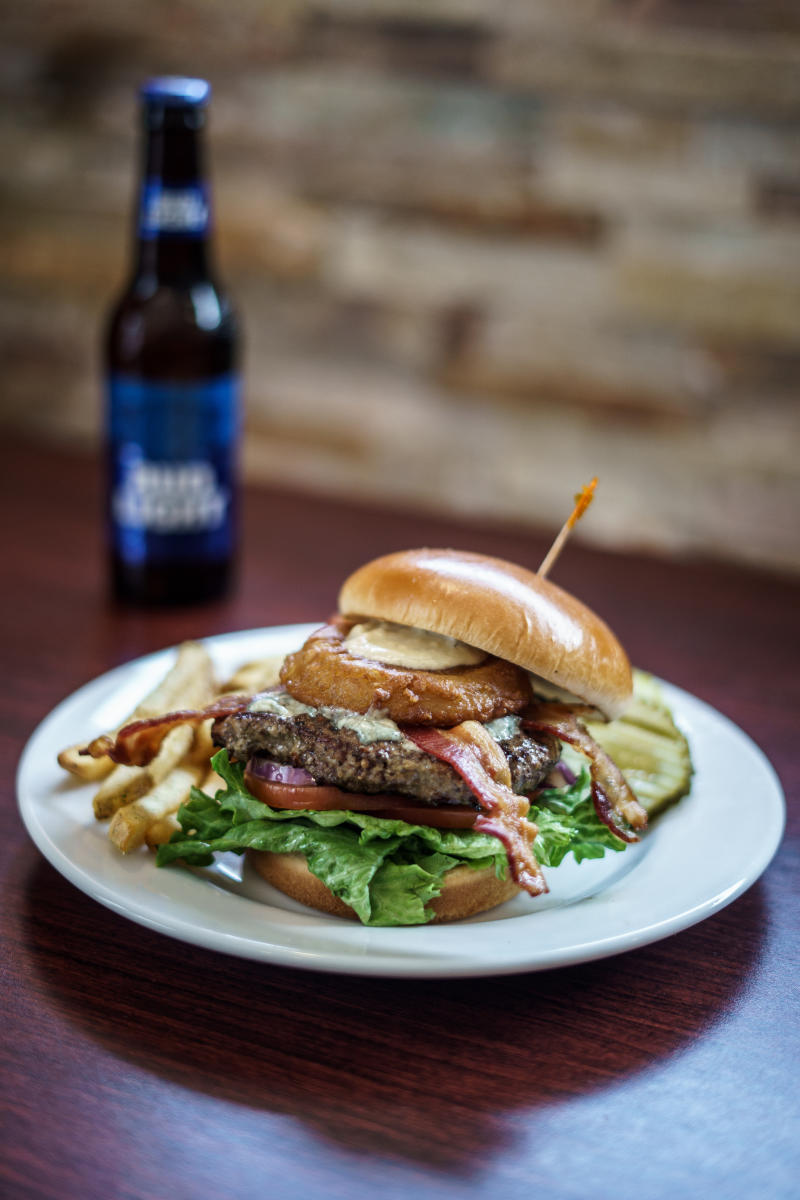 My Bleu Heaven Burger at CB3 | Rochester Magazine
Check out Rochester, MN's new restaurants, restaurants near Mayo Clinic, or listings of all Rochester restaurants. Enjoy your taste of Rochester, MN!