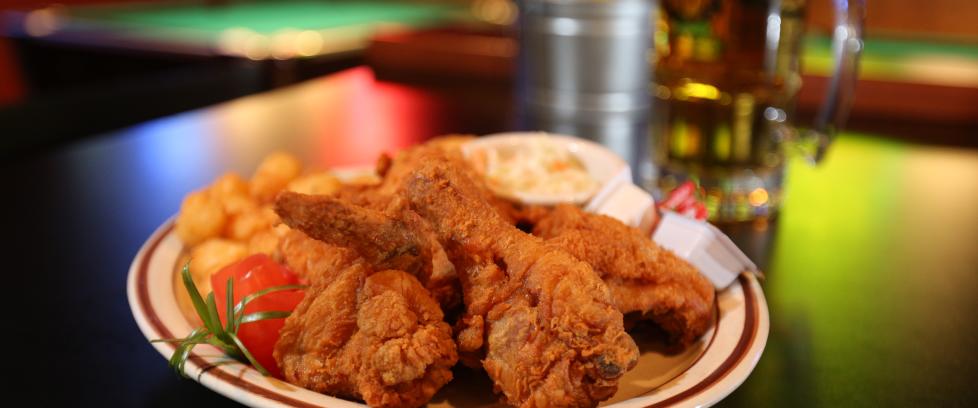 Rooster's | Rochester Magazine
Try three of the best chicken dinners at Rochester, MN restaurants, as voted by the readers of Rochester Magazine. Make sure you plan ahead and save your appetite for these chicken masterpieces -- broasted, fried, or straight from the rotisserie. While many places to eat in Rochester, MN serve up excellent chicken dinners, these four are surefire winners! 
Rooster's Original Broasted Chicken
Rooster's Barn and Grill / Rooster's Too
Cooked to order: Broasted chicken is, believe it or not, a food that requires a trademark. Restaurants can add some individual touches, but the Broaster Company licenses its brand-specific equipment and recipes, and the chicken comes fresh. "We cook all our chicken to order," says co-owner Mike Brakke. "We do our recipe in accordance with [the Broaster Company's] specs."
Oil change, daily: The secret to great chicken is fresh oil. At Rooster's, the oil tank is emptied every morning and meticulously cleaned. "You have to have a system," Brakke says. 
One of their Six "Bs": Rooster's stresses the Six "Bs" of What They Do: Breakfast, Burgers, Broasted Chicken, Beer, Billiards, and Bullseyes (darts). 
Famous Broasted Chicken
Beetle's Bar & Grill
They make it just for you: Chicken comes in a variety of combinations—two pieces or four, white or dark—and all are breaded with the same secret recipe. And while the broasters can handle up to 36 pieces, each plate is made to order.
Popcorn, chicken: Beetle's chicken takes a minimum of 25 minutes to cook. So, order early. Then, discover something else Beetle's is known for—some of the best bar popcorn in town—and munch away while you wait.
Take it home: Beetle's also offers buckets—8, 12, or 20 pieces—to go. And just like Rooster's (see our write-up), Beetle's is true, trademarked Broasted Chicken.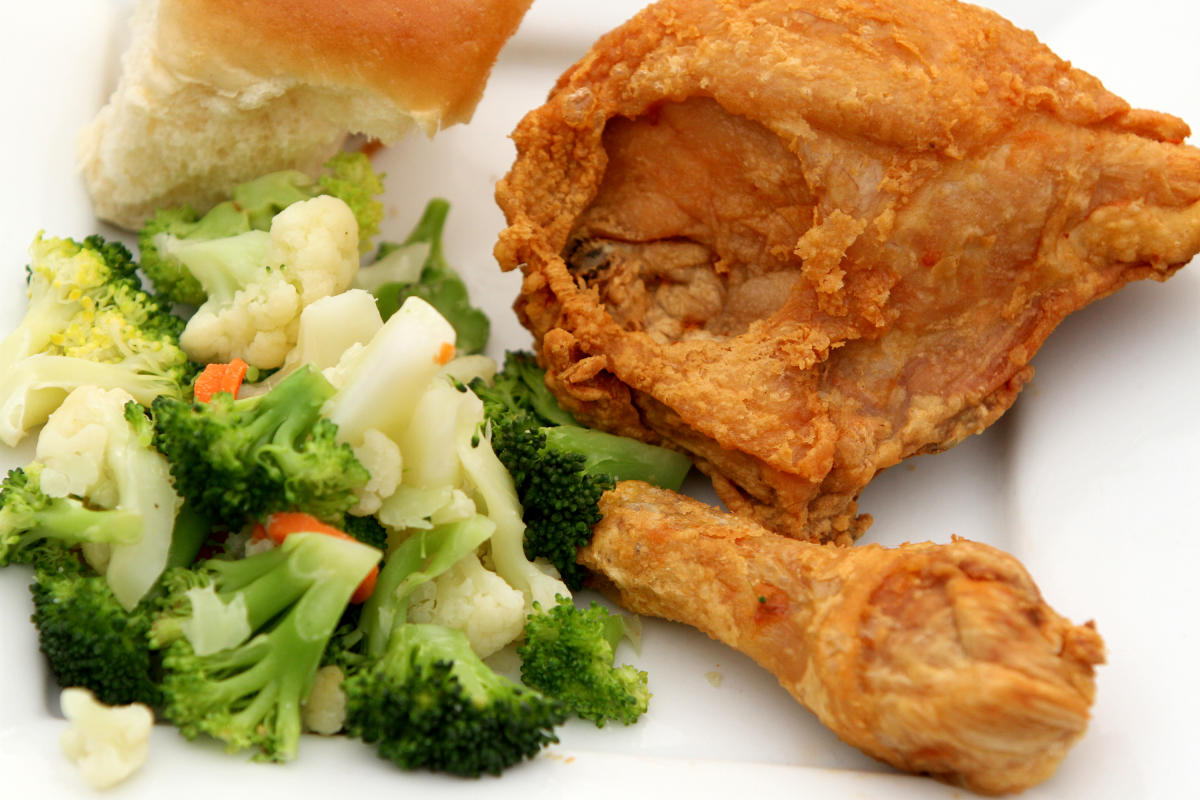 Famous Broasted Chicken at Beetle's | Rochester Magazine
Rotisserie Chicken
Chester's Kitchen and Bar
You can watch the rotisserie turn: Saying the cooking style brings the fats and juices of the meats to the surface doesn't begin to do justice to the Rotisserie Chicken at Chester's. The inside is perfectly moist. The outside is perfectly crispy. Every. Single. Time. 
A recipe dating back … 10,000 years? You can ask (we did), but Chef Derek Jensen won't give up the secret seasoning recipe. He'll just grin and credit cavemen with inventing the recipe (i.e. something fell in the fire and then people decided they liked the taste). 
On the sides: The sides are as good as the chicken. Definitely don't miss the "good juice," which Chester's lists on their menu as a must-have complement to the meal, along with mashed potatoes and sautéed seasonal veggies.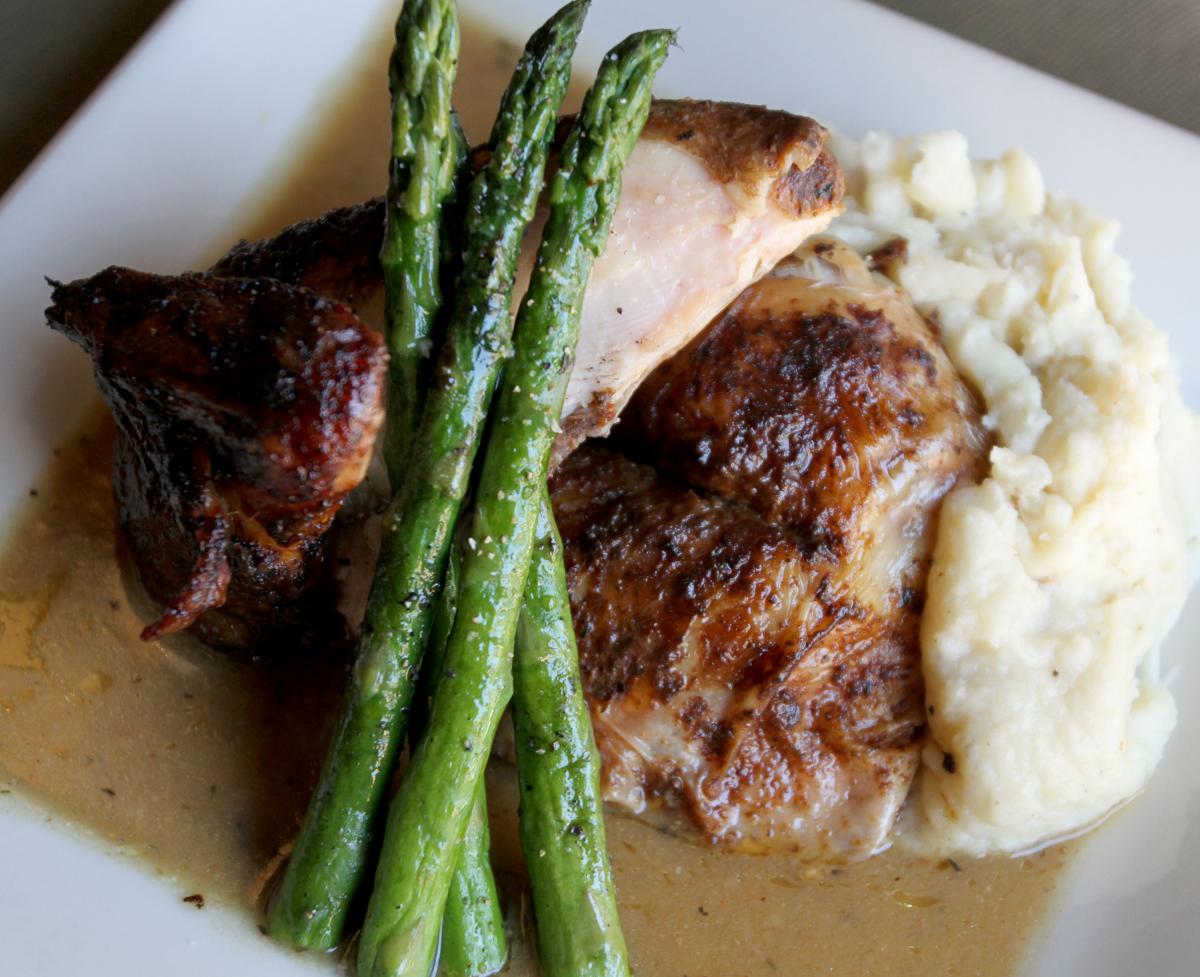 Rotisserie Chicken at Chester's | Rochester Magazine
Rochester, MN is transforming into a regional dining destination. Discover our vibrant dining scene and fresh new restaurants!