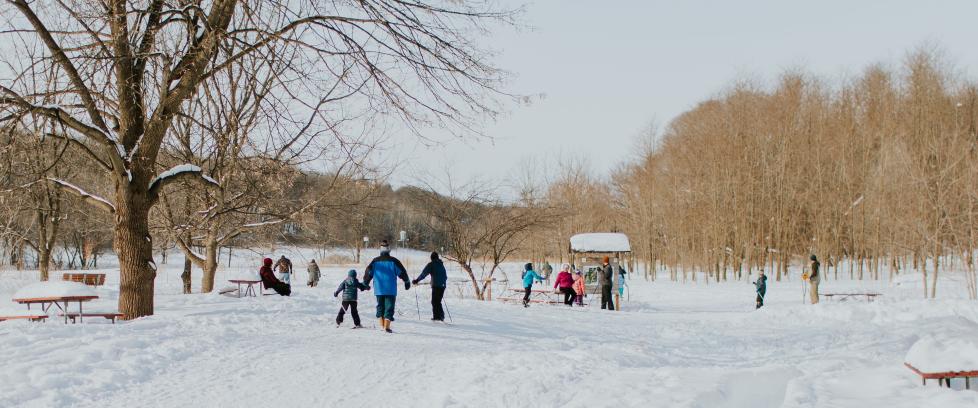 AB-Photography.US
Bundle up and embrace the beauty of a Rochester, MN winter with a day of skiing, ice skating, or sledding. Minnesota's winters are "snow fun" – join in the action with these winter activity ideas:

Sledding in Rochester, MN | credit Steve Stark
Sledding & Tubing
Sledding Hills
Bundle up and head out for a day of sledding! There are two designated sledding hills in Rochester and two big fun tubing hills, just outside of Rochester. 
Tubing Hills
Ironwood Springs Ranch
Ironwood Springs Ranch in Stewartville, MN offers rental tubes and three different tubing hills in their Winter Village. In addition to tubing, your admission also includes other fun winter activities, including sleigh rides.
Steeplechase Event Center
Steeplechase Event Center is the area's newest snow tubing hill. The historic 1900s chapel was originally from Oronoco, MN. Grab a tube and head down one of their 750′ runs and head back to the top via the tow rope.
Ice Skating
Outdoor Rinks
The city of Rochester has nine outdoor ice rinks. The Park and Recreation Department maintains outdoor hockey and public skating rinks and warming sheds throughout the City. All Rochester MN Outdoor Rinks are now open for the 2022-2023 season.
Warming House Hours:
Monday – Friday: 4:30 PM – 9 PM
Saturday – Sunday: 12 PM – 5 PM
Current rink information (if the rinks have lights, warming houses, etc) can be found on the City of Rochester's Outdoor Rinks Page. The outdoor rink season typically concludes in late February.
There is one studio rink location, where hockey is NOT allowed: Southern Woods Park: 4982 11th Avenue SW (NO Lights, NO Warming House)
Indoor Rink - Rochester Recreation Center
Rochester's indoor ice rinks offer the opportunity to go ice skating no matter the temperature outside. The Rochester Rec Center has two rinks that offer open skating times.
Rec Center Admission: $6/person
Skate Rental: $3
For information about when public open skate is available, please click here for the schedule.
Ice Skating and Rentals at Soldiers Field
Skating is available around the running track at Soldiers Field Park during the winter months. Ice skates will also be available to rent from 12 PM – 4 PM on Saturdays and Sundays at the Soldiers Field Rink East Warming House starting on Jan. 7 and each following weekend until the end of February (weather permitting).
Downhill Skiing and Snowboarding
There are 4 ski hills within 2 hours of Rochester.  Welch Village is approximately a 50-minute drive and is the closest ski hill to Rochester.  Welch features sixty runs, nine chair lifts, and 140 acres of skiable area.  Welch features rentals as well as lessons. 
Snowshoeing & Cross-Country Skiing
Snowshoeing is a great way to experience winter in Rochester MN.  No experience is needed to try out this great winter sport.
Cross-country skiing takes a bit more practice, but there are plenty of opportunities to learn on the plentiful groomed trails.  Additionally, renting equipment is inexpensive making practicing achievable!
Quarry Hill, Oxbow Park, and Chester Woods all maintain groomed trails and rent snowshoes and skis. Check their websites for more rental and trail information.
Oxbow Park Rentals | Oxbow Park Winter Trail Map
Quarry Hill Rentals | Quarry Hill Winter Trail Map
Chester Woods Rentals | Chester Wood Winter Trail Map
The City of Rochester and the Rochester Active Sports Club work together to maintain snowshoe trails at Quarry Hill.

Curling in Rochester, MN | credit Curling Club of Rochester, MN
Curling
The Curling Club of Rochester MN curls on arena ice at the Rochester Recreation Center.  They host fall, winter, and spring leagues and also host various events for club members and the public throughout the winter months. The Curling Club also hosts two bonspiels (curling tournaments) as well as pop-ups at Little Thistle Brewing.
Ice Fishing
In the state of Minnesota, anyone 16-89 must have a fishing license.  Children 15 years of age and younger do not need a license if they are accompanied by a parent or guardian who is licensed to fish.  Adults can purchase an individual license or combination license that allows a married couple to fish individually or together. Licenses can be purchased online, but it is much easier to purchase your license in person.
PLEASE REMEMBER: Ice is never 100% safe.  Always check ice conditions before fishing or walking on ice.
4 Ice Fishing Locations in Rochester, MN:
Foster-Arend Lake