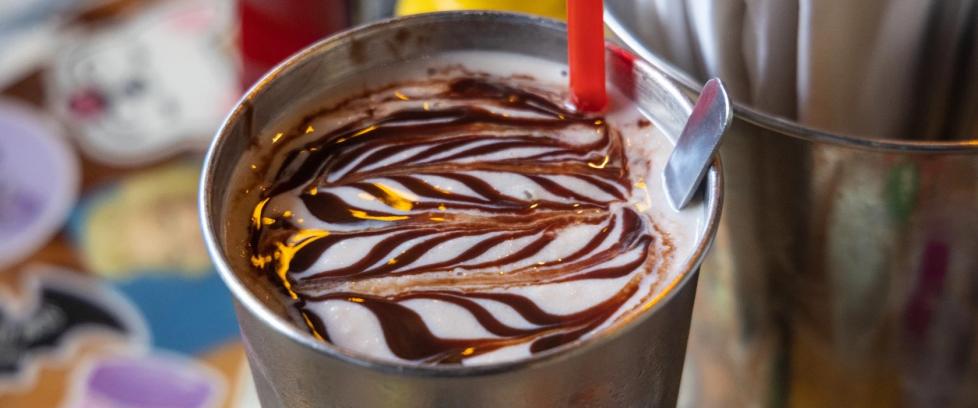 Rochester Magazine
Your top six shakes in Rochester, as voted on by the readers of Rochester Magazine.
Hot Chip Burger Bar
1190 16th St SW | hotchipburgerbar.com
Happy Hour. Hot Chip is known for their fun, boozy shakes, such as "The Dude Abides," a sweet, frosty take on a White Russian. Though you might have to wait until there's snow on the ground again to try it, we love the Mint-er Wonderland, a shake made with peppermint schnapps.
Straw or Spoon? Beyond the classics (vanilla, chocolate, strawberry) you can sip with a straw, you might want a spoon to gobble up bits of delicious goodies in flavors such as the Cookie Dough or Oreo shake.
Presentation is a plus. Plus, they're served in a large metal cup, which adds a nostalgic, American drive-in diner feel. Try dipping in a hot french fry to really set the mood.
Hold the cows. Many shakes on the menu can be made vegan (and pair nicely with Hot Chip's various vegetarian and vegan burger options, too). To make it an even happier meal for the grown-ups, try a boozy vegan shake option.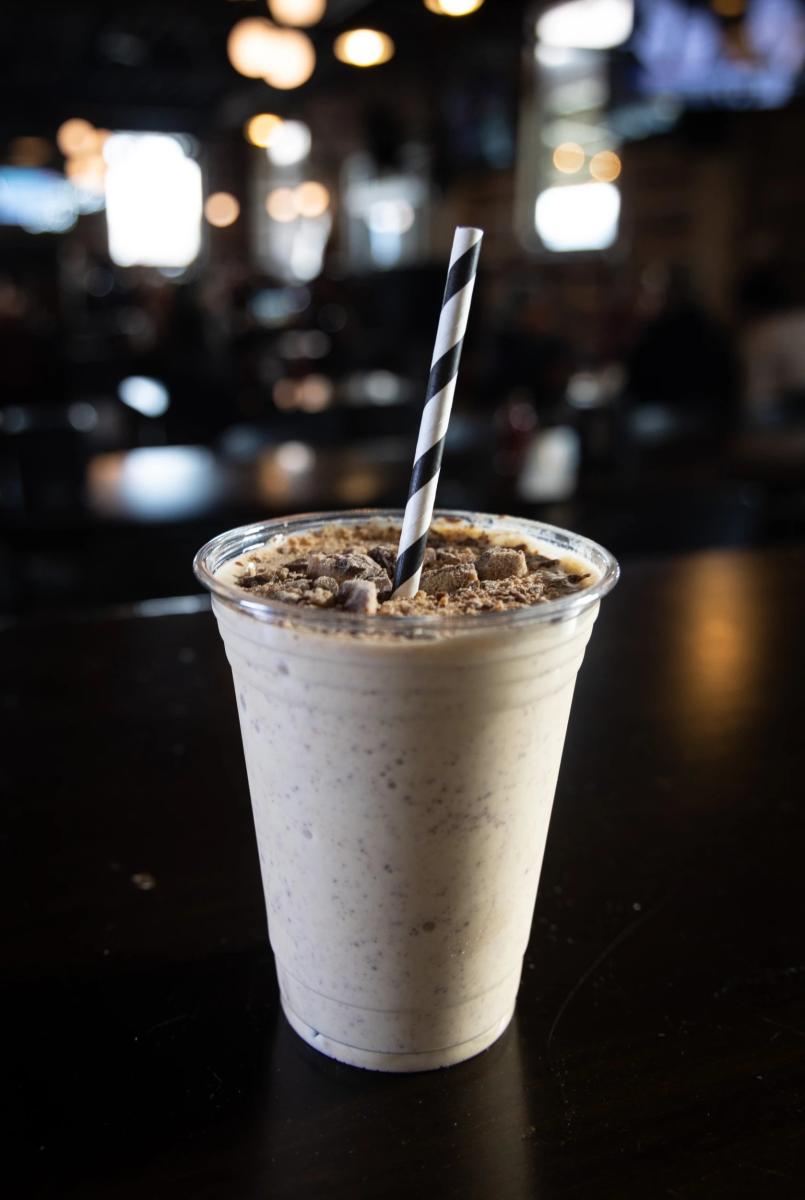 photo courtesy Rochester Magazine
The Workshop
1232 3rd Ave SE | workshopfoodhall.com
The newest shake in town. Libby's Sweets, the dessert shop within the Workshop, opened mid-December in 2022. The cute shop front is named for the former Libby Foods cannery that used to pack corn and peas across the street.
The secret's in the sauce. Libby's shakes are all made with hand-scooped ice cream and whole milk, in addition to assorted flavorings and toppings. They make their own strawberry sauce from whole strawberries that they puree in-house.
Order up! Beyond the traditional shake and malt flavors, Libby's offers a Peanut Butter Cup shake and a "Cookies and Cream," a customer favorite, in addition to seasonal flavors. Instead of a seasonal shake for the spring and summer, Libby's is offering smoothies in mouth-watering flavors such as strawberry banana and strawberry passion fruit.
Pull up a chair. The Workshop recently began offering boozy milkshakes (order at the bar). They currently feature a "Ballotin Chocolate Peanut Butter Cream," made with whiskey cream. Look for more flavors coming soon.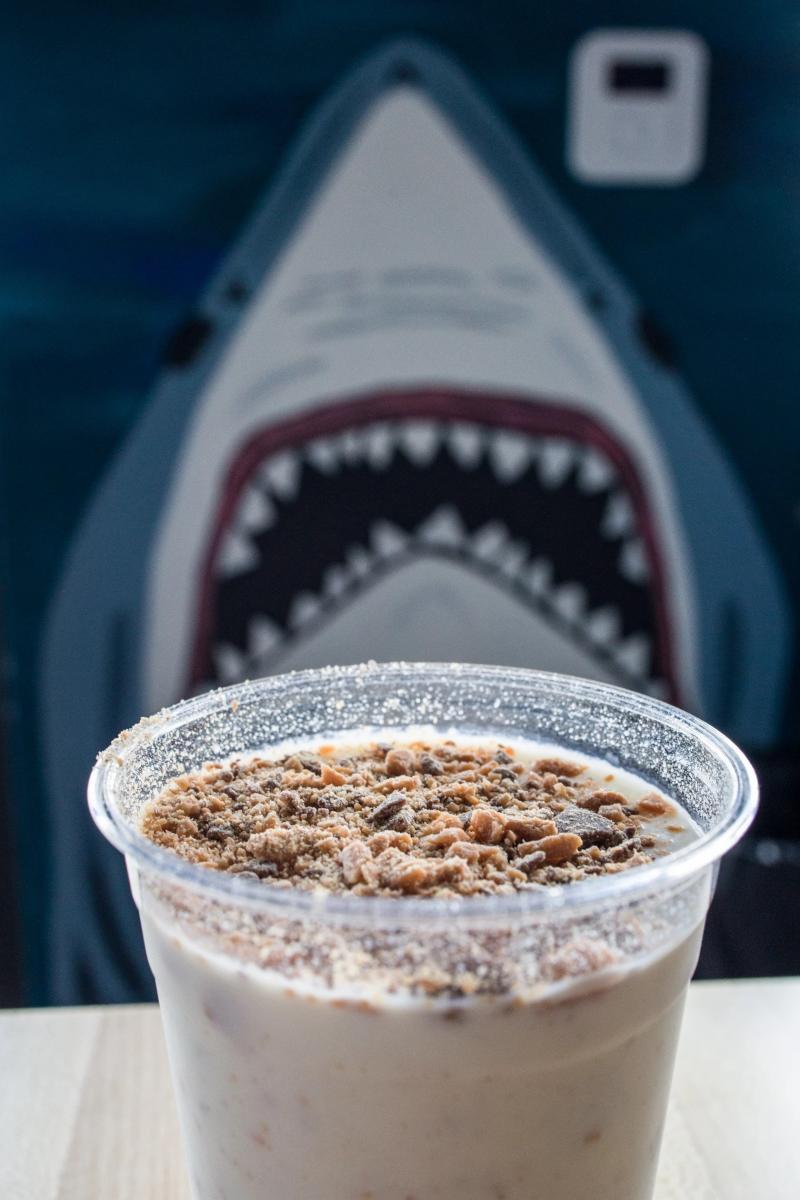 photo courtesy Rochester Magazine
Mr. Pizza North
4040 28th St NW | northmrpizza.com
That's sweet. We recommend trying the "Cookie Shake," made with fresh cookies that their pastry chef, Kara, makes in-house. This shake flavor varies according to whatever cookie recipe Kara is whipping up that week.
Sip it up. Mr. Pizza North mixes their shakes with soft serve to achieve that perfect, sip-through-the straw thickness. Customers are welcome to mix and match flavors, so feel free to ask for some chocolate sauce in your M&M shake.
All in the family. Based on the success of the shakes at their sister restaurant, Hot Chip Burger Bar, Mr. Pizza North added shakes to their menu right after the completion of the restaurant remodel a little over a year ago
Mix and match. The ultimate flavor combo of sweet and savory means that any flavor shake goes well with your pizza, house manager Evan Houghton says. His personal favorite? The Butterfinger shake, with literally any pizza. Just remember to save some room.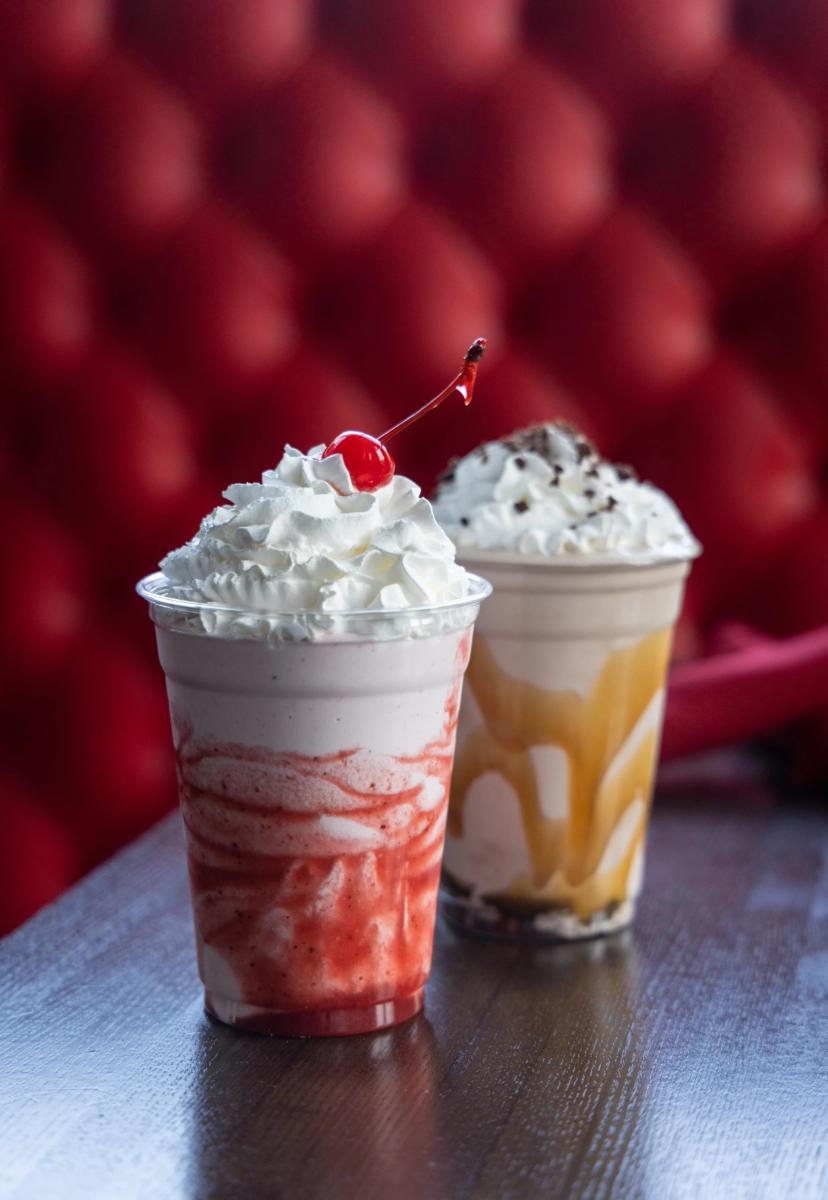 photo courtesy Rochester Magazine
Red Cow
217 14th Ave SW, Suite 100 | redcowmn.com/rochester
Shakee Shakee? The owners of Red Cow experimented with a few specialty pop-up kitchens early during the pandemic, one by the name of Shakee Shakee. The idea—and the name—stuck, and Red Cow restaurants added shakes to their menu in 2021.
A new take on the burger and shake. Though a vanilla shake and cheeseburger is a classic pairing, Red Cow beverage director Ian Lowther recommends trying a strawberry shake with the "Barcelona" burger—the sweet fruity flavor of the shakes pairs well with the salty, nutty flavor of the burger topped with manchego, prosciutto, piquillo pepper and smoked pepper aioli.
On the menu. Red Cow whips up their shakes with a high-fat soft serve, which results in an intensely rich, creamy flavor. Beyond the classics (vanilla, chocolate, strawberry, caramel), they also offer a "Birthday Cake" shake, mixed with cake batter and rainbow sprinkles, and a "Brownie Batter & Caramel" shake. Each Red Cow location also features a special shake of the day, dreamed up by the local staff.
And off the menu. Though not officially on the menu, any shake can be made into a more grown-up version, Lowther says. Try asking for a chocolate shake with Irish cream. For a fun take on an Orange Julius, try a vanilla shake with vodka and orange juice.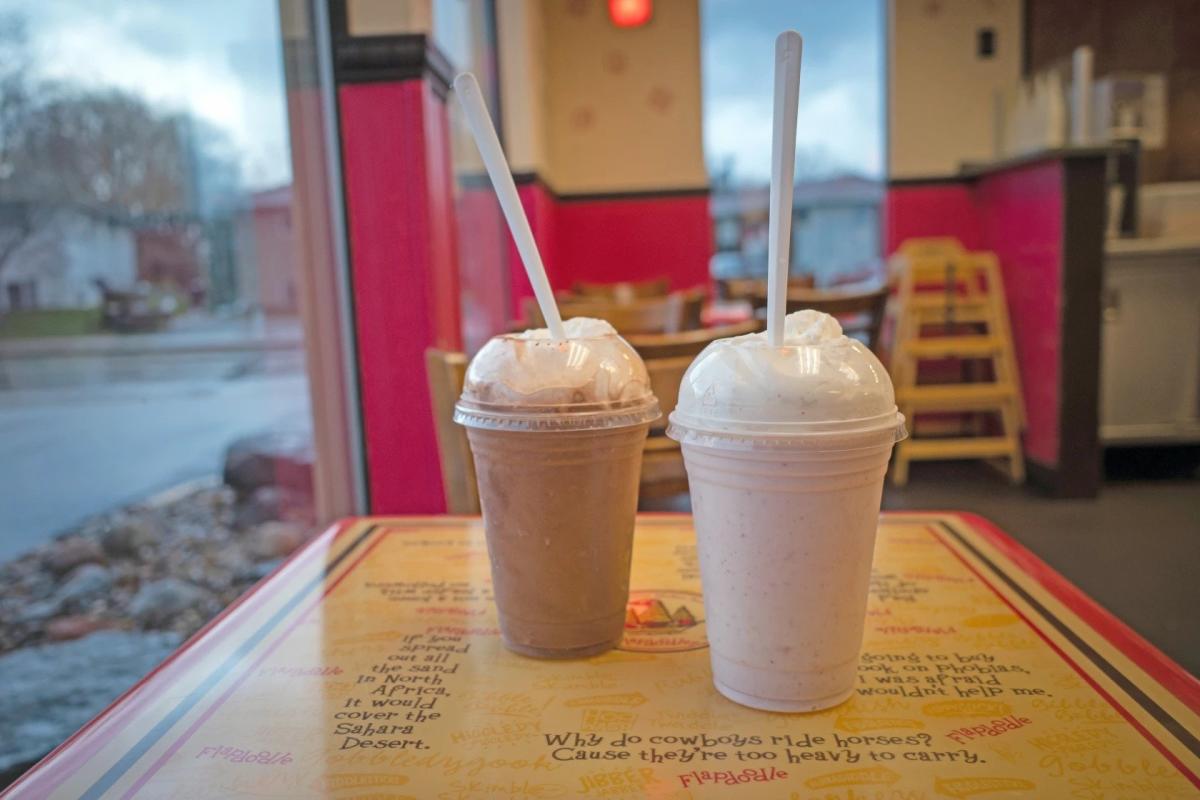 photo courtesy Rochester Magazine
Flapdoodles
3525 22nd Ave NW / 1710 Broadway Ave S | flapdoodlesicecream.com
Scoops up! Flapdoodles whips up their shakes with their own specialty premium ice cream, which is all made in-house, so flavors stay fresh from the kitchen to your spoon (or straw).
If you can dream it… The sky's the limit when it comes to milkshake flavors at Flapdoodles. Beyond the traditional milkshake flavors like vanilla, chocolate and strawberry, customers can choose from any of Flapdoodles' two-dozen rotating ice cream flavors. Try one of their more popular unique flavors, such as the "Cookie Monster," "Salty Caramel," or "Banana Cream Pie."
That's a lotta ice cream. In the peak of summer, Flapdoodles dishes out between 1,000 and 2,000 gallons of ice cream per week.
It's not just the cows. Last year, Flapdoodles debuted a dairy-free, oat-milk based ice cream with a new flavor, Blackberry Crumble. Look for vegan and dairy-free shakes coming soon.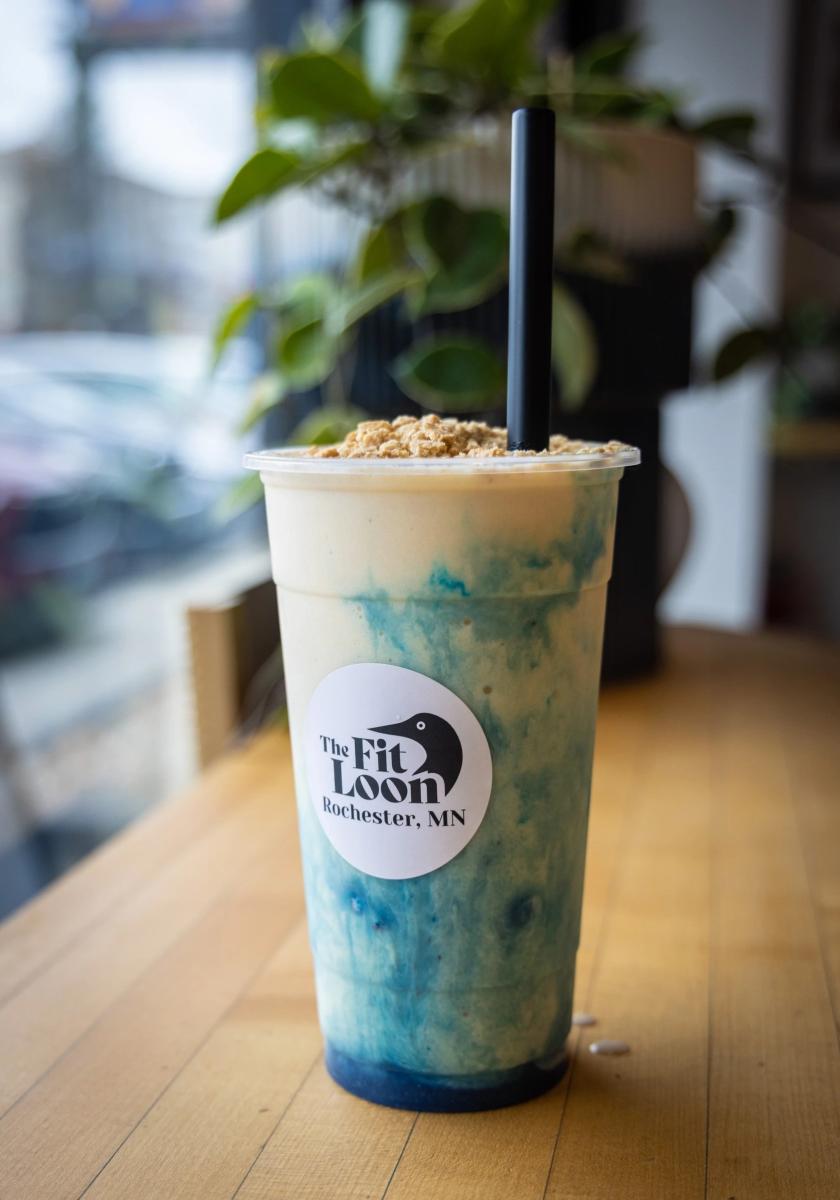 photo courtesy Rochester Magazine
The Fit Loon
210 N Broadway Ave | facebook.com/thefitloon
Not that kind of shake. Coming in at 200 calories and with 24 grams of protein per serving, the Fit Loon offers protein shakes made with Herbalife Nutrition ingredients, offering a mix of fiber, vitamins and minerals as well. "It's a complete, nutritious meal that tastes like dessert," says co-owner Aili Sella.
I'll have what she's having. The shakes come in a variety of flavor profiles, including vanilla, chocolate, fruity and peanut butter. Among the most popular are the "Banana Bread," shake, the "Brownie Batter," "Wildberry Orange" and "Strawberry Cheesecake." Or try Sella's personal favorite: the "Peanut Butter Cup." Look for two new specialty flavors each month.
Second location coming soon. The owners of the Fit Loon are expanding to Kasson and aim to open the new location toward the end of May, Sella says. The store will be named Three Oh One for their 301 address on Main Street.