Experience Rochester MN
The fall is the time to see Minnesota's foliage in all its colorful glory and to drive to the countryside for unique sightseeing outside of Rochester, Minnesota. Explore four of the top scenic fall drives right here.
Venture Out to the Countryside
Starting from Silver Lake Park in Downtown Rochester, drive north and follow Viola Road Northeast out of the city and continue on where it turns into County Road 2. This is the route to Viola, a small city known for its Gopher Count celebration each June. From Viola, turn north on Highway 42 which will take you through Elgin, home of the summertime Cheese Days festival. Continue along Highway 42 to Plainview, where families celebrate the harvest with Corn on the Cob Days in August. Take a turn off of Highway 42 onto County Rd 4 which winds towards Theilman and then connects with Highway 60. This will lead you into Wabasha down a picturesque descent. Take it slow, so you don't miss the opportunity to stop at the Wabasha Overlook on the way down for a view of the river valley and perhaps a soaring eagle or two.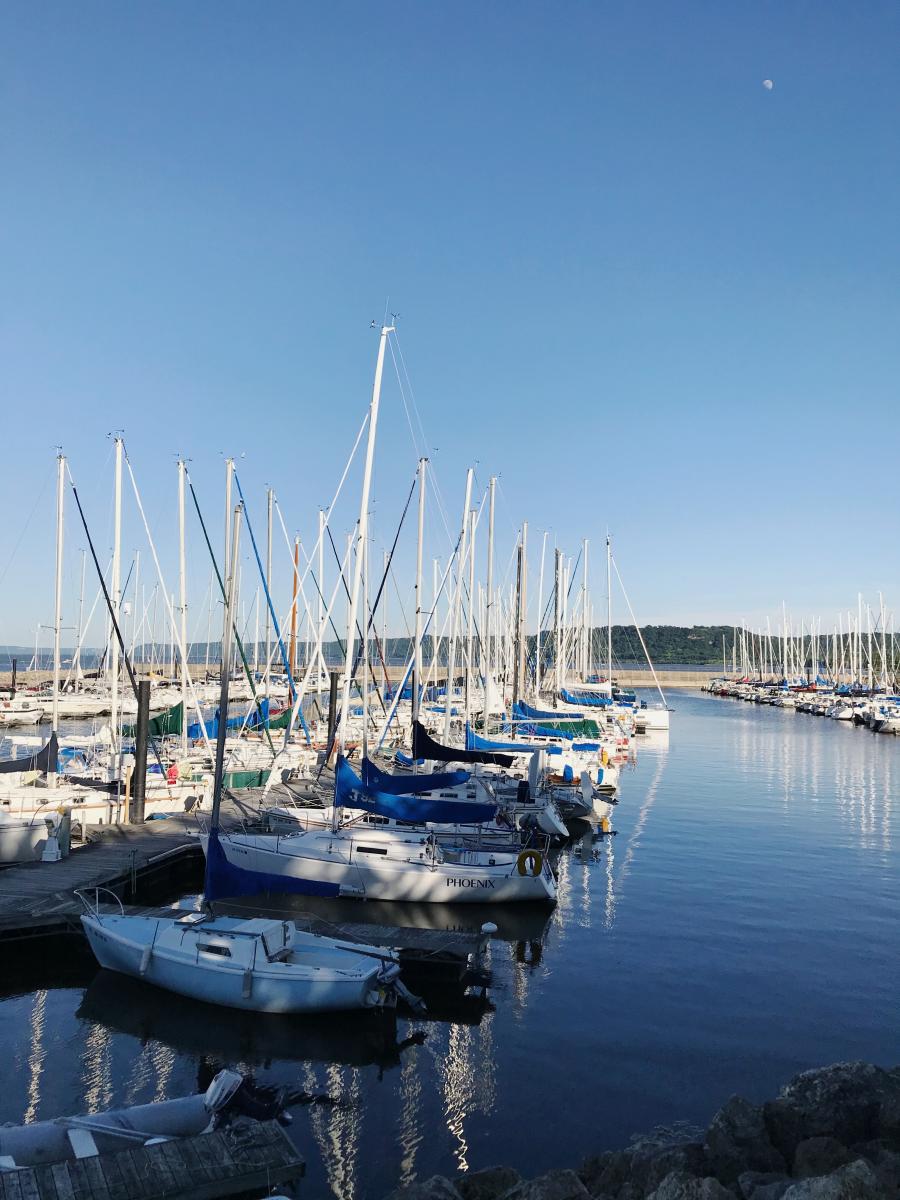 Lake City Marina | AB-PHOTOGRAPHY.US
Follow Highway 60 as it turns into Pembroke Avenue in downtown Wabasha. Stop at the National Eagle Center, a great place to see and learn more about these glorious birds of prey and stretch your legs for a bit. After your stop, follow Highway 61 North through Reads Landing and Maple Springs for panoramic views of Lake Pepin and the bluffs. This takes you to Lake City, where a stop at the sailboat marina on Lake Pepin is a must to learn more about the invention of waterskiing and the unique features of the Mississippi's widest navigable point. After such a full day of adventures, follow Highway 63 south from Lake City to return to Rochester, MN. 
Whitewater State Park's Fall Colors & Elba Fire Tower
East from Downtown Rochester, follow Fourth Street Southeast as it turns into Collegeview Road East and Highway 9 until it intersects with Highway 74 North. This route will take you into Whitewater State Park for hiking along the Meadow Trail to see restored prairie and multiple scenic overlooks for fall colors — maple, cherry, aspen and sumac leaves change in autumn. Follow the highway a little bit farther to Elba, where a climb up more than 600 steps to the top of Elba Fire Tower is not for the faint of heart. Begin your return trip by following Highway 26 through Altura south to Utica where you will take Hwy 14 back into Rochester, stopping in St. Charles, Dover, Eyota, and Chester along the way.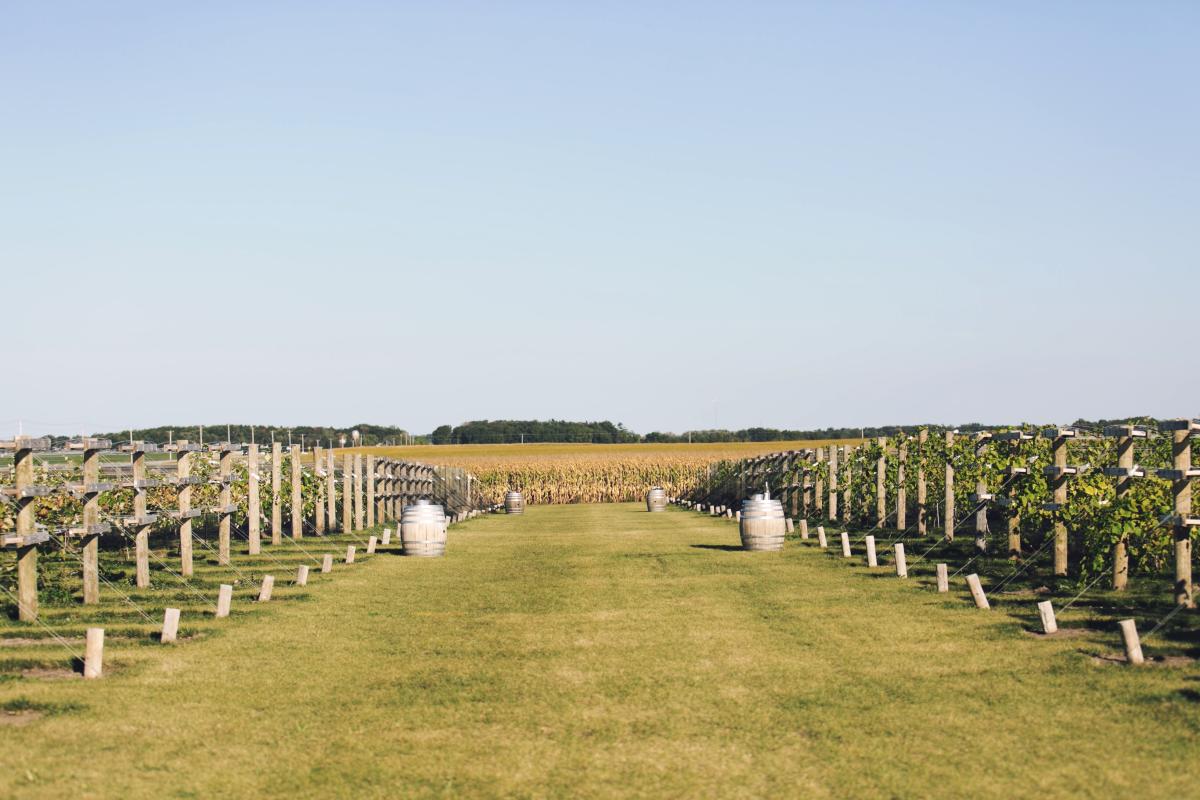 Four Daughters Vineyard & Winery | AB-PHOTOGRAPHY.US
A Drive for Music, History & Wine
Travel southeast on Marion Road which merges with Highway 52 down to Chatfield, Bandtown, USA. Musicians will want to visit the Chatfield Music Lending Library, which boasts the largest collection of concert band sheet music. For the hunters and historians in your group, make a stop at the Pope & Young Club where you will find the St. Charles Museum of Bowhunting. From there, continue south on Highway 52 through Fountain before taking Highway 8 East to Lanesboro. Follow Highway 16 south toward Preston to Spring Valley, stopping at Four Daughters Vineyard & Winery for a bite at their restaurant as well as wine and cider tastings. When your spirit and body are fully fed from your trip through the Minnesota countryside, take Highway 63 through Racine and Stewartville on the way back to Rochester.
The Covered Bridge of Goodhue County
Take Highway 52 north to Oronoco, an antique shopper's dream on Gold Rush Days the third weekend of August, and travel through Pine Island with a stop in Zumbrota to see one of the nation's historical treasures. Dating from 1869, the restored Zumbrota Covered Bridge is the last remaining covered bridge in all of Minnesota. While you're there, explore the adjacent 85-acre Covered Bridge Park, the trailhead for the Goodhue Pioneer State Trail. For the drive back, follow Hwy 60 west to Wanamingo then begin your drive south to Berne, Mantorville, and turn on County Road 16 East (600th Street toward Oxbow Park) before taking Valley High Drive back into Rochester.
Have you made one of these scenic fall drives from Rochester? Share your photos on social. #ExperienceRochesterMN