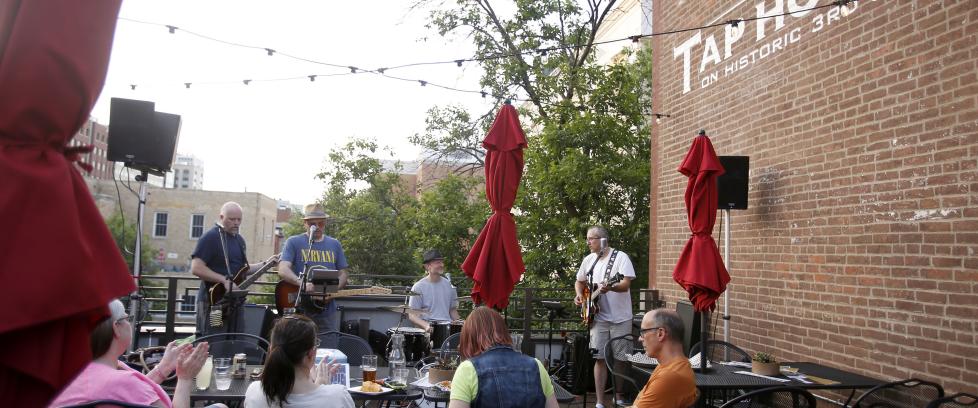 Rochester Magazine
On a sunny day or a clear evening, Rochester locals and visitors alike flock to rooftops. After all, why be at street level when you can eat, drink and dance with a view of the city's beauty?
Located within the city's downtown core are two unique venues where you can elevate your social experience all year round.
Rochester's Original: Kathy's Pub
A Rochester institution boasting three distinctive floors, Kathy's Pub has "the best drink prices in town," say co-owners Matt Murphy and Matt Teal. "And we were the first bar to have a rooftop patio."
On your way to the roof you'll bypass a large sports bar on the main level and a gamers' paradise of pool tables and dart boards on the second floor. Brave all three flights and you'll find yourself on the famous deck -- where the breeze is fresh, the drinks are cheap and cold, and every direction offers beautiful views of the city.
In addition to an unpretentious experience, Kathy's rooftop has live music, including rock, funk, up-tempo blues, country and bluegrass
Historic Third Street Treasure: The Taphouse
Beer and food lovers alike find it easy to enter but hard to leave Rochester's premiere craft beer destination on Historic 3rd Street.
With a tempting menu of "street eats" and 50 tap brews that change out weekly and seasonally, The Taphouse tends not to attract the "yellow fizzy beer drinkers," say co-owners Christine Stahl and Natalie Victoria. "But everyone is more than welcome!"
Some of the best action happens on the second-story rooftop, divided into two areas by a galley-style bar that provides indoor service on one side and outdoor service on the other.
Nosh under shade umbrellas when the sun is hot, and edge closer to the patio's brick fireplace when the temps turn cooler. As day turns to night, a soft light is case from decorative string bulbs and the glowing tower of Mayo Clinic's nearby Plummer Building.
Enjoy the daytime or nighttime views from a rooftop patio in Rochester, Minnesota.  Plan your visit today!