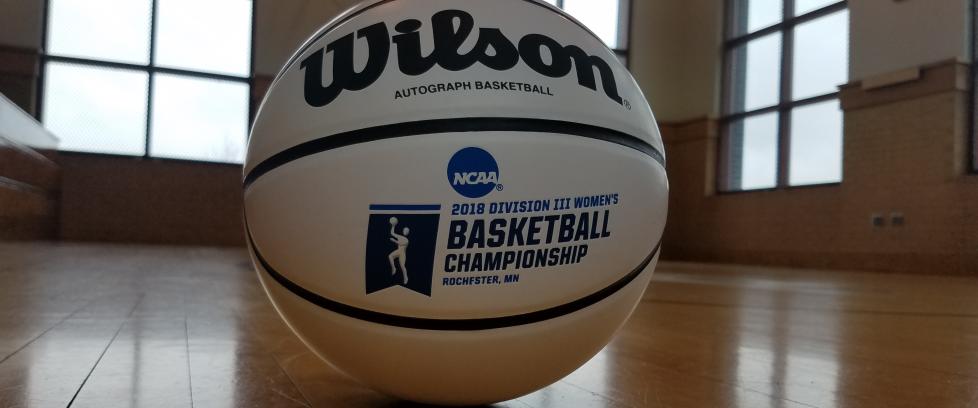 A piece of "March Madness" will bounce into Rochester, MN on March 16-17 when the sports-loving city hosts the NCAA 2018 Division III Women's Basketball Championship.
Sports fans and community members of all ages are encouraged to cheer on four of the best Division III teams from around the country, who will be competing for the national championship inside the Mayo Civic Center Arena.
"Division III women's basketball games are very family-friendly events," says Kelly Whitaker, Assistant Director of Championships and Alliances for the NCAA. "You're close to the action and in a more intimate facility than for a large Division I or NBA game.  The atmosphere is great."
A Fast-Paced, Family-Friendly Experience
The semi-final games will be played at 5 p.m. and 7:30 p.m. on Friday, March 16. The national championship game is scheduled for 7:30 p.m. on Saturday, March 17.
Spectators will enjoy fierce competition between "student-athletes doing it for the true love of the sport," Whitaker says. "People who aren't familiar with D3 women's basketball will be pleasantly surprised at the pace of the game. There is a lot of action up and down the court, with really good strategy and a great half-court game being played."
In addition to the game itself, families will enjoy halftime shows and activities. One of the Friday halftime shows will feature a scrimmage between local Special Olympics basketball teams.
Minnesota's Rochester: A Great Host for Sporting Events
Whitaker says that the NCAA is excited to hold this championship at Mayo Civic Center in Rochester, Minnesota, and has enjoyed coordinating the event with Saint Mary's University of Minnesota in Winona, which is serving as the host institution for the championship. "We're excited to go to this part of the country and try out a new site," Whitaker says. "We like mid-sized cities, and Rochester is an ideal-sized city for this and is located in a great area for basketball."
Minnesota is in the midst of a hot streak hosting major sports events.  The recent Super Bowl was the first in a string of major upcoming sports events, including the 2018 Division I Men's Ice Hockey Championship (the Frozen Four) occurring at Xcel Energy Center in St. Paul in April 2018, and the 2019 Division I Men's Basketball Championship (the Final Four) occurring at U.S. Bank Stadium in Minneapolis in April, 2019.
"We consider it a great opportunity and an honor to welcome some of the best women's basketball players in the country to Rochester," says Trevor Magnuson, Operations Coordinator for Rochester Sports. Magnuson encourages residents and families from all over the region, as well as youth basketball teams, to take advantage of the opportunity to experience a national championship event live.  "There will be excitement and inspiration in the air. Come see it for yourself!"
Attend the NCAA 2018 Division III Women's Basketball Championship. Single-day tickets are $12 for adults and $7 for youth, students, and seniors. All-sessions tickets are $20 for adults and $12 for youth, students, and seniors. Group tickets are also available by calling 507-280-4701.
Discover more about Rochester's reputation as a sports-loving city!