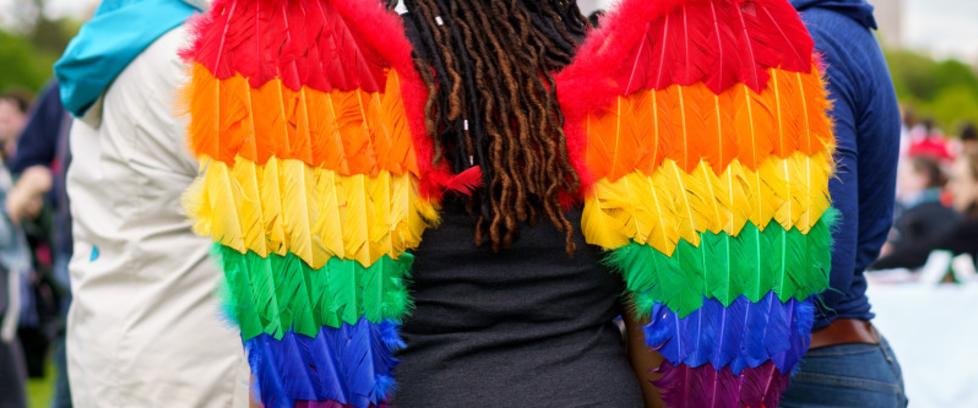 Rochester Pride
It's time for Pride Week in Rochester, MN! In the Med City, the third week of May is a special time to celebrate our diverse community and promote inclusion and equity for lesbian, gay, bisexual, transgender, queer, intersex, asexual and more (LGBTQIA+) identities. From May 16-21, 2023, there are a wide variety of events throughout the city both leading up to and after the annual Pride Festival at Soldiers Field Park on May 20.
Here is your guide to Pride events happening throughout Rochester, MN this month:
Tuesday, May 16, 2023
7:00 – 9:00 p.m.
Beer for Queers is a weekly LGBTQ+ gathering in Little Thistle's taproom. At this week's meetup, Little Thistle will be releasing its Rochester Pride Beer, Marsha P Hopson, a hazy IPA. This event is also part of Rochester Craft Beer Week.
Wednesday, May 17, 2023
7:00 – 8:30 p.m.
The Amethyst Yogi will be offering an outdoor yoga class centered around love, confidence and affirmation as a celebration of Rochester Pride. This is a free class and registration is encouraged. Bring your own yoga mat!
Thursday, May 18, 2023
1:00 – 4:00 p.m.
In addition to food, pickleball, prizes, and more, Paddles for Pride aims to help individuals connect with local resources and providers. Check out a pickleball skills clinic from 1-2pm or join open play from 2-4pm. There will also be ongoing opportunities to try a free Arthritis Foundation Exercise Class. The event is free but registration is required.
Friday, May 19, 2023
9:00 p.m. – 1:00 a.m.
Kick off Pride weekend and celebrate love and equality with a vibrant and inclusive dance party at LC's Venue! The party's theme is "Taste the Rainbow" and will feature an electrifying atmosphere with colorful décor and a high-energy DJ. Tickets are $7 and the event is for ages 21+.
Rochester Pride 2023
Saturday, May 20, 2023
12:00 – 5:00 p.m.
Rochester's annual Pride festival features a variety of local vendors, food trucks, games and live entertainment by local bands. Pride is open to all ages and free to attend.
Saturday, May 20, 2023
5:00 p.m. – 10:00 p.m.
For a youth-friendly spot to hang out after Rochester Pride, head to Old School Entertainment Co. for pizza, arcade games, and axe-throwing. 50% of party proceeds to the Trevor Project, a suicide prevention and crisis intervention organization for LGBTQ young people.
Saturday, May 20, 2023
7:00 p.m.
The official Rochester Pride after party is at Little Thistle Brewing, and will feature vocalist Dani A'mor and local drag performers Two Kings & A Queen. More special guests performers include Rochester vocalists Annie Mack and LaSonya Natividad. This event is also part of Rochester Craft Beer Week.
Saturday, May 20, 2023
7:30 p.m. 
Come and Celebrate Pride with North Star Gay Rodeo Association. Free admission.
Sunday, May 21, 2023
8:30 a.m. – 9:30 a.m.
Join Peace Church for a pancake breakfast the morning after Rochester Pride festival. The church will be collecting donations for its Pride offering and the Peace Teens Youth Mission trip to Biloxi, Mississippi in June.
Sunday, May 21, 2023
10:00 a.m. – 3:00 p.m.
The Rochester Girls and Crave are celebrating Rochester PRIDE Week on May 21st with shows at 10:00 a.m. and 1:00 p.m. Come celebrate with hostess Allota Shots, Jayda Clyne, Sidonia Dudval and special guests. Tickets must be purchased on Eventbrite along with a table reservation made directly with CRAVE Restaurant.
Sunday, May 21, 2023
7:00 p.m.
Close out a weekend of Pride with a burlesque show by Out Rochester & Burly Bluffs. This 18+ event invites guests to enjoy a burlesque performance by Burly Bluffs, sip on Rochester-made brews at Thesis, and support an exciting, underrepresented artform and a diverse cast of professional performers. Tickets are available for purchase on Eventbrite. This event is also part of Rochester Craft Beer Week.
The next big event is always just around the corner in Rochester, MN. View our events calendar for can't-miss events and things to do.