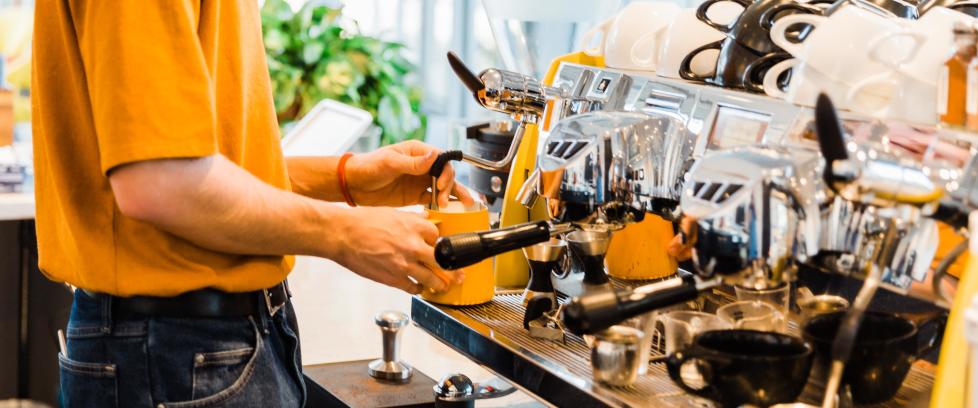 Cafe Steam One Discovery Square | AB-PHOTOGRAPHY.US
Every day is a brew-tiful one in Rochester, MN, a city awash in coffee shops that offer more than your average cuppa joe. This comprehensive guide to coffee shops and drive-thrus was created by the Rochester MN Moms Blog team, and includes recommended drinks you're guaranteed to love "a latte."  
Coffee Shops With Local Flavor
Café Steam: Each location of this locally-owned cafe gives off their own unique cool and comfy vibe. We love that they also support local artists and have multiple locations in the DoubleTree Hotel, One Discovery Square, and along 2nd Street We Recommend:  Lavender Flat White or the Melya (Honey and Espresso!) Insider Pro-Tip: Try the Birthday Girl or the Calypso for a special off the menu non-coffee treat. 
Fiddlehead Coffee Co:  We love their clever name: Fiddlehead ferns are a highly desirable, foraged item in the state of Minnesota. A second location is coming soon! We Recommend:  Oat Milk Latte, made with Oatly brand milk made from oats. This uniquely earthy latte is worth a try.
Old Abe Coffee Co.:  Old Abe Coffee cold brews all his coffee – even the hot stuff – for a super smooth finish.  Find him on his bike coffee cart or at his recently opened, amazing shop on 7th street.  (Bonus: enjoy a cup of coffee while the kids play in their own special space!) We Recommend:  Iced Zumbro (made with hazelnut and cinnamon) or the War Eagle (when you don't want to mess around…straight coffee concentrate).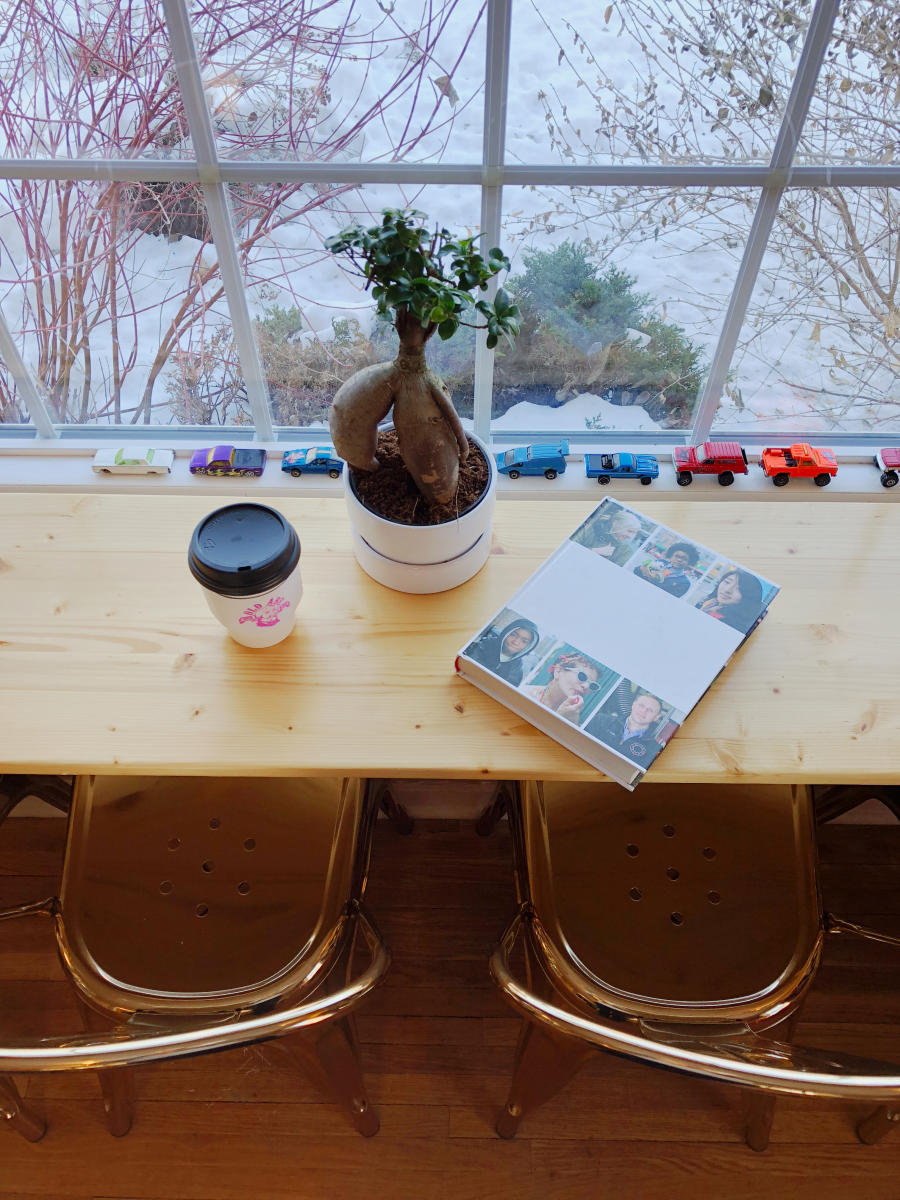 Old Abe Coffee Co. | AB-PHOTOGRAPHY.US
Bravo Espresso: Tucked away in a corner in the Shops at University Square, don't let their small space fool you.  One of the downtown professionals' favorite spots. We Recommend: The double espresso or the Ooey Gooey Caramel Latte. Yep, that's the name…a special treat indeed.
St. James Coffee: Located on the northwest side of town, St James is cool and cozy.  Run by the Catholic Church in town, they craft their coffee with organic, fair trade beans. We recommend: The Immaculate White Mocha or the St. Andy's (mint and chocolate).
Moka: A serious favorite among the Rochester MN Moms Blog team…we can rattle off the menu by heart. With two drive-thru only locations in North and South Rochester, we're thrilled that they have also opened up a walk-in coffee shop on the Peace Plaza. We Recommend: The Jamaican – iced or hot – with cream and sugar or the Blanco Americano when you need an extra oomph. Insider Pro-Tip: Try their SporTea for a natural energy boost: it's 95% caffeine free. Add a shot of flavor for fun times. We really love the peach or ginger lemongrass.
People's Food Co-op: Pick up your cup of joe and all of your local produce and goods all in one stop.  Bonus: mini carts! We Recommend: Their drip coffee is amazing or just a classic vanilla latte.
Café 49: This locally owned coffee shop is located inside Olmsted Medical Center's Northwest Clinic and the Hospital. We Recommend: Their Salted Caramel Mocha.
Le Petit Café: Newer to the Rochester coffee scene, Le Petit Café is a mobile coffee trailer. Visit them at the Rochester Farmers Market. We Recommend: The Cortado made with Peace Coffee – 100% Fair Trade and Certified Organic.
Almi's Coffee Shop: A truly local shop located on Broadway just north of Shops at University Square. We Recommend: Order a regular coffee…but be prepared for a strong cup.
Lumen Coffee: Located in northwest Rochester, Lumen Coffee serves espresso drinks, smoothies, breakfast sandwiches and pastries.  Local sourcing is top priority.  Daube's Bakery on South Broadway also proudly serves their brew.
Queen City Coffee:  This coffee and juice bar can be found on the second floor of Rochester's Castle Community and serves unique latte flavors and herbal teas. We love the Babyccino, a decaf kid's latte that comes in vanilla, caramel, or turtle flavors.
Our Favorite Brand-Name Coffee Shops
Dunn Bros North/South/Broadway: Longtime Minnesota favorite with three locations in Rochester. Sit down or drive-thru. We Recommend: We love the Nirvanas.  Try the Chocolate Nirvana (caffeinated hot chocolate!) or the Iced Coconut Nirvana.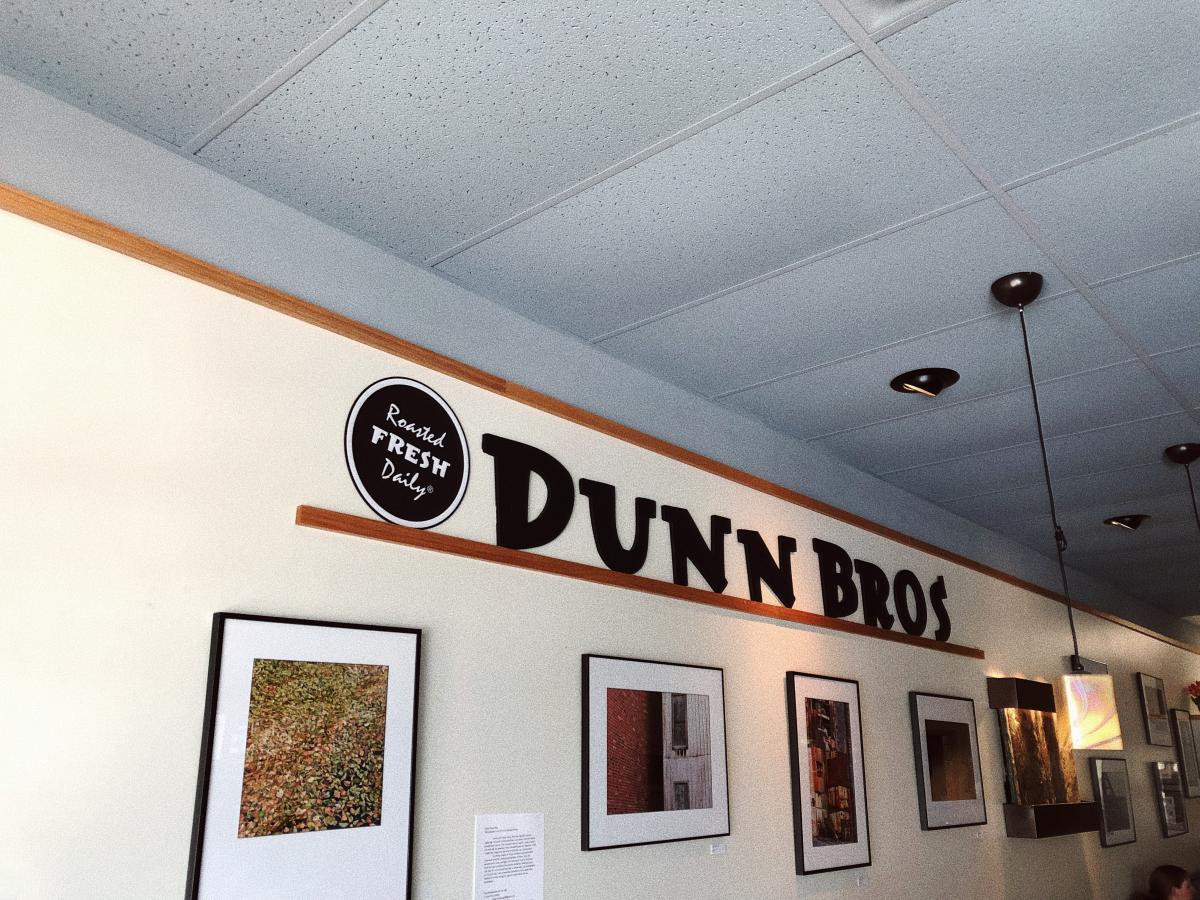 Dunn Brothers | AB-PHOTOGRAPHY.US
Caribou Coffee: Another Minnesota company, there are nine Rochester locations to choose from including two locations that also serve Einstein Bros. Bagels. Three locations are drive thru: Caribou Northwest, Caribou Coffee | Einstein Bros Bagels – North, and Caribou Coffee | Einstein Bros Bagels – River Center. Other locations include: Hy-Vee Barlow, North, Downtown, South, Kahler Inn downtown, Central, and Apache Mall. We Recommend: Breve with White Chocolate or the cold press.
Starbucks: While no technical drive-thru exists yet, they are building one on South Broadway near Flapdoodles South. Starbucks locations include: South, Apache Mall, Hy-Vee North, Hy-Vee Northwest, Kahler Grand Hotel downtown, Target North, and Target South. We Recommend: White Chocolate Mocha or Starbucks Double Shots Insider Pro-Tip: Order an Acai Berry Refresher and substitute with coconut milk for a tropical treat.
Take time to smell the coffee (or tea) in Rochester, MN! Check out our complete listings of local coffee and tea shops.