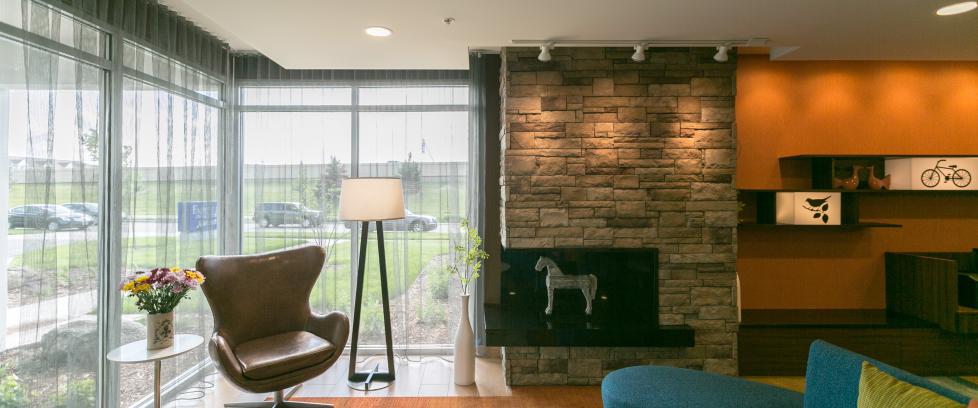 Fairfield Inn & Suites | AB-PHOTOGRAPHY.US
Visitors to Rochester, Minnesota—the "#1 Healthiest City in America"—can expect a culture of wellness, warmth, and caring that extends to every aspect of their visit, including their hotel stay.
Serving large numbers of guests who are in Rochester as patients of the world-renowned Mayo Clinic or who are attending healthcare conventions or professional meetings, Rochester's hotels are committed to promoting wellness and providing healthy environments.
Three hotels in Rochester—Homewood Suites, La Quinta Inn & Suites, and Fairfield Inn & Suites—have earned recognition as the best of the best when it comes to specialized customer service. They stock guests' refrigerators with specialty foods, drive guests to appointments, and have even been known to introduce guests to the great Minnesota pastime of sledding!
Homewood Suites by Hilton: A "deeper level of hospitality"
Located across the street from Mayo Clinic, Homewood Suites by Hilton is in a unique, niche market when it comes to customer service. Since many guests are receiving care at Mayo Clinic, and since scores of guests have health and wellness front-of-mind, so too does the hotel staff.
"Being situated across from the best hospital in the world, we are continually going to see people who are going into the hospital and checking out three days later," says Dan Nelson, Homewood's Director of Sales. "It's nice to rise to their time of need."
In what way does Homewood rise? Try shopping for and stocking the hotel room with groceries. This service is complimentary, excluding the price of the food, and provided by staff on a regular basis for out-of-town guests. Sometimes adhering to a client's dietary restrictions results in staff shopping at three or four stores, but it's a welcome task. In fact, Homewood staff spar about who gets to go the extra mile. "We kind of fight over them sometimes," Nelson says of special guests.
Homewood Suites regular guest Stephanie, age 30, of Amsterdam, instantly loved the hotel. "We knew that whenever we were going to be in Rochester, this was the place." Now she and her mother Bernie stay in a suite that is specially prepared for their visits, with oranges on the kitchen table and flowers in the living room.
A Mayo Clinic patient, Stephanie has been staying at the Homewood Suites with her mother off and on since 2014. For budgetary reasons, she appreciates the hotel's social gatherings -- complete with food -- four nights a week, plus the hotel's complimentary breakfasts. She and Bernie have also partaken of the Homewood's complimentary grocery shopping service. During one stretch when Stephanie was in the hospital, hotel staff brought Bernie her meals. "The (Homewood) staff is phenomenal," Stephanie says. "They go way, way beyond."
Beyond the hotel's walls, the women appreciate all the ways Rochester meets their needs. From international cuisine to availability of their favorite wines, as Bernie says, they find Rochester to be an exemplary home away from home.
"It's a deeper level of hospitality," Nelson explains. "I say, 'You're not alone. You have us.'"
La Quinta Inn & Suites: "The word 'no' does not exist in our vocabulary"
With a choice of close to 60 hotels and 5,000 rooms, travelers have a plethora of options -- obviously -- in Rochester. How does the La Quinta Inn & Suites stand out?
Here guests are pampered with a wellness philosophy that includes healthy options on the breakfast bar to a fully-loaded fitness room and a salt water-infused pool. On an average day, 60 percent of La Quinta's guests are patients at either Mayo Clinic or Olmsted Medical Center, making wellness paramount for this establishment. In fact, half a block from the hotel is a walking path with 20 fitness stations sprinkled around a pond.
And if a guest has an appointment that runs too early or late for the hotel shuttle, no matter. La Quinta staff will pull up curbside and give that guest a lift to their doctor appointment. It's all part of the hotel's philosophy, says Area Sales Manager Andy Thilges. "The word 'no' does not exist in our vocabulary," Thilges remarks.
La Quinta guest Jim Chaney of Colorado Springs, Col., confirms, saying he and his wife were once delayed downtown after shuttle hours. Who rescued them? La Quinta staff.
"This is the friendliest hotel in the city," Chaney says. "The service is outstanding. They treat you like family. They literally treat you like you're family. You can't find a better place."
Or take the family who stayed at La Quinta upon its opening three years ago. The hotel pool wasn't operational yet, so staff took the family with six kids daily to the Rochester Area Family Y to swim. "They had a hoot of a great time," Thilges recalls.
Sometimes, going the extra mile isn't just an expression for La Quinta staff – it means actually getting in the car and driving an extra mile. Once, a guest couldn't find the hotel off Highway 63, so Thilges got in his SUV, drove to where she was and had her follow him back. "We got over here and she ran over and gave me a big hug, and said 'thanks for saving me.'"
Fairfield Inn & Suites: "Shocked by the friendliness"
At Fairfield Inn & Suites, staff often direct guests out the door to seek respite on neighboring Cascade Trail or by walking the quaint nearby neighborhood of Kutzky Park. One sunny spring day, the hotel clerk was assisting a guest on crutches trying to board the hotel's shuttle. "Their needs come first," says General Manager Matt McCollum. "Our job is to make their hotel stay as easy as possible so they can come back, relax and get away from their worries."
Regular Fairfield guest Laura McGannon of Lake Sherwood, Cal., has a son being cared for at Mayo Clinic, and returns home from Rochester trips bragging far and wide about the positive experiences they've had while traveling. From healthy options on the breakfast buffet to an efficient Mayo Clinic shuttle to the pool's hydraulic lift, McGannon is impressed by what the Fairfield provides to its guests.
One morning, McGannon and her son exited the hotel early for clinic appointments, and were handed a breakfast to-go bag on their way out. "That was really thoughtful," she says. "We've traveled all over the world, but they really seem to overextend themselves."
That thoughtful nature extended beyond the hotel property, the 64-year-old remarks. Everywhere the family went in Rochester, from the grocery store to restaurants and even to the street corners, they were met by friendly, accommodating people. So much so in fact, McGannon and her husband looked at houses in Rochester -- thinking maybe this is where they ought to live.
"We were just shocked by how friendly the people were," McGannon says. "On the street, strangers would say hello to us and we were like, 'what's going on?' It was a rare exception that someone didn't look you in the eye and smile and say hello. We were very impressed with that."
Rochester cares: A community-wide effort to be a good host
Back at Homewood Suites by Hilton, Nelson has played golf with a hotel guest, and brought him the golf clubs to play with, as well. He's also taken southerners sledding in the winter to introduce them to a rare, snowy adventure down a steep Rochester sledding hill. "They come back wide-eyed," Nelson says.
And since health and wellness go beyond the body, Nelson is also quick to steer visitors to Rochester destinations that'll enrich their spiritual and psychological well-being, such as the Saint Marys Hospital Chapel, Rejuvenate Spa at Mayo Clinic's Healthy Living Program and Mayo's patient education centers, whereby Homewood guests can learn everything they want to about their or their loved one's health.  Nelson considers it the hotel's responsibility to inform guests of all the health and wellness resources that Rochester has to offer, and to "support their heart, body, mind and soul in healing."
"It's more of a culture that you find in Rochester that you don't always find elsewhere when you travel," echoes McCollum of the Fairfield Inn & Suites. "The patient comes first is a foundation for Mayo Clinic, and has become one for our entire city, as well. It's a community-wide effort."
Rochester, Minnesota is a global destination for health and wellness.  Plan your visit today!