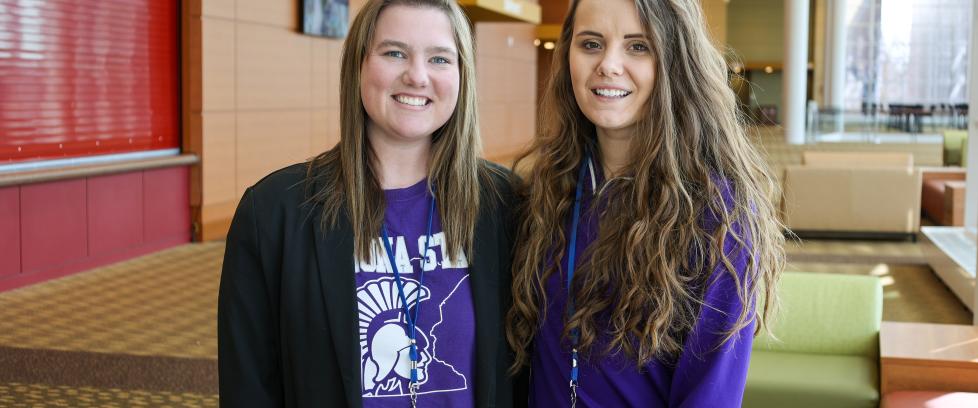 Experience Rochester
Experience Rochester and Mayo Civic Center's interns share their favorite memories
Morgan Ellias and Alex Strelow are both seniors at Winona State University (WSU) majoring in Recreation & Tourism. While they have different interests and career goals, their shared passion for the events and travel industries led them to a full-time internship at Mayo Civic Center during the Spring 2022 semester. Morgan and Alex share more about their internship experience, favorite memories and post-college plans.
Morgan Ellias
Hi, my name is Morgan Ellias, and I am from a small town in northern Wisconsin up by Lake Superior. I basically grew up in the water. My love for the outdoors came from my parents who were always doing something outside. I choose to go to Winona State because of the beautiful area that it is surrounded by. My major is Recreation Tourism and I hope to manage a marina someday.  
My time interning at the Mayo Civic Center and Experience Rochester has been one of a kind and an educational experience. I did not know what to expect when coming into this internship. I am not from the area, and I had only been to the Civic Center for the first time during my walk-through after being hired. I got a pretty good understanding of life at Mayo Civic Center very quickly. In the first week of January, I started here and helped with the United Hardware Spring and Summer Buyers Event. You will learn the building quickly when you literally run through it. I was able to work with all of the departments and get a better understanding of what it takes for the Civic Center to run. I started out in operations that first week, then after that, I moved to food and beverage, marketing, sales, events, and then to the box office. From setting up and taking down events, to selling tickets and everything in-between, everyone has an important role in making sure everything runs smoothly and safely.
I cannot thank everyone enough that I have worked with here at the Mayo Civic Center. You have all helped me and taught me so much and I will forever be grateful for this experience. I wish you all nothing but the best.   
Alex Strelow
I am Alex Strelow, and I am a Senior in the Recreation and Tourism Department at Winona State University. I will graduate with Cum Laude honors in May.
I chose Winona State University because I like that it isn't too big or too small, it's a close-knit community, and it has beautiful outdoors and great places to hike, bike, walk, and kayak/paddleboard.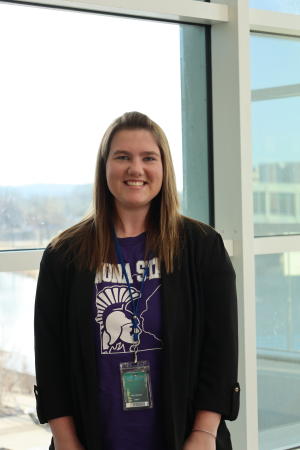 For several years while in college, I belonged to many different clubs that planned events for WSU and Coaches vs Cancer where I was the founding member in getting area kids who are fighting cancer to be honorary players at the Coaches vs Cancer WSU basketball games. I was also Co-President of Colleges Against Cancer and helped plan Winona Area Relay for Life at WSU, where we raised money for the American Cancer Society. Planning these events while in college was something that I really enjoyed doing. After graduation, I would like to work with a company to help organize events, perhaps sports, festivals, or maybe even concerts. Someday, I would also like to become a volunteer firefighter.
Interning with Mayo Civic Center, Experience Rochester, and Rochester Minnesota Sports has been a great experience. I have been able to work with all the different departments and learn how they all help in making an event come together. I have worked in Operations, Food and Beverage, Marketing, Sales, Events, and the Sports department. I have helped with the NJCAA Women's Basketball Tournament, updated programs for departments, wrote blogs for Experience Rochester, taken photos at events and around Rochester, and worked at a Telethon dinner. I have helped at a monster trucks event, a National Dance Competition, and Band Championships. I have been able to go to a conference, learn different online systems for each department, sit in on many department meetings, help at shows and concerts including Choir of Man, REO Speed Wagon, and Martina McBride.
I feel lucky to have been here at the Mayo Civic Center, Experience Rochester, and Rochester Minnesota Sports because these organizations have such a variety of experiences. Everyone here has been very welcoming and helpful throughout this entire internship. This experience has shown me that I am interested in many different aspects of events.
I am thankful for this internship opportunity because it has been a great valuable learning experience and I feel very fortunate.