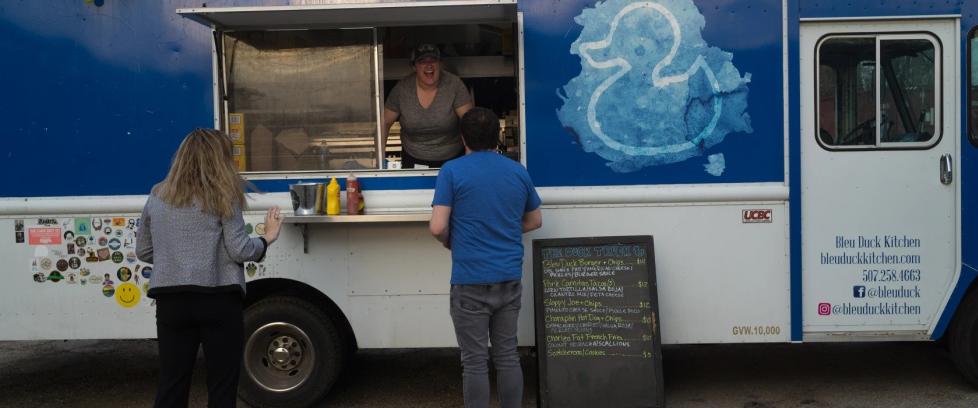 Joe Ahlquist/Post Bulletin
Burgers, tacos, tacos, tacos, teppanyaki, tacos, pizza. Your favorite food trucks, as voted on by the readers of Rochester Magazine.
The Duck Truck from Bleu Duck
Various locations | 507-258-4663 | bleuduckkitchen.com/the-duck-truck
Let's Roll. The Bleu Duck restaurant owners bought the truck in late spring of 2020 and managed to get it on the road in less than three weeks. Thanks to the truck, Bleu Duck was able to keep kitchen staff employed through the pandemic.
Order up. Look for staple items, such as the customer-favorite Bleu Duck Burger, which features a smashed patty burger, pickles, American cheese and their special sauce on a brioche bun. Other regular items include fries, homemade egg rolls, and carnitas tacos.
Simply inspired. Like the restaurant, the menu at the Duck Truck has some rotating items. Look out for their mac 'n cheese bar, poutine, ramen, and cheesesteak sandwiches. If an ingredient like kimchi appears in a dish on the restaurant bar menu, they'll also try to rock something for the truck.
Here comes the "Quack Shack." Propane-powered and featuring a full-sized oven, the Duck Truck (nickname "Quack Shack") will operate this year from spring through the end of October outside various stores and breweries (including as a regular at Little Thistle's Wednesday Trivia Night) or at private events.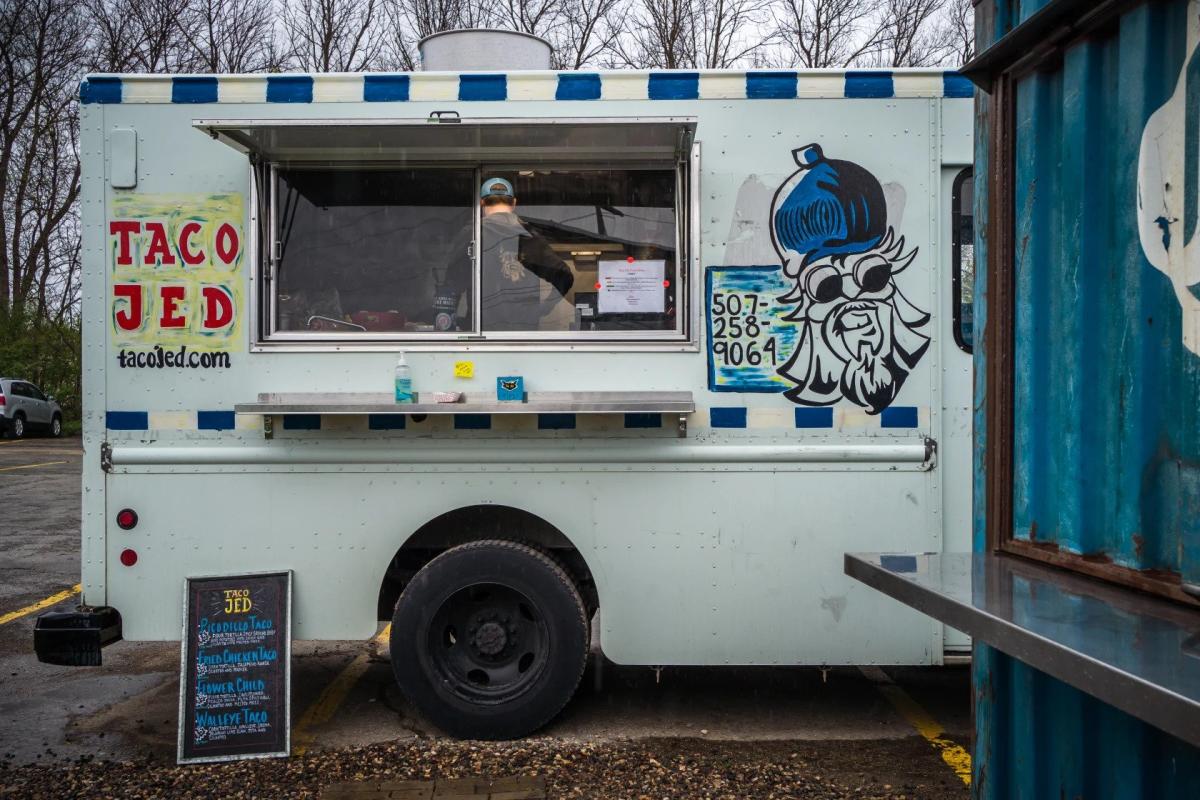 photo courtesy Rochester Magazine
Taco JED
Various locations | 507-258-9064 | tacojed.com
All in the family. The truck is named Gladys, for owner Steve Dunn's ex-mother in law. "No connection to taco making," Dunn says, but she was "a nice lady." The truck's jump seat is named for Dunn's brother Jeff, who helped get the truck from Washington, D.C. three years ago.
Tacos and Trivia. The truck can often be found at Little Thistle's Wednesday Trivia Night or at festivals around the region (the truck's schedule is on the website). The truck is also available to cater private events, such as weddings and grad parties between April and November.
Lebowski style? Given the truck's smaller kitchen, expect to find four tacos instead of the restaurant's usual 10. The truck typically carries the #1 Picadillo, featuring ground beef, potato, onion, and cilantro in a flour tortilla with melted mozzarella. Ask for it "Lebowski style" (drizzled with queso) or "Walter style" (queso and crema). Another truck regular is the #6 "Flower Child," their most popular vegetarian option, with cauliflower, pickled red onion, spicy aioli, feta cheese, and cilantro.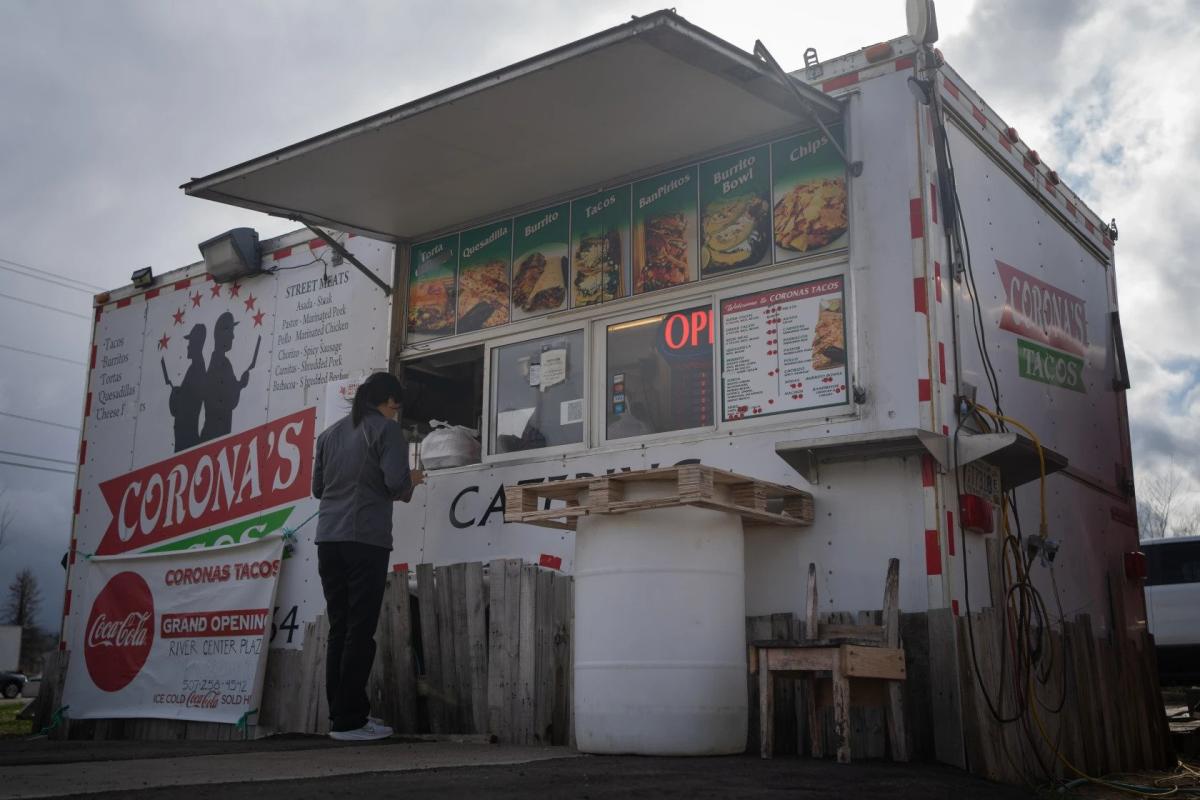 photo courtesy Rochester Magazine
Corona's Tacos
7 12th St SE, other various locations | 507-513-3464 | coronastacos.com
A family affair. Jesus Corona and Leticia Sanchez started Corona's Tacos in 2017. The couple fell in love dancing at a salsa club.
What's on the menu. Tacos, burritos, quesadillas, and tortas; burrito bowls can be made with choice of carne asada, carnitas, barbacoa, pastor, pollo, or chorizo. We like the "Vampiritos" tacos, made with crispy fried tortillas, grilled onions, mozzarella cheese, and fresh cilantro. Don't skip out on sides of rice and beans.
Tacos about town. The trailer is often parked in southeast Rochester; Corona's Tacos also has an indoor location in the skyway at the First Ave Food Court downtown. They're also available for catering.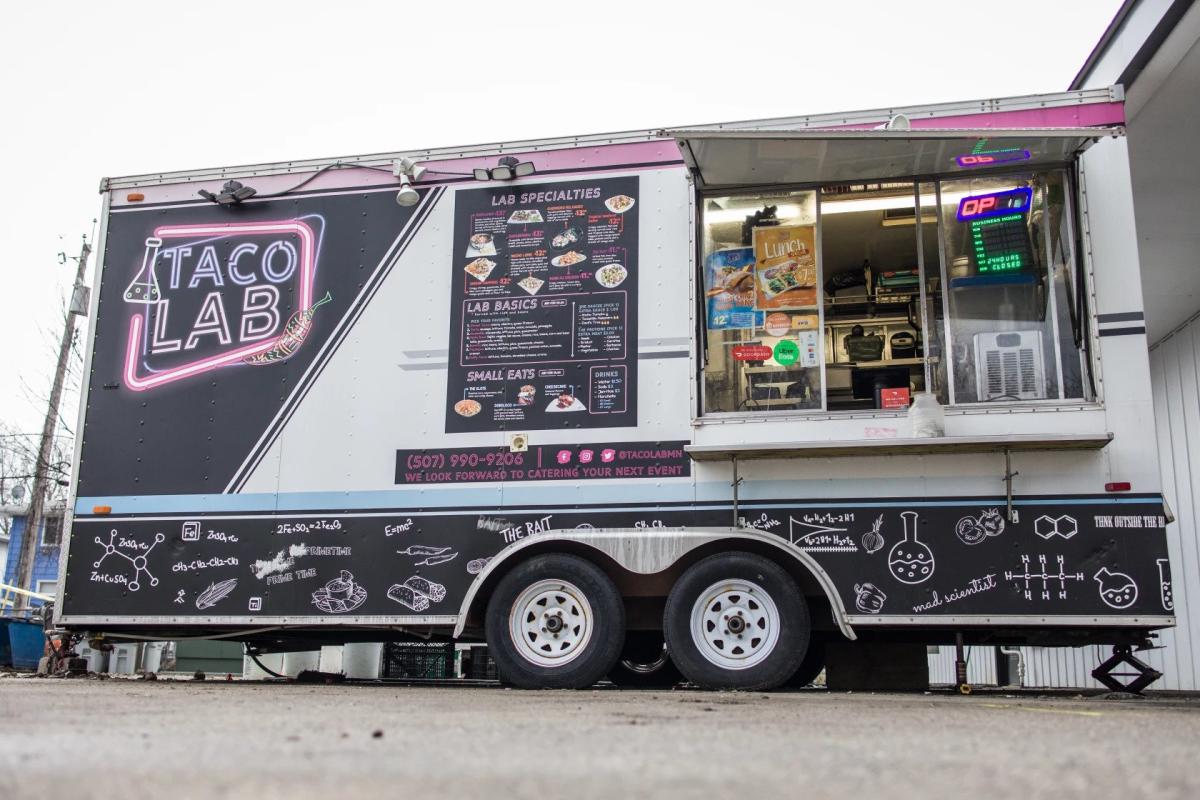 photo courtesy Rochester Magazine
Taco Lab
1310 Fifth Place NW (trailer) | 507-990-9206 | tacolabmn.com
A tasty experiment. The idea behind the name Taco Lab was to emphasize the creativity of recipes and the experimentations with flavors going on behind the scenes.
Try an original ... A customer favorite, the "Kung Fu Chicken" features crispy chicken, corn pico, house slaw, and aioli in a crispy wonton shell.
... Or a classic. The Street Tacos can be made with a variety of protein options, from asada to brisket or carnitas, served with onion, cilantro, and queso fresco.
Tacobout a Growing Business. Taco Lab started in 2021, as a joint venture by Enedino "Nino" Morales and the two Mosquera brothers, both named Jorge. In addition to their recently opened restaurant in NW Rochester, Taco Lab has a parked trailer on Civic Center Drive and a roaming food truck, which can be found this summer at Thursdays on First and is available for catering private events.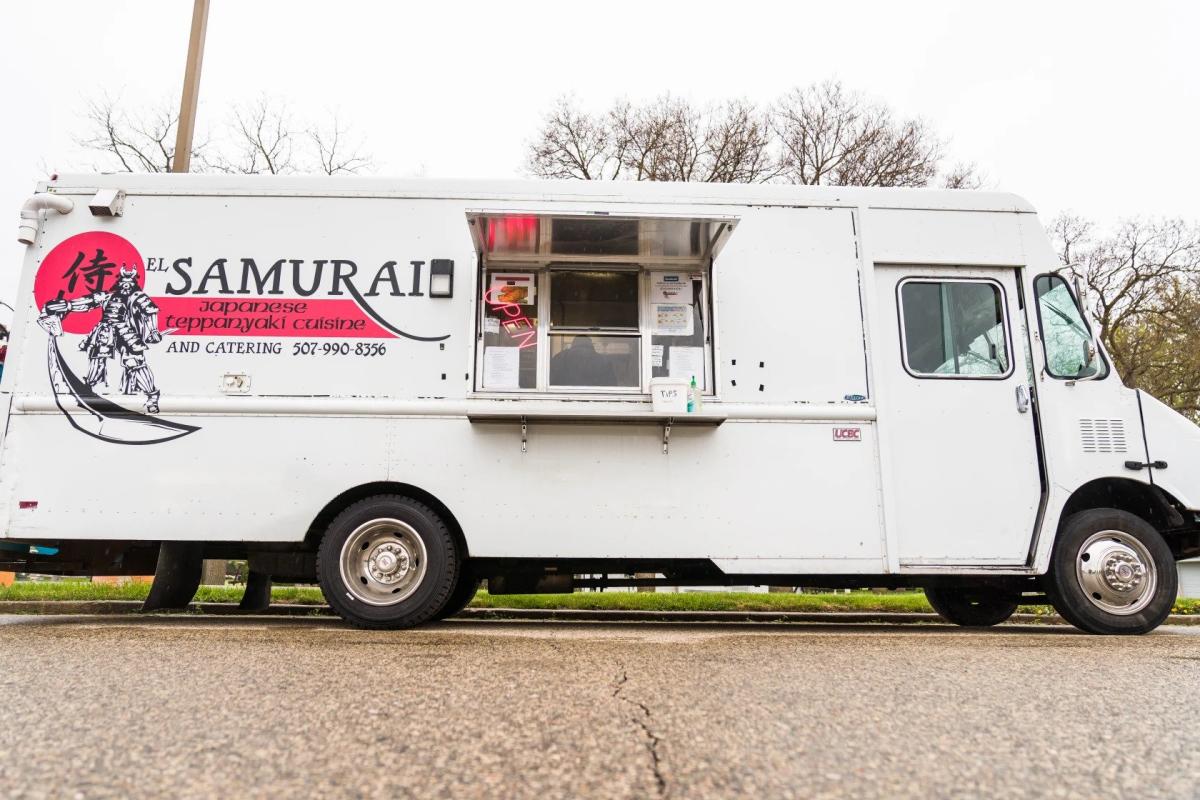 photo courtesy Rochester Magazine
El Samurai
Various locations | 507-990-8356 | facebook.com/elsamuraijtc
What's in a name? El Samurai serves teppanyaki, a cuisine that emerged in Japan post-WWII, characterized by cooking food over a searing-hot iron griddle.
Grub and a scrub. The truck is often parked outside Express Car Wash 1 in southeast Rochester, so you can solve the question of what to have for dinner and get your car sparkling at the same time. They can also be found on occasion at local breweries and catering private events. Check their Facebook page for weekly updates.
Night owl special. For those eating late, be sure to bring your appetite. After 7:30pm, you can get 2 combos for $30—that means you can get the filet mignon and chicken and the scallops and shrimp, plus two sides of fried rice, for the cost of a single dinner entree at many local restaurants.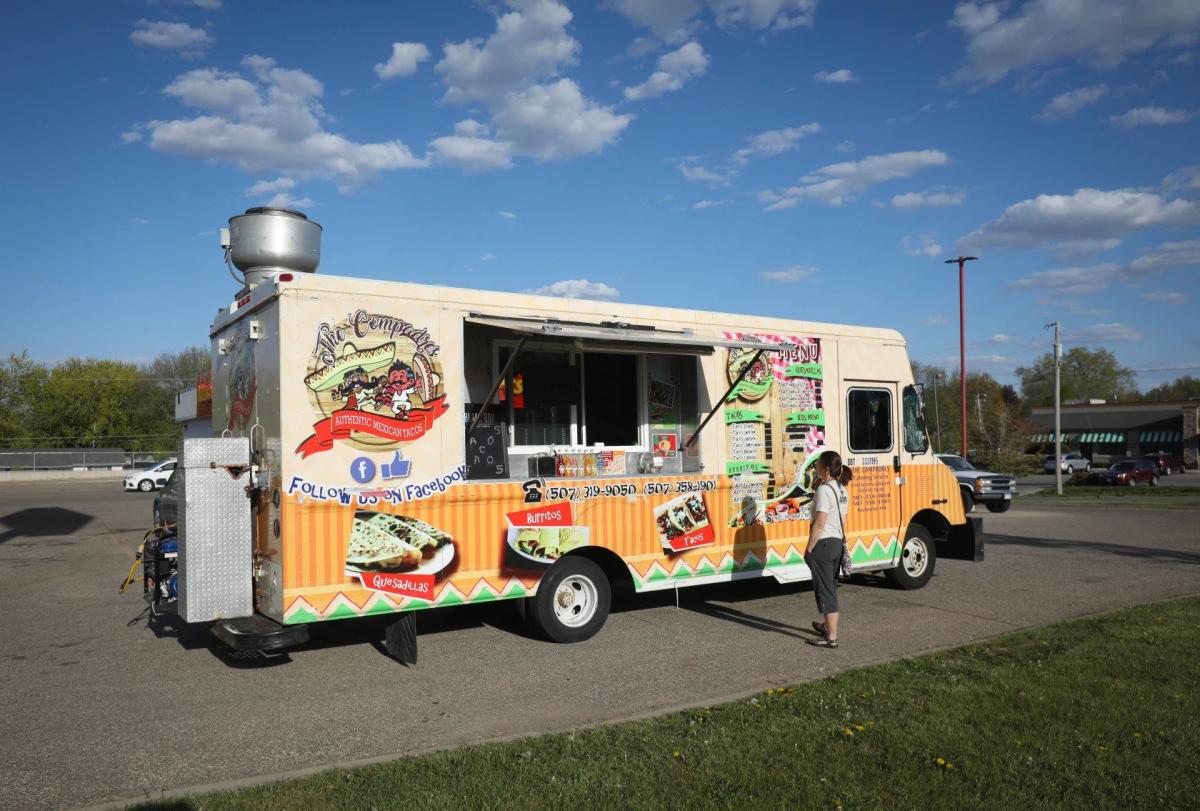 photo courtesy Rochester Magazine
The Compadres
1764 South Broadway, and other rotating locations | 507-319-9050 | thecompadresmexicanfood.com
Taco the town. In addition to well-known sites around Rochester, The Compadres food truck and trailer has also expanded to the food court in the Apache Mall and a sit-down restaurant in Byron. They're also available for catering.
On the menu. Serving tacos, burritos, and quesadillas, The Compadres food truck is perhaps best known for their authentic Mexican tacos, featuring three tortillas stuffed with your choice of veggie or meat options and topped with fresh cilantro, onion, and queso fresco.
Bring on the sauce. The fresh pico de gallo and smoky chipotle sauce are chef's kiss.
That's refreshing! Finish your meal off with a bottle of Jarritos, the beloved Mexican soda made with cane sugar and fresh fruit juice.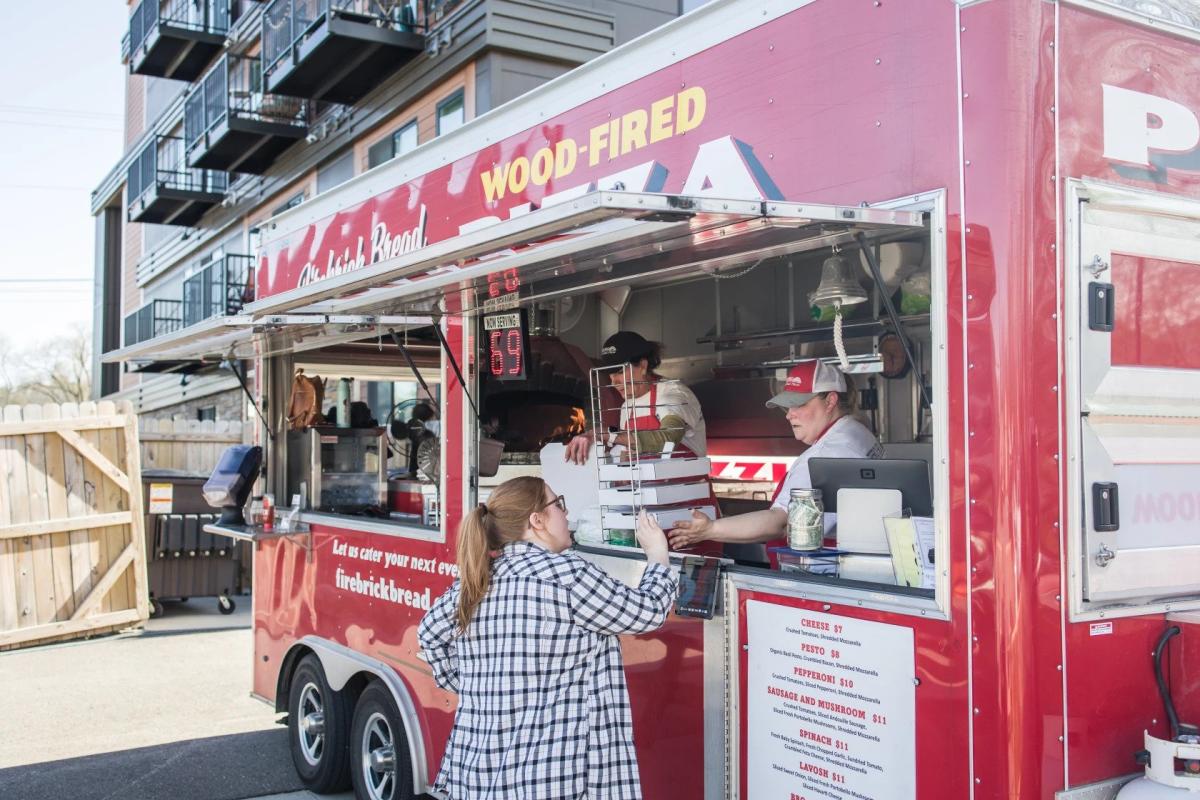 photo courtesy Rochester Magazine
Firebrick Bread Wood-fired Pizza Truck
Various locations | 507-272-7885 | firebrickbread.com/pizza
On the road. This local favorite will celebrate their 10th anniversary in May 2023. The Firebrick truck can often be found outside Rochester breweries or at regional farmers markets.
That's hot. The mobile oven runs between 800 and 900 degrees, can fit up to five pizzas at once and cook them in two minutes or less. Some summer mornings, the coals from the night before are still hot enough to ignite a fresh log.
The Early Bird. One specialty item—the Breakfast Pizza—can only be found Saturday mornings at the Rochester Farmers Market. Other unique offerings include an Asparagus Pizza in late spring and an Oktoberfest Pizza (sliced sweet onion, sauerkraut, bacon, smoked garlic kielbasa and havarti, served with an assortment of savory mustards) in the fall.
A Local Twist. The Dill Pickle Pizza, originally created for the Minnesota State Fair, returns to the menu this year. Or try the Lavosh Pizza: a rich, buttery pie inspired by an appetizer from Rochester's long-shuttered John Barleycorn restaurant, featuring sliced mushrooms and onions drizzled with olive oil and havarti cheese, piled atop a pizza crust instead of the Armenian crackers for which it's named.