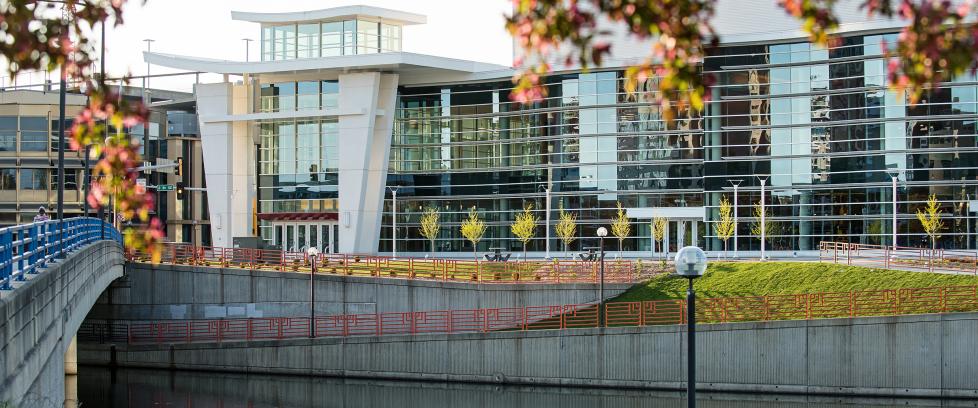 Dean Riggott
Rochester, MN was recently chosen by "Successful Meetings" magazine as a top-five destination for medical meetings and conventions, and the honor is well-deserved. Home to the world-famous Mayo Clinic, brand-new convention facilities, and Discovery Square, a thriving medical innovation hub currently under development, Minnesota's Rochester offers conference attendees an exceptional experience in a vibrant community renowned for its culture of caring and spirit of innovation.
One of Rochester's unique advantages as a destination for medical conventions is that it is the proud site of Mayo Clinic, a global destination for health and wellness and one of the world's elite research institutions. Mayo Clinic is able to support the city's large medical meetings by arranging specialized tours of its campus and leading-edge centers, providing subject-matter experts as convention panelists and moderators, and coordinating guest speakers on highly-specialized or general-interest healthcare topics. (See a testimonial from a Mayo Clinic representative about why Rochester is an exceptional destination for medical conventions and meetings.)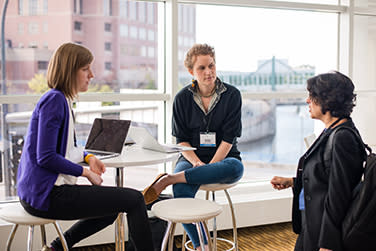 Mayo Clinic's Jacob Malwitz, Media Business Operations, says that Mayo Clinic's commitment to enriching medical conferences held in Rochester is an extension of a philosophy that dates back to the founding of the Clinic. "Dr. W.W. Mayo and his sons, Drs. William J. Mayo and Charles H. Mayo, built Mayo Clinic on the principles of patient care, research, and education, and on sharing their vast knowledge and expertise in these areas with clinicians, researchers, and organizations from all over the country and world," Malwitz says.
Adds Malwitz: "More than 150 years later the Clinic still operates with the same fundamental principles. That's why when visitors come to Rochester for medical conventions or healthcare summits, Mayo's leaders, clinicians, researchers, and allied health staff welcome the opportunity to share their knowledge and promote excellence in medical education, research, and clinical care. Rochester is an exceptional destination for medical conventions and meetings, and Mayo Clinic is honored to be a part of it."
Mayo Clinic can work with medical convention planners to provide these services to convention attendees:
1. Intriguing Tour Opportunities. Medical convention attendees can potentially tour these Mayo Clinic centers:
Mayo Clinic Healthy Living program, providing transformative lifestyle and behavior change experiences for Mayo Clinic patients and visitors in a state-of-the-art wellness facility
Mayo Clinic Cancer Center, a National Cancer Institute-designated comprehensive cancer center since 1973
Mayo Clinic Center for Clinical Translational Science, one of the largest NIH-funded translational centers in the nation
The Robert D. and Patricia E. Kern Center for the Science of Health Care Delivery, which studies healthcare systems, patient-centered outcomes and population science
The Center for Regenerative Medicine, dedicated to tissue and organ regeneration and transplant science
Mayo Clinic Center for Innovation, which is transforming the experience and delivery of health and health care with a patient-centered focus
Proton Beam Therapy Center, which was opened in 2015 and brings a new capability in radiotherapy to people who can benefit from highly targeted precision beam therapy  
Multidisciplinary Simulation Center, which offers simulated experiential learning via virtual reality training and high-fidelity scenarios incorporating patient manikins, trained medical actors and a range of specialized medical simulation equipment.
2. Expert Panelists & Moderators. Mayo Clinic research experts are available to serve as conference panel members or panel moderators on a wide range of cutting-edge research topics related to best practices in conduct of clinical research, regenerative medicine, research compliance, and human subjects protection, among other topics.
3. Sought-After Speakers. In addition, Mayo Clinic is also able to supply medical conventions with guest speakers on general-interest healthcare topics like how to avoid professional burnout in the healthcare professions as well as more specialized topics relevant to a variety of healthcare disciplines. 
4. Transformative individual and group experiences.  Groups of attendees or individuals can take advantage of the Mayo Clinic Healthy Living program while in town. Offerings include a free 20-minute personal wellness consult, a tranquil visit to the Rejuvenate Spa, or enrollment in either the half-day Wellness Essentials Experience or Enhanced Physical Activity Assessment.  Meeting planners can inquire about group retreats at the Mayo Clinic Healthy Living program, where experiential wellness sessions and activities led by Mayo Clinic experts will be woven into your business or conference agenda for a uniquely memorable experience.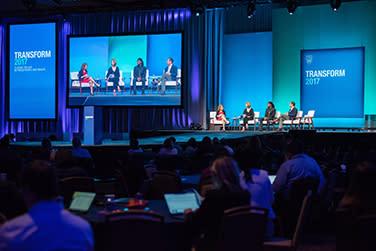 The transformation of Minnesota's Rochester into a top destination for large medical meetings and healthcare summits has also been facilitated by the convention center expansion to the City of Rochester's Mayo Civic Center completed in early 2017. This expansion doubled the facility's capacity for hosting events; more than 200,000 square feet of flexible meeting and exhibit space is now available. In addition, the convention center is located in the heart of the city, offering visitors easy access—via skyway connections—to more than 2,200 hotel rooms, stylish restaurants, and unique shopping in the city's newly-revitalized downtown.
"Rochester is an outstanding location for a healthcare convention because of its spacious, modern new convention center and its proximity to Mayo Clinic, but also because it is a friendly, welcoming city that is easy for attendees to fly into from Atlanta, Chicago or Minneapolis," says Mary Gastner, interim executive director of Experience Rochester, MN (formerly known as the Rochester Convention & Visitors Bureau). "Nine in ten visitors who come to Rochester would recommend the city as a destination. Come experience it for yourself!"
Hear from Mayo Clinic's Jacob Malwitz.