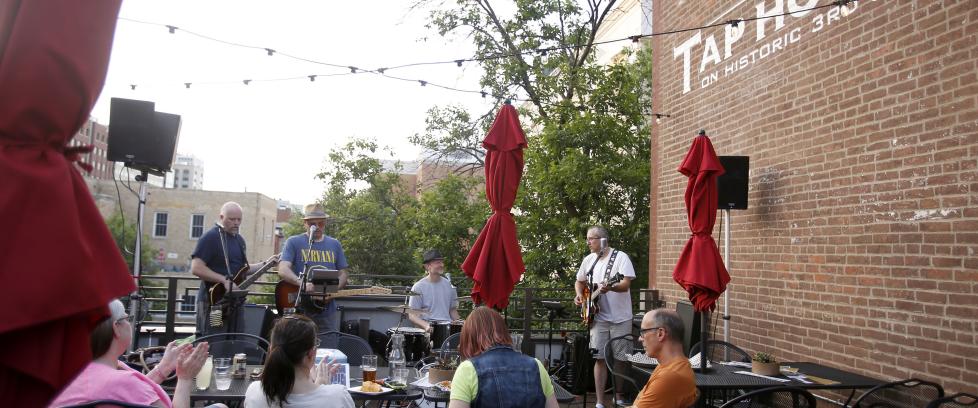 Rochester Magazine
Several restaurants and pubs clustered on or near downtown Rochester, MN's Historic Third Street are hot spots for dining and nightlife. Featuring indoor and seasonal outdoor seating, these dynamic restaurants and bars in the heart of the city provide both visitors and local residents a taste of Rochester's vibrant, diverse dining and nightlife scene.
Grand Rounds Brew Pub. The main attractions at Grand Rounds Brew Pub are craft beers brewed on site and fresh, imaginative cuisine that is locally sourced from area farmers. Located in a stately brick bank building that's almost 150 years old and named after the concept of medical "grand rounds," the brew pub welcomes guests from all walks of life to engage in great conversation over a pint. You can sit inside or outside at one of 15 tables on the patio (weather permitting), and order from a menu that includes Scotch eggs, the MacReuben, and an open-faced salmon BLT.
Taste it: Try the pan seared brussels sprouts and the beet salad if you're feeling virtuous, or the BrewQue burger (bacon jam, onion rings, beerbeque, and provolone) if you're not. Don't forget to wash it down with one of Grand Rounds' flagship beers!
The Tap House. The Tap House is known for its 50 beers on tap as well as its rooftop seating with a large fireplace and heaters for chilly evenings. When spring fever in Rochester hits, the rooftop patio comes alive with a fun, upbeat vibe and a big-city feel. The Tap House serves munchies like chicken wings and French fried "potaters." 
Taste it: At this establishment, your focus should be on what's in your cup rather than what's on your plate. The Tap House offers dozens of beers on tap and an assortment of fun specialty cocktails, like the lemon droptini and the vodka-infused chai tea.
The Loop. The crowd buzzes with energy at The Loop, a lively restaurant and bar owned by a group of young friends who graduated from a local high school together. The menu features fresh, local options including appetizers, sandwiches (the blackened chicken avocado melt, yum!), gourmet pizzas, and more. Outdoor seating is popular at The Loop day or night in the warmer months. The Loop hosts live music every Thursday night and a DJ on Fridays and Saturdays. 
Taste it: Try the walleye sandwich or parmesan crusted walleye (for out-of-state visitors, that's a Minnesota specialty!). For a late-night snack, grab some buffalo chicken wontons or mac & cheese bites.
Many other exceptional dining and nightlife options exist within a few blocks of Historic Third. Kathy's Pub, known for its live music, has a rockin' rooftop patio open during the summer months. The Half Barrel and Newt's are also popular dining and nightlife destinations close to Historic 3rd, and Café Steam is an independent coffee shop open until at least 10 p.m. every night.