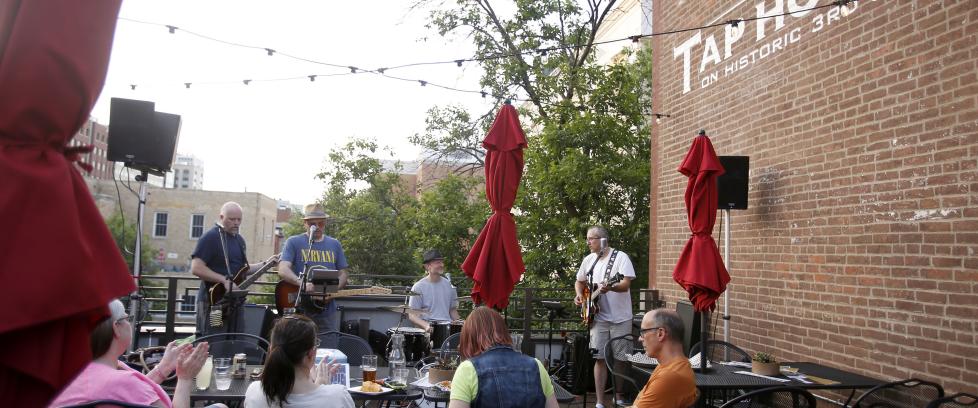 Rochester Magazine
Downtown Rochester's Historic Third Street is a thriving mix of hot spots for dining plus nightlife which makes the perfect combination. Clustered downtown, this district of historic restaurants and bars in the heart of the city provide both visitors and locals a taste of Rochester's vibrant, burgeoning dining and late night experiences. 
Be sure to check out some of the best spots on Third Street:
Nellie's on 3rd: Whether you start with hand-dipped cheese curds, or try one of the locally brewed beers on tap, Nellie's on 3rd is a perfect oasis of good bites, amazing drinks, and a fun atmosphere. Located in a stately brick bank building that's almost 150 years old and named after the concept of medical "grand rounds," this bar welcomes guests from all walks of life to engage in great conversation over a pint or specialty cocktail. Either sit inside or outside at one of the patio tables, weather permitting of course, and order from a menu that includes an incredible Au Jus Steak sandwich, great pizzas like the Humble Pie, Plain Jane, and the meat lover's paradise of a pie, the Piggly Wiggly. 
Taste it: Try the made daily sauce on a handmade pizza with a SxSE Frontage Road Chocolate Milk Stout and complete the meal with a cast iron cookie or the 1919 Root Beer Float (YUM!)
The Tap House: The Tap House is known for its 50 beers on tap as well as its rooftop seating with a large fireplace and heaters for chilly evenings. When spring fever in Rochester hits, the rooftop patio comes alive with a fun, upbeat vibe and a big-city view. The Tap House serves bites like chicken wings and French fried "potaters" to name a few. 
Taste it: At Tap House, your focus should be on what's in your cup and what's on your plate. The Tap House offers dozens of beers on tap (of course) and an assortment of fun specialty cocktails, like the lemon droptini and the vodka-infused chai tea.
Bitter & Pour®: Known as the "lovechild of four nice guys with stardust in their eyes." Bitter & Pour® is local hideaway on Rochester's Third Street. At Bitter & Pour®, the drinks and elixirs are specifically made for the most hip drinkers around. The cozy atmosphere at Bitter & Pour® is one of a kind and invites patrons from around the world. 
Taste it: Tucked away on Historic 3rd Street. Bitter & Pour® is the perfect place to unwind, enjoy a cozy atmosphere, and catch up on life. The best, and main thing, to do at Bitter & Pour® starts with the drinks. Notable favorites are the smoke & mirror, rough rider, or the red eye to paradise which includes tequila, lime, agave, and salt but it's better than just a margarita! 
Many other exceptional dining and nightlife options exist within a few blocks of Historic Third. Kathy's Pub, known for its live music, has a rockin' rooftop patio open during the summer months. The Half Barrel and Newt's are also popular dining and nightlife destinations close to Historic 3rd, and Café Steam is an independent coffee shop open until at least 10 p.m. every night.