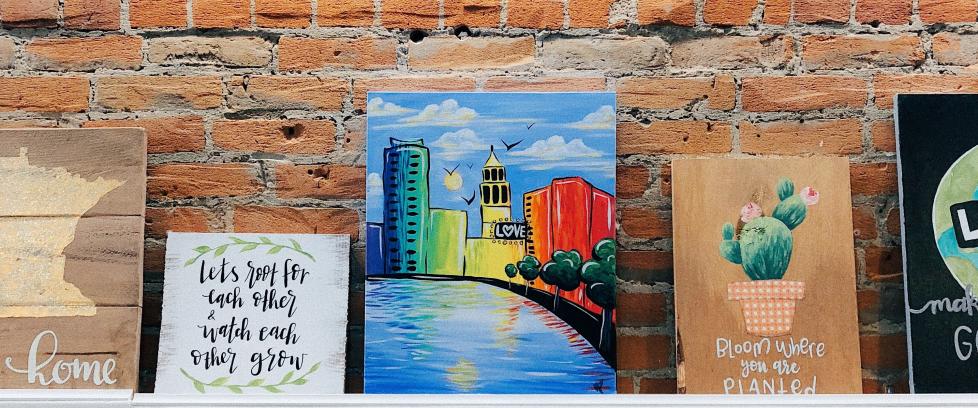 Canvas and Chardonnay | AB-PHOTOGRAPHY.US
Are you interested in creating or exploring art or dancing, or looking for a new way to express your creativity? Rochester MN has a wide variety of creative outlets available for visitors and residents alike. Our community encourages you to challenge yourself and push your creative boundaries to see what you're capable of through art exploration. Since creativity comes in many forms, your imagination has the power to take you anywhere. Try one (or all!) of these options and see for yourself. You may even relieve stress while finding a new hidden talent!
317 S Broadway, Rochester, MN // (507) 319-0117
Grab your friends, spouse, or child(ren) for an evening of painting with step-by-step instructions to reveal your inner artist. Everything you'll need for an entertaining evening is provided by the staff at Art Heads Emporium, including wine, beer, or non-alcoholic beverages. Art Heads Emporium also offers a variety of other creative classes. Check their calendar for all class information.
810 N Broadway Ave, Suite D, Rochester, MN // (507) 322-0770
Are you looking for a new option for a night out with friends? Are you ready to DIY a fun new project without having to buy all your own supplies and make a mess at your house? Then get ready for Rochester's newest creative outlet, Board and Brush, where you can create your own wood sign in one of their workshops.
Art Entertainment at its finest! Wine and Canvas offers classes with detailed painting instructions from local artists while guests enjoy an adult or non-alcoholic beverage. All supplies are provided and guests leave with their own masterpiece. Call 507-923-0474 for additional information.
608 18th St SW, Rochester, MN // (507) 884-9166
Join Willomina in her art studio where she hosts art classes for people of all ages. From summer art classes to adult classes, homeschool options, parties, private instruction and more, Willomina truly has something for everyone.  Her whimsical style will leave you smiling and inspired.  
40 Civic Center Dr. SE, Rochester, MN  // (507) 282-8629
Check out world-class contemporary art exhibits in a friendly, accessible environment at the Rochester Art Center. The Rochester Art Center is attached to Mayo Civic Center and is a great place to enjoy the beauty of the downtown Rochester cityscape, the Zumbro River, and Mayo Memorial Park. Parking is free after 5 p.m. weekdays and on weekends.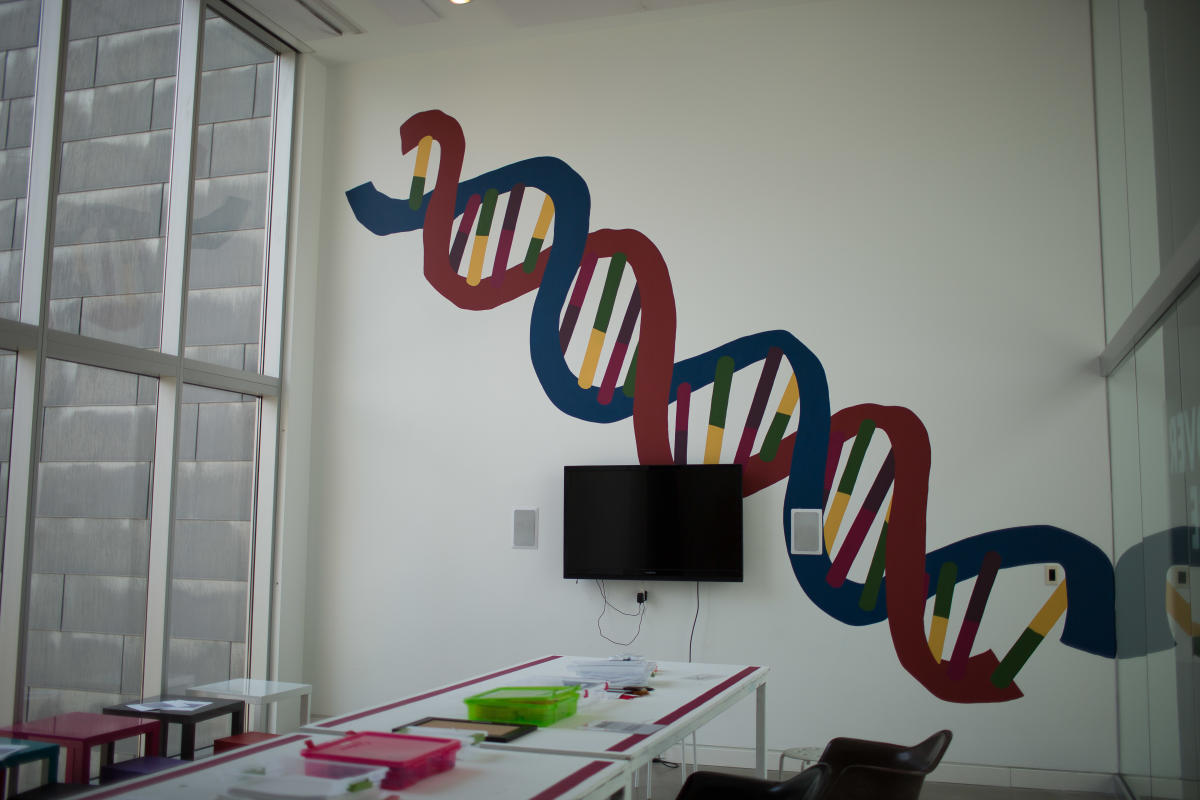 Exhibit-related activity at Rochester Art Center | AB-PHOTOGRAPHY.US
1190 Riverwood Dr. SW, Oronoco, MN // (507) 216-2399
Jill at Riverwood Studio offers youth art classes, drama classes, summer camps, adult and family classes and more.  She also has a special monthly adult art classes calendar.  Jill's passion is for helping people of all ages build skills and broaden artistic experiences in a relaxed, cozy, collaborative environment.  
2030 US-14, Rochester, MN // (507) 288-0556
Learn to dance and change your life! Blue Moon Ballroom offers private lessons for couples or singles in addition to Blue Moon Dance Parties from November – March. Ample parking on site.
2625 Hwy 14 West Suite E, Rochester, MN // (507) 252-1848
Learn to Social Dance! Dancing is a creative and fun way to stay fit and healthy. At Dahl Dance, you will learn a new skill and make some great friends along the way. There are a variety of classes, private lessons, and even wedding couple options to choose from. Ample parking on site.
Julie's Cookie Creations specializes in custom decorated sugar cookies with royal icing. Take a Beginner Cookie Decorating Class and learn the secrets to professional cookie decorating. Also, receive Julie's personal recipes. The best part is you get to decorate six cookies to take home and enjoy. Message Julie's Cookie Creations on Facebook for upcoming class schedules.
125 Elton Hills Dr. NW, Rochester, MN // (507) 287-1404
125 LIVE is a state-of-the-art facility designed specifically to focus on the diverse needs of individuals 50+ in Rochester MN while also providing wonderful all-age community opportunities. Consider attending their Life Drawing class. Life Drawing is self-led and meets regularly on Tuesday evenings from 6 - 9 p.m. with a variety of models. Feel free to bring your own charcoals, watercolors or any other materials you like to work with. Non-member drop-in cost is $10.  Feel free to bring your own beer or wine.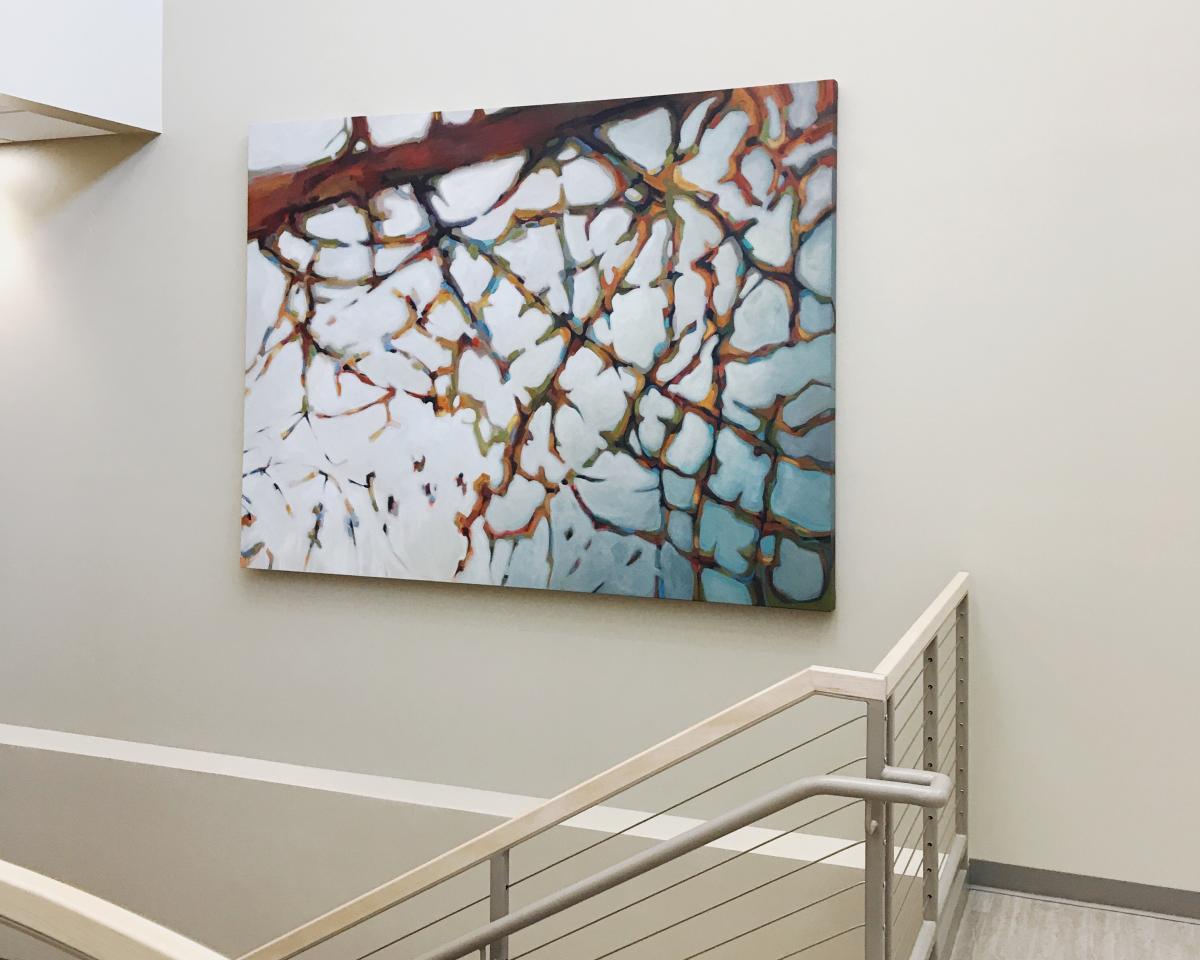 Create or view art at 125 LIVE | AB-PHOTOGRAPHY.US
Art enthusiasts should also check out 5 Places to See Public Art in Rochester, MN.