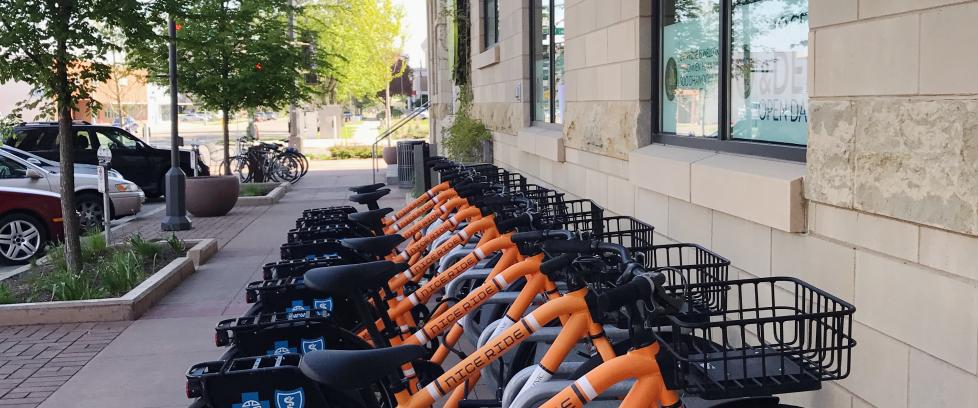 AB-PHOTOGRAPHY.US
Rochester, MN's public bike-sharing program kicked off on May 1 for the 2019 season. Now through late fall, community members can visit any of the public bike-sharing locations noted below and sign out a bike at no cost.
"The hope is that those living in or visiting Rochester will utilize the bikes to explore the over 100 miles of paved trails that our City has to offer," says Kevin Bright, energy and sustainability director for the City of Rochester and the Destination Medical Center Economic Development Agency (DMC EDA).
Bike-sharing locations include the Rochester Public Library, Peace Plaza (near the Experience Rochester Information Kiosk), and Rochester City Hall (through the Parks & Recreation Office). Each location has maps of the City's bike trails to help residents and visitors explore and navigate the area. Borrowers will be asked to complete a waiver and sign out the bike. Helmets are also available at each site; riders are strongly encouraged to use them. Duration of use depends on the location from which the bike is borrowed.
A new addition to this year's Bike Share Program is an electric cargo bike, also available for public use at no cost from the Rochester Public Library location. This electric-assist Rad Power Cargo bike has baskets and bags available for individuals who anticipate carrying cargo, such as grocery or shopping bags. Bright says adding the cargo bike offers one more healthy and sustainable transportation option to community members. "Plus it's a fun way to get people outdoors to see the city," he adds.
The Bike Share Program is offered as a collaboration of the City of Rochester, Rochester Public Library, DMC EDA, Experience Rochester, We Bike Rochester, People's Food Co-Op, Mayo Clinic, and Olmsted County.
For additional details on the bike share program, please visit: www.rochestermn.gov/departments/parks-and-recreation/activities-classes/bike-share
Media Contact: Sarah Oslund
Communications & Engagement Coordinator
Community Development Department
Direct: 507-328- 2952 | E-mail: soslund@rochestermn.gov