FAQs
What is Experience Accreditation?
Experience Accreditation is a certification process for transportation, hotels, restaurants, and retail businesses in the city of Rochester. The process allows Rochester to offer exceptional customer service citywide for Mayo Clinic patients and guests, as well as Rochester visitors. Accredited businesses make a commitment to high-quality standards and demonstrate a firm resolve to provide customers with excellent products and services and these added values and benefits:
+ Outstanding customer service and quality products.
+ An experience people can trust.
+ Provide services and menu options to meet the healthy living needs of a variety of people.
+ Have CPR and Certified Tourism Ambassador™ (CTA™) trained staff.
+ Commitment to continuous improvement of the customer experience through ongoing education and     certification.
How is this process related to the Destination Medical Center (DMC) initiative?
Experience Accreditation is part of the overall DMC plan to help Rochester, Minnesota stay competitive in the worldwide healthcare market and promote Rochester as a global medical destination. Experience Accreditation allows the city to create an exceptional world-class experience for Mayo Clinic patients and Rochester visitors.
Who is the accrediting body?
Experience Rochester is, ultimately, responsible for accreditation of all businesses. The Experience Accreditation Oversight Committee, comprised of local organization and business leaders is responsible for reviewing all applications, handling service issues, and monitoring compliance. Experience Rochester staff will serves as the administrator of Experience Accreditation by collecting and holding all accreditation data, managing the online and administrative tools, and sending application data to the committee for review.
Who is eligible for Experience Accreditation?
All businesses interested in Experience Accreditation must be located within the Rochester city limits. Eligible business types include: Transportation, Restaurants, Hotels, and Retail.
What does the Experience Accreditation process entail?
All businesses seeking Experience Accreditation must complete an online application by clicking here.
While specific requirements vary dependent upon the type of business applying for accreditation, they include:
+ Unannounced audits focusing on the overall customer experience.
+ Compliance with resolving service issues within a specified time period.
+ Being in good standing with the appropriate city and county agencies.
+ Have staff certified in CPR training.
+ Training employees as CTAs™ within a specified period of time.
+ Meeting other eligibility criteria specific to each business category.
How does Experience Accreditation impact me?
No doubt you already offer excellent hospitality to friends and family who come to visit. And that's good, because the Experience Accreditation initiative is citywide. So when you have out-of-town guests or you encounter patients, guests, and visitors to our city, be sure to refer them to our network of accredited businesses when they are looking for a place to eat, stay, shop, or obtain transportation. This assures them that they will receive the highest quality service while they are in Rochester.
How will Experience Accreditation affect the service I receive at my favorite place of business?
Experience Accreditation will not change what you love about your favorite restaurant, shop, hotel, or form of transportation, but it may mean an increase in quality and service.
What if my favorite place is not accredited? Does that mean it offers poor quality?
No. Choosing not to become accredited does not equal poor quality service. It simply means the business is choosing not to pursue the higher quality standards of Experience Accreditation.
Will Experience Accreditation mean I have to pay more for services at accredited businesses?
No. There is no charge to a business to apply for accreditation, so no charges are passed along to the consumer. Visiting an accredited business simply assures you that you are receiving the best possible service and products.
Will businesses be forced to close because they cannot or won't pursue Experience Accreditation?
The Rochester community has a place for everyone, including those who cannot or choose not to become accredited. While the goal is for every hotel, transportation, retail, and restaurant business in Rochester to achieve accreditation, that may not be the case. Regardless, Accreditation will make Rochester a stronger community with high quality standards and unmatched hospitality.
How will I know a business is accredited, and where can I get referral information?
To find accredited businesses:
+ View the list of accredited businesses here: Accredited Businesses
+ Look for this symbol near business listings: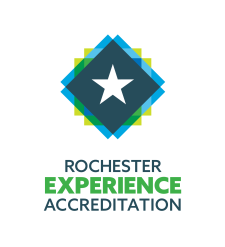 + Look for the Experience Accreditation decal and logos at Rochester businesses.
Accredited businesses can also be found at: 
Experience Rochester MN 
30 Civic Center Drive SE, Suite 200 Rochester, MN 55904
minnesotasrochester.com
507-288-4331