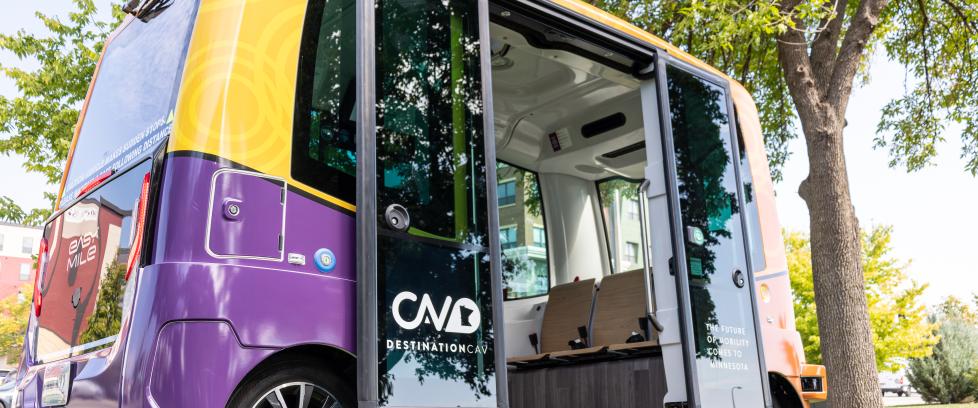 Experience Rochester
Self-Driving Shuttle Offering Free Rides Through Downtown Rochester
It's bright orange and purple, and hard to miss: The Med City Mover is making history as it makes its way through downtown Rochester.
The Med City Mover is the first automated, driverless shuttle to travel Minnesota's streets.
It's a yearlong pilot project spearheaded by the Minnesota Department of Transportation to test automated vehicle technology in all kinds of weather conditions. Through August 2022, the Med City Mover will offer free rides to Rochester residents and visitors along a preset route around the downtown area.  
"It is right that Rochester is the pilot for this project," said Rochester Mayor, Kim Norton. "We are a community known for innovation, we are a community known for collaboration, and it takes both of those in order for a project like this to work."

The shuttle travels at top speeds of 15 miles per hour and can hold up to six passengers at a time. An attendant is always on board to ensure safety.
The project is a partnership that involves MnDOT, the City of Rochester, Destination Medical Center, Mayo Clinic, First Transit, and EasyMile.
How to Take a Ride on the Med City Mover
Hop on the Med City Mover at one of two pick-up and drop-off locations: The Gonda Building at 3rd Avenue SW and Center Street or People's Food Co-op at 1st Avenue SW and 6th Street SW. There are two shuttles running at a time.
Planned hours of operation are Monday through Friday from 9 a.m. – 3:30 p.m. and Saturday and Sunday from 9 a.m. – 5 p.m. The Med City Mover will not operate on holidays.
Passengers are asked to wear a face mask while on board.
Share your experience online with the hashtag #MedCityMover.