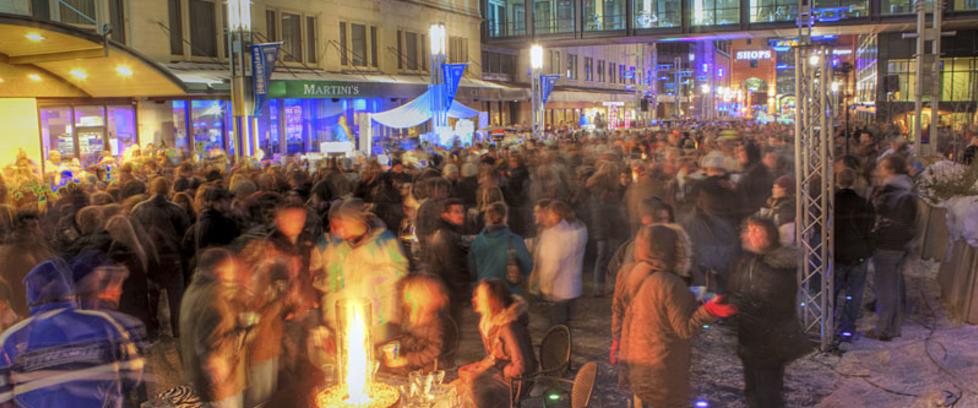 Just because it's cold doesn't mean there aren't plenty of fun things to do in Rochester, MN! SocialICE is the city's premier winter event held Feb. 8, 9, and 10 on the Peace Plaza. This is one ice-bar festival you will not want to miss!
"SocialICE Is a completely unique winter experience," says Meghann Southwick, Community & Events Manager with the Rochester Downtown Alliance, which organizes the event. "It is designed to allow attendees to get out and enjoy the winter months, not only with SocialICE but with all that Rochester has to offer."
Learn the essentials of when to go and where to park, check out our SocialICE starter pack for first-timers, and review these 10 tips to making the most of this wondrous outing:
1. Wear your warmest mittens because you'll be cozying up to nine themed ice bars this year, with each featuring a signature drink. Some will have food, which is a new addition this year. Also get around to the downtown bars to discover what they're featuring during SocialICE.
2. Life-sized ice sculptures again will be included in SocialICE. Be sure to hit the 'wall of ice' across from the DJ booth for a memorable photo opp. Ice carving will begin Sunday, Feb. 4, so stop downtown to catch all the carving action!
3. Be prepared for droves of people. This is 'the' place to hang out! In its debut year of 2009 roughly 250 people attended SocialICE but it has grown every year, and last year about 40,000 people attended over the course of the three nights SocialICE was held.
4. A new installment will be coming to Peace Plaza this year as a part of SocialICE, but Southwick is keeping the description of it close to the vest until a later social media reveal. Follow the event on Facebook, Instagram, or Twitter to find out what, when and where it is.
5. Forget about the cold! "It's part of the fun," Southwick says. "The experience really takes over and you forget about the cold when you're with your friends enjoying a warm signature drink, dancing to the live DJ music, and taking in all of the different aspects of the event."
6. However, since the temps are never guaranteed, SocialICE works with ice sculptors to use dry ice for their artworks to avoid the odds of them melting on warmer weather days. Though SocialICE is geared for attendees who are 21 years or older, kids do enjoy seeing the sculptures, so bring the family on down by day or in the early evening to see the creations.
7. Grab a brochure at the Info Kiosk to plan your attack -- which 'can't-miss' ice bar do you want to be sure to hit, or which 'must-try signature drink' must you consume? It's all detailed in the brochure, so make that your first stop upon arriving on the Peace Plaza.
8. OK, you're maybe a tad bit cold? No worries. Visit a fire pit near the event entrance and get warmed up before returning to your tour of the nine outdoor ice bars and various downtown bars.
9. Be part of the fun and vote for your favorite bar to win the SocialICE Bar Champions Cup!
10. All those photos you're snapping? Tag using #SocialICE to be entered into a drawing to win a $50 gift card -- there are six chances to win.
There will be a heated restroom trailer on First Avenue near the fire pits.
Wear your warmest winter weather gear, including hats, mittens, scarves and parkas.
You'll find convenient parking at downtown ramps, which are free after 5 p.m., and you can easily walk to/from the event via the skyway system.
2018 hours of SocialICE are Thursday, Feb. 8, from 4 to 9 p.m. and Friday and Saturday, Feb. 9-10 from 5 to 10 p.m.
You can hit nearby ATMs for cash, as cash is encouraged for payment of those signature drinks everyone will be raving about.
Discover more Winter Fun in Rochester, MN!