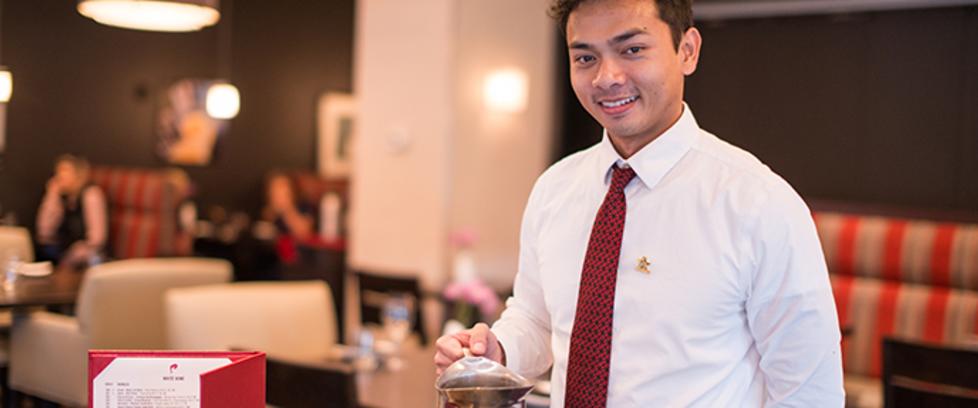 Em En Design
Nine out of ten visitors would recommend Rochester, MN as a destination, according to visitor surveys, and one major reason is the friendly, accommodating customer service that's prevalent throughout the city. Here's how two restaurants that have been recognized as a "cut above" cook up a winning combination of memorable fare and stellar customer service.
Twigs Tavern & Grille: Going Above and Beyond to Cater to Customers
Twigs Tavern & Grille, located in the Centerstone Plaza Hotel at Soldiers Field near downtown Rochester, features an inviting ambiance, caring staff, and a unique menu that appeals equally to diners with and without dietary restrictions.
Twigs is proud of its entirely gluten-free kitchen, kept separate from the restaurant's regular kitchen. Owners Myron and Michelle Salz divided the kitchen after Michelle was diagnosed in 2010 with celiac disease. Before her, Myron's sister was diagnosed. So the family knows celiac, and decided to create a gluten-free kitchen at Twigs.
"After I processed my diagnosis -- and pouted and panicked for a couple of days -- I realized that this did not have to end my involvement with the menu at Twigs," Michelle Salz says. "With the help of our managers, we came to the realization that we had the space in our kitchen to create a separate, gluten-free kitchen. The front kitchen stayed the same and our second kitchen is gluten free…Having the second kitchen also allows us to accommodate other special diets easily with no worries of cross contamination."
Lucky for diners, because now the owners are able to cater to people with all sorts of food issues and allergies. And you won't sacrifice taste here. "Our gluten-free items are equally delicious as the dishes that contain gluten," the couple reports. "Even if we have only one gluten-free guest at a big table with gluten-tolerant guests, many times the entire table orders gluten-free so they can share all of the dishes they ordered."
Gluten-free guests love the expansive Twigs menu because they finally get to eat "normally," say the owners. Rather than feeling deprived by a meager menu, instead they have a full range of regular dinner choices with an array of options and sides.
Did we say regular? Oops. The Twigs menu offers fare that's far from the norm, with a menu inspired from many cultures, family recipes and traditional American cuisine. At Twigs the goal is socializing and interacting with fellow diners, thus the entire menu is designed for sampling and sharing. And for the last six years, when a menu item is added, it's offered as a gluten-free dish as well.
Twigs caters to both locals and out-of-town visitors staying at the property's hotel. Many of their guests are repeat visitors who can't get enough of Twigs.
All of the full-time Twigs staff are Certified Tourism Ambassadors and can thereby offer guests an array of suggestions about the local area -- what to do, see and where to go. "They truly appreciate the knowledge that our staff have when inquiring about the area," the Salzes say.
The warm, welcoming, inviting atmosphere at Twigs doesn't hurt, either. It offers nature-themed decor with rich mahogany wood, cinnamon-red walls, a bar glowing in amber twigs and a cozy fireplace. Upon entering the patio, guests are welcomed by a meandering stream beneath a glowing magnolia tree. Twigs' fire tables are nestled in a little oasis where visitors can hear the serene sounds of rippling water echoing in the background.
Pescara: "We know guests as friends"  
At the upscale Pescara located in the DoubleTree by Hilton – Mayo Clinic Area, six Certified Tourism Ambassadors are on staff, and direct guests to destinations all over the city at their request. "Our culture is to make sure the entire experience is exceptional," says a member of Pescara's management crew, Heather McCullough.
"It's about treating people as if they're in your home," echoes Pescara's General Manager, Luke Johnson. "We are prepared to handle every request (for food). We get special requests every day and almost never say no."
Sixty percent of the diners at Pescara are from out of town, and these visitors are treated with care. "We have a strong obligation to them," McCullough says.
Johnson says the restaurant has scores of repeat guests -- "people who have now become friends because we see them several times a year. We know them as friends. A lot of them will dine here five days a week," Johnson says.
With so much repeat traffic, Pescara aims to keep the menu fresh by changing it seasonally. The restaurant's name—derived from the city of Pescara, Italy—translates to "abounding with fish," and it proudly serves "fish so fresh that they were still swimming yesterday." Delicious steaks, pastas, and vegetarian options round out the menu.
New summer items are just in, and divine. A remodel is coming soon too for the restaurant, and will feature beachy-themed decor with welcoming, neutral colors that make the food pop.
Although best known for its elegant evening dining, Pescara also serves breakfast and lunch, and is a hot spot for breakfast with the family, brunch with friends, or a corporate luncheon.
Both Pescara and Twigs have been recognized as leaders in providing exceptional service and products. Dine at these two eateries, or discover Rochester's many memorable restaurants, during your visit!