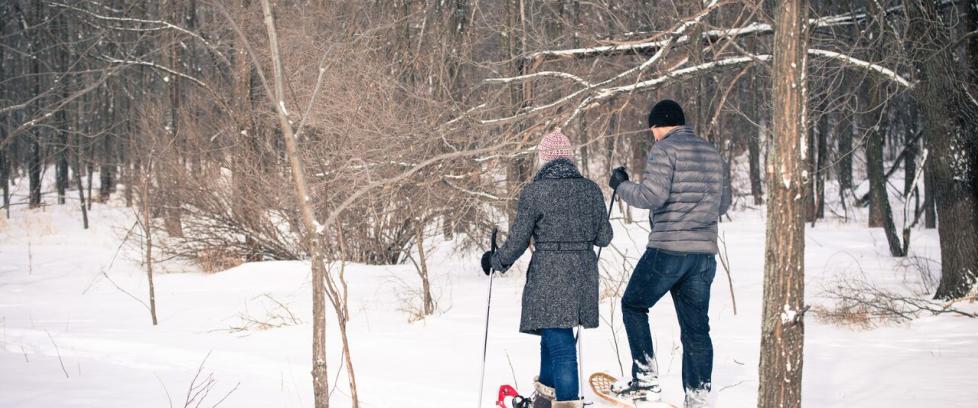 When winter arrives in Minnesota, it's time to bundle up and think like a Minnesotan. Embrace the beauty and diversity of the snow during this magical time of year.
Try some outdoor activities at one of the best spots in Rochester, MN for some good old-fashioned winter fun: Quarry Hill Nature Center. 
Designated as a "Park and Trail of Regional Significance" by the Greater Minnesota Parks and Trails Commission, Quarry Hill boasts miles of trails, a limestone fossil quarry, sandstone caves, and a nature center that offers an abundance of activities and services. Located just minutes away from downtown Rochester, this 329-acre park is your antidote to winter boredom -- one of many cold-weather fun things to do in Rochester, MN.
Ski and Snowshoe
During the winter months, Quarry Hill offers many of the same activities—including hiking and bird watching—that attract so many outdoors-lovers over the summer. In addition, more than eight miles of groomed cross-country ski and snowshoe trails open up once the snow falls. And according to Lori Forstie, public relations and outreach coordinator, you don't have to be an advanced skier to enjoy the trails; there are options for every skill level.
Bring your own equipment or rent adult and child sized skis from Quarry Hill. Staff will even help you suit up! You can keep an eye on the trail conditions by visiting the Rochester Nordic Ski Trails Facebook page.
For an enchanted ski or snowshoe experience, watch for special candlelight events at www. qhnc.org/calendar.
Explore Nature
Quarry Hill offers other great ways to move in nature. "A quick hike up the oak savanna trail affords great views of Rochester," said Forstie. Scout out animal tracks and listen for bird sounds along your trek.
Tag along on the free guided bird walk offered by the Zumbro Valley Audubon Society on the fourth Tuesday of every month (except June, July and December). Check out a pair of binoculars from the front desk to get an up-close look at the birds during your walk. (Visit www.zumbrovalleyaudubon.org/programs for more information.)
There's plenty of room, too, for the simple pleasure of building a snowman or making a snow angel.
Warm up with some indoor time at the Nature Center Exploration Hall, which features live native Minnesota animals and a bird observation area. "There's nothing more beautiful than seeing a bright red cardinal against a snow-white background," Forstie said.
And for a fun, interactive learning experience, check out the naturalist-led programs held every Sunday afternoon. Registration is recommended for these popular programs. From cave tours and historic hikes to "Critter 101," programs vary every week, so there's always something new to discover.
While equipment rentals, special events, and classes cost extra, entrance to the park and nature center are free, making it a cinch to spend an entire day at Quarry Hill with your family and friends. But no matter your plans, be sure to dress for the weather so you can enjoy the great outdoors.
Quarry Hill Nature Center www.qhnc.org • 701 Silver Creek Rd NE • 507-328-3950
Learn about other great places for winter fun with our Five Hot Ways to Spend a Cool Day article.