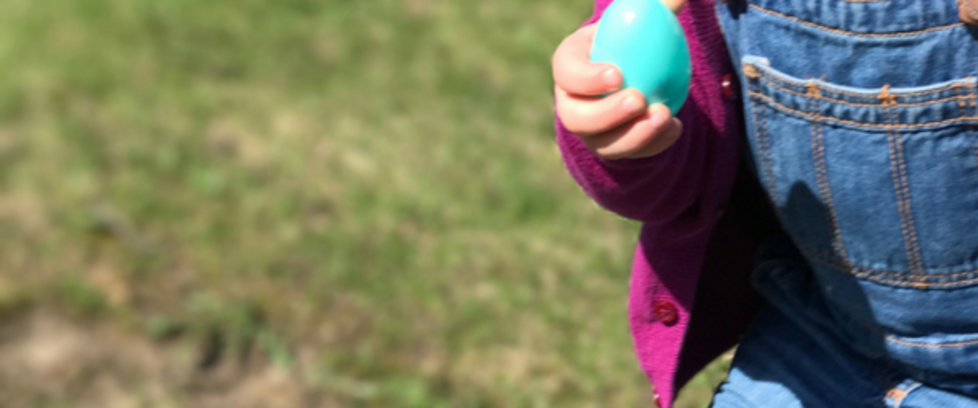 Rochester MN Moms Blog
Rochester, MN is an eggs-ellent place to be during the Easter season, with Egg Hunts, Easter Bunny photo opportunities, and other fun events occurring around town! There are indoor egg hunts for kids in area churches and stores, and outdoor egg hunts (rain or shine) in parks, on a farm, or on a trolley tour. While most of these events are geared toward kids and many of them are free, adults can "hoppily" partake in their own Adult Easter Egg Hunt at Salem Glen Winery. Get your baskets ready and check out 13 local Easter Egg Hunts and 5 other fun Easter events between now and Easter Day.
Saturday, March 24, 2018
Easter Bunny and Egg Hunt | Hy-Vee West Circle Drive
Easter Bunny and Egg Hunt at your West Circle Hy-Vee! The Easter Bunny will hide 4,000 eggs throughout the store for kids to find starting at 9 a.m. While you're here, take your picture with the Easter Bunny who will be here from 9 a.m. to 12 p.m.
Easter Egg hunt will begin at 9 a.m. Children should meet in the casual dining area next to the Market Grille. Children will be grouped by age: 5 and under, 6 to 8 and 9 to 12. Children 5 and under will be the first group to hunt for eggs starting at 9am. The next two groups will be released to hunt for eggs incrementally so all kids have a chance to fill their baskets. You are welcome to bring your own basket or use a Hy-Vee plastic bag. If you would like to participate in the egg hunt, please arrive promptly at 9 a.m. Eggs will only be available while supplies last.
Hy-Vee,4221 W Circle Drive NW, Rochester, Minnesota 55901; 9 a.m. – 12 p.m.; FREE
Easter Egg Hunt | Evangel United Methodist Church
You are invited to Evangel Easter Egg Hunt! Several NEW offerings this year! Evangel Church will once again be inviting all children grades 3 and younger and their families to our annual Easter Egg Hunt being held this year on March 24 from 9:30—11 a.m. This year we will offer these options: 
Decorations throughout the Evangel building
Receptionist- Gift bags for every child
Egg Hunts at THREE different times throughout the morning
Ages 3 yrs and younger – 9:45 a.m. 
Ages 4-6 – 10:45 a.m. 
Ages 7-10 – 10:15 a.m.
Games throughout the gym
Cookie Shop
Storytelling
Puppets (NEW THIS YEAR)
Children's choir singing (NEW THIS YEAR)
Crafts
Coloring and Tattoos
Petting Zoo – EXPANDED THIS YEAR baby lambs, baby goats.
Evangel United Methodist Church, 2645 N Broadway, Rochester, Minnesota 55906; 9:30-11 a.m.; FREE
Friday, March 30, 2018
Kids Klub Easter Egg Scavenger Hunt | SCHEELS
Join SCHEELS for an Easter Egg Hunt inside the store.  Once the doors open, the hunt is on.  Go around the store to different stations, play games, and collect eggs.
1220 12th St SW, Rochester MN 55902; 4-6 p.m.; FREE
Saturday, March 31, 2018
Trolley Tour to the Red Barn Learning Farm Egg Hunt | Rochester Trolley and Tour Company
The EASTER BUNNY will be riding the trolleys with the kids out to the farm!!!
The trolley boards at ABC Toy Zone at Miracle Mile, 115 16th Ave NW, Rochester, 55901; 9:30 a.m.-12:45 p.m.; $16 per seat. Ticket includes admission to the farm.
Salem Glen Winery Adult Easter Egg Hunt 
Remember the days of searching for eggs that were just waiting for you to find them? Salem Glen Winery is giving you the chance to relive the excitement and enjoy a glass of wine at the same time! We'll have bunches of eggs filled with prizes and vouchers for Salem Glen gift shop items. Eggs will be scattered all over the winery grounds with ONE golden egg and ONE silver egg that can be redeemed for a basket filled with prizes and gifts!
An $18 entry fee includes a glass of wine (served after the hunt). So bring your friends and baskets. Rain or shine, mud or dry, the hunt will go on. *21 and over only. It might be muddy so bring an extra pair of shoes or boots. RSVP required. Reservations can be made by calling the winery at 507-365-8758 or sending an email to info@salemglenvineyard.comwith the number of people and contact information.
Salem Glen Winery, 5211 60th Ave SW, Rochester, Minnesota 55902; 12-1 p.m.; $18
Get the full list of 13 Easter Egg Hunts and 5 Additional Eggs-ellent Events at Rochester MN Moms Blog. Plan your visit to the Easter Bunny at Apache Mall.