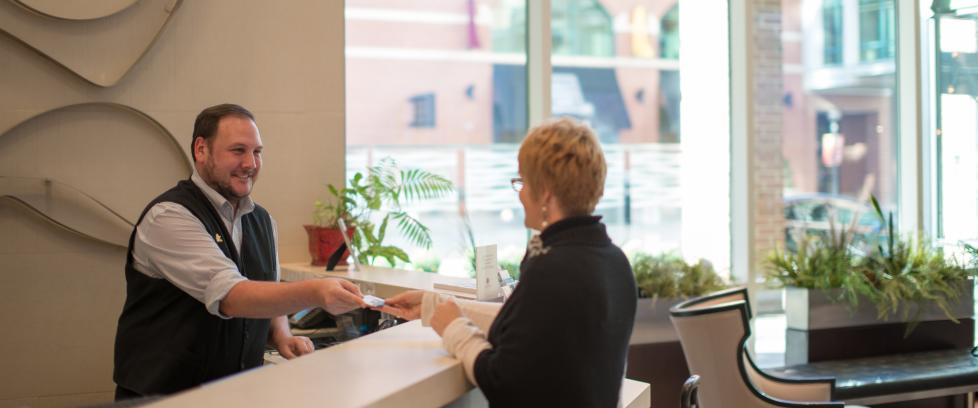 DoubleTree by Hilton | Em En Design
Hotels in Rochester, Minnesota—the "#1 Happiest Mid-Sized City in America"—are on a mission to share the community's happiness with visitors.
Warm, welcoming, and experienced, Rochester's hotel staffs remember birthdays, customize recommendations for things to do and places to go, and make sure alarms are properly set.
Meet a few of Rochester's "hotel dream teams" that go the extra mile to make guests smile.
DoubleTree by Hilton: "Treat regular people like they're famous"
Bellman Steve Winter has been with the DoubleTree by Hilton in downtown Rochester for 28 years, since deciding his chosen college track of aircraft mechanic wasn't the right path for him. Winter's made a name for himself -- not only does he know the names of repeat guests, they remember his name, too.
Winter's motto is to "treat regular people like they're famous" and famous people like they're regular people, which they love, he remarks.
Winter is so passionate about his job, he created a 21-step check-in plan for his fellow bellmen to follow in welcoming guests. They make sure incoming guests are informed about where to eat and shop, how to set their alarm clocks to make sure they aren't late for their business meetings or Mayo Clinic appointments, and how to find the pool, spa and business center. Together, the team of bellmen have accrued 80 years of experience at the DoubleTree.
Winter enjoys the variety of his work and, most importantly, the people. Whether they're the famous individuals he's met such as Mayo Civic Center entertainers Kenny Rogers, Bob Hope, Red Skelton, or retired athlete Walter Payton, or regular folks just coming through town for whatever reason, Winter gets to know them by name and "spoils em."
"Every day is different," Winter says. "I truly enjoy it. I meet so many neat people--VIP people, and they're just like me and you. They're all so neat, and polite, and we spoil them. They keep coming back. And people coming for Mayo Clinic, if I can make them smile, I think I've done my job."
The DoubleTree's complimentary sedan service is a favorite among all regulars, with Winter or other bellmen running guests to their nearby appointments as requested. Winter says he reviews a guest's Mayo itinerary, figures out which clinic building, door and elevator to drop them at and advises them about the best walking routes to take once they're inside. At day's end Winter or a member of his bellmen gang picks them up.
Winter is such a go-to guy that he served on the Destination Medical Center planning committee, and is a knowledgeable resource for visitors who want to know what to do in Rochester. Whether they're looking for recommendations on where to eat, recreate, or shop, Winter steers them in the right direction. "I tell people, 'Minnesota is one place where you can buy your clothes without tax," he says, and guests generally appreciate the tip. 
Guests not only appreciate Winter's efforts, but also those of everyone, literally, in the city. "I hear this comment all the time -- 'Everywhere I go, everyone is so friendly.' It's clean too, that's another comment people make. And people feel safe here," Winter says.
DoubleTree regular Bruce MacArthur of Chicago confirms. "I love Rochester," the 69-year-old businessman says. MacArthur says he accidentally found the Doubletree 18 years ago and considers it "the greatest hotel in the world. I call it 'the Mayo Clinic of hospitality.'" MacArthur notes that "the way people treat you in Rochester" is special. "You don't get that 'Minnesota Nice' nickname for nothing," he says.
Aspen Suites & Aspen Select: "They'll drop anything to help"
Other hotels renowned for their caring and experienced staffs are sister establishments Aspen Suites and Aspen Select on Second Street. Both offer exemplary service and easy access to nearby Mayo Clinic's Saint Marys Hospital.
"The hotel is just super," says Aspen Suites long-term guest Marilyn Taylor of Arkansas. "Everybody there is just so sweet and helpful. Everybody's always asking if I need help, if I need anything. I would recommend it to anyone."
Next door at the Aspen Select, Robert Voss of Missouri is also a satisfied customer. "They're about exactly what you want in a hotel," Voss says. "They really help you a lot and whenever you've got a problem, they work it out. They're immensely friendly. It's just great."
Housekeeper Howard Fields has netted eight years at Aspen Select, and considers the fifth and sixth floors his own. "We have guests who request Howard's floors, so that's flattering," he says. "They appreciate the cleanliness. I've got a passion for cleaning so it's cool to do this. I've never missed a day and never been late, so that should count for something!"
Missy Page, assistant general manager for both properties, has been with the Aspen hotels for seven years. She says she enjoys working with a fantastic staff, but that the biggest reward of the job is interacting with guests.
Guests "love the smallest things you do for them," Page says. "The gratitude is amazing."
Aspen staff members have given guests birthday presents, left trinkets as surprises in their rooms and delivered snacks to hungry Mayo patients. "I hear quite a bit about how pleasant our staff is," Page says. "How they'll do anything for a guest. They'll drop anything to help. It's why people come back."
Page has gone to movies with guests and out for meals. She's quick to use terms of endearment, too, such as honey, sweetie and dear. "I always welcome them home," she says. "If they've been with us several times I even give hugs. Some are here for 100 plus days. I've made a lot of great friends here. They become family when they stay for so long."
Ready to spend some time in the "#1 Happiest Mid-Sized City in America"? Plan your visit to Rochester today!