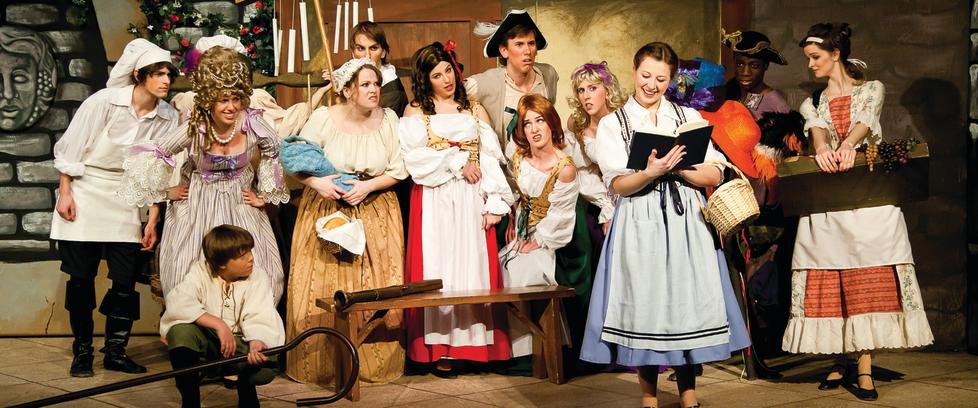 Rochester Civic Theatre Company
Punch your ticket to high-quality entertainment in Rochester, MN with a live theater performance. Several local theaters produce uplifting musicals, dramatic classics, cutting-edge experimental performances, and much more. Catch a show--and don't forget the standing ovation!--at one of these theaters.
The Rochester Civic Theatre Company
20 Civic Center Drive SE, Rochester Minnesota, 55904 // (507) 282-8481
With five major performances for 2018/2019, the Rochester Civic Theatre Company's products are enjoyed by up 45,000 annual audience members. Since its inception in 1951, the Civic Theater has matured into an award-winning, multidisciplinary theater and performing arts resource in community theater, live music, and dance. Rochester Civic Theatre Company performances feature local, national, and international artists. Recent crowd-pleasing productions have included Annie, Shrek, Barefoot in the Park, and more. Additionally, the Theatre's education department provides classes, advanced training, summer camps for kids and performance opportunities for actors of all ages.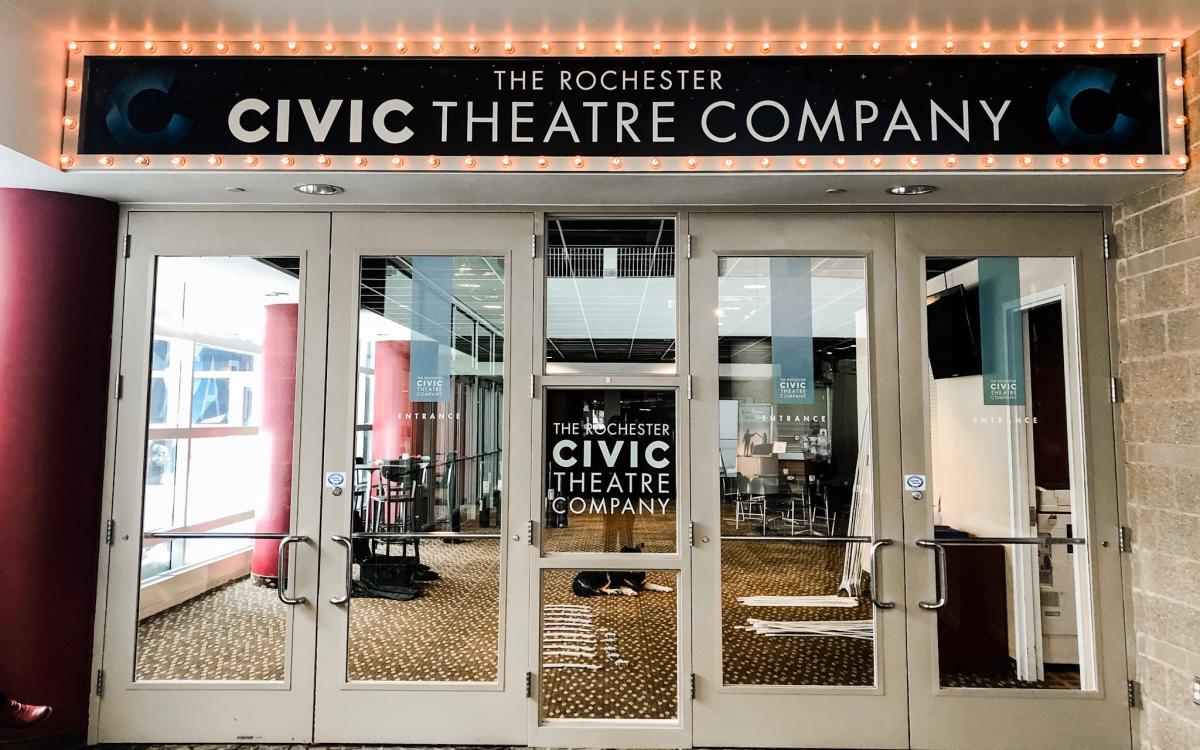 Rochester Civic Theatre Company | Becky Montpetit
Rochester Repertory Theatre Company
103 Seventh Street NE, Rochester Minnesota, 55906 // (507) 289-1737
"The Rep" as it is widely known, has a rich community history. Rochester Repertory Theatre was founded in 1984 as a 90-seat, "black box" venue. The intention was to establish a Rochester-based professional theater company utilizing a corps of professional theater artists augmented by volunteers.  The Rep's current home on Seventh Street in Rochester is a stand-alone facility incorporating a 100-seat performance space, public areas, technical and workshop space, dressing rooms, rehearsal space, administrative facilities and property, and costume storage.  All public and performance areas are on one level providing ease of access from the sidewalk through to patron seating. A far cry from their start with a three-show pre-season that played to 10-15 people each performance, The Rep now has its own permanent home with a 100 seat theater that centers around a thrust stage.  Six shows were produced during the Rep's 36th season: Eurydice, Godspell, Avenue Q, Every Christmas Story Ever Told, 3 Hots and a Cot, and Don't Talk to the Actors.
1108 Sixth Ave NW, Rochester MN,  55901 // (507) 722-7231
More the people than the place, the team at Absolute Theatre describe themselves as a "fiercely passionate ensemble" whose focus is on perfecting their craft and challenging and inspiring their audiences.  During their first season in 2016, productions were held in the United Methodist Church downtown Rochester.  Absolute Theater is now performing at the Rochester Civic Theatre. The 2018/19 Season is the group's third, which they hope will bring new exciting challenges with two musicals, Radio Gals and Blood Brothers, and an area premiere of A Doll's House, Part 2. 
(507) 216-6431
Words Players celebrates the essential role of stories in our lives by providing opportunities in the theatrical, literary, and musical arts with hands-on participation in and conversation about those stories. The theatre was created in the spring of 2004 by Daved and Donna Driscoll and their children. Students help direct, create sets and costumes, and promote the productions. Words Players puts on a multitude of plays (including originals), musicals, dramas, community performances, classes, camps, workshops, and more. Words Players perform pop-up performances throughout the year and are more active during the summer months at area festivals and events.  
96 East Fourth Street, Zumbrota MN, 55992 // (507) 732-5210
Less than a 30-minute from Rochester is Zumbrota, MN, home of the State Theatre. In conjunction with the Zumbrota Area Arts Council, the State Theatre works to share the area's artistic wealth, believing a vibrant arts organization is critical to a community's health and energy.  ZAAC purchased the State Theatre,  a historic opera house that gives the community a venue to further the mission of sharing the arts with everyone. To renovate, restore, and upgrade the facility, the Friends of the Theatre was formed to support upgrades at the State Theatre for many years to come.
5 Fifth St. West, Mantorville MN, 55955 // (507) 635-5420
In 1972, a group of citizens formed a corporation to provide theatre in the local Opera House. The Corporation was and is still named Mantorville Theatre Company. This served to further enhance the turn-of-the-19th-century nature of the City of Mantorville, just over 20 miles west of Rochester. The group targeted the melodramatic format because it was the popular style of theatre around the end of the 19th century. As the year 2000 approached, the City of Mantorville sold the Opera House to the Mantorville Restoration Association, who asked the Mantorville Theatre Company about expanding the summer melodrama schedule to something that would make use of the property year- round. The MTC now produces a wide variety of theatrical genres from October – April, while continuing their traditional melodramas in the summer.
Goonie's Comedy Club
2723 Commerce Drive NW, Rochester MN, 55901 
Goonie's Comedy Club is located inside Crooked Pint restaurant in NW Rochester.  Comedy shows are performed by touring comedians on the weekends.  If you're ready to test your comedy chops, consider attending open mic night on Thursdays at 7:30 PM.  Admission is free for open mic night! Reservations are recommended and drinks and select appetizers are available all night. You must be 18 years of age or older to attend.  However, guests 17 years of age may attend with a parent. 
101 1st Avenue SW, Rochester MN, 55902 
The Children's Dance Theatre is a non-profit organization whose mission is to promote the artistry and enjoyment of dance for children through quality dance productions and dance experiences.  Children's Dance Theatre is celebrating its 32nd year as a theatrical dance production company.  The theatre was founded in 1987 with the express purpose of creating quality theatrical dance performances, and throughout the past 32 years has proudly fulfilled that mission. Children's Dance Theatre dancers come from a wide variety of dance training and experiences and are chosen for each production through auditions open to dancers ages 5 years old through college age, currently enrolled in a weekly dance class(es). Performances are held throughout the year and are generally performed at the Rochester Civic Theatre or Mayo Civic Center.  
(507) 722-1036
Rochester Dance Company (RDC) is a non-profit ballet company featuring dancers ages 6 years old through 12th grade. RDC dancers study ballet at many different studios in the greater Rochester area and come to RDC for additional training and professional quality performance opportunities. Their productions feature professional guest artists from around the country who teach and inspire the dancers of RDC. From their annual production of The Nutcracker to the variety of spring performances such as Cinderella, Coppelia, and Sleeping Beauty, Rochester Dance Company is known for its artistry and enchants audience members young and old.
(507) 206-1559
Founded in 2016, Immersion Youth Repertory is a non-profit theatre company providing students professional-level theatrical training. Uniquely, Immersion Youth Repertory not only allows students to learn acting and singing from professional performers and educators but also gives them hands-on experience with the technical aspects of producing a show: set design, costume design, prop design, and construction. Immersion Youth Repertory empowers young artists to develop enthusiasm, confidence, self-esteem, and communication through community and perseverance. Summer Camp offerings include: Shakespeare camp, a Shakespeare festival, and two musical theatre camps including Honk and Les Miserables (partnering with SEMYO).
Once & Future Classics is a nonprofit theatre committed to exploring classic stories and themes and bringing them to life on stage. The theatre produces theatrical works with timeless themes to promote a greater understanding of humanity and culture. Performances are held at Peace United Church of Christ.  Please check their website for upcoming performances and events. 
Rochester Community & Technical College Theater
851 30th Avenue SE, Rochester MN, 55904 // (507) 285-7569
Rochester Community & Technical College (RCTC) offers main stage productions in the Charles E. Hill Theatre which give students an opportunity to be involved in all aspects of productions. Auditions are open to all students. The RCTC Theatre Program has a longstanding tradition for providing high quality education to young and inexperienced actors. The Theatre produces three main stage plays every year. In the fall they produce a children's play that is seen by three to four thousand students from Rochester Public Schools a year. In the spring the theatre produces one larger comedy or drama and one experimental play often in conjunction with the Rochester Reads program.
Rochester MN High Schools
In addition to the many private and non-profit theater arts organizations in Rochester MN, many of the city high schools also have vibrant and varied theater arts programs.  The productions performed by the high schools are produced by students in conjunction with staff and faculty: from sets and staging, to acting and even co-directing, the talented students present many theater productions throughout their school year.  For more information on each of the theater arts programs, please visit the following sites:
And Introducing......Gray Duck Theater (coming soon!)
619 6th Avenue NW, Rochester MN, 55901 
Gray Duck Theater, a micro-cinema that will also serve occasionally as a live music and comedy venue, is a brand new addition to the Rochester, MN arts and theater scene.  Tucked into the Cooke Park Design District, this unique establishment promises a unique movie-going experience.  Gray Duck Theater is an independent, locally-owned movie theater committed to bringing a truly local and communal cinema experience to Rochester. They screen indie, foreign, documentary, and classic film in addition to hosting a variety of film events such as Q&As with filmmakers, after-film discussions, movie trivia nights, marathons screenings, non-profit spotlights, and so much more.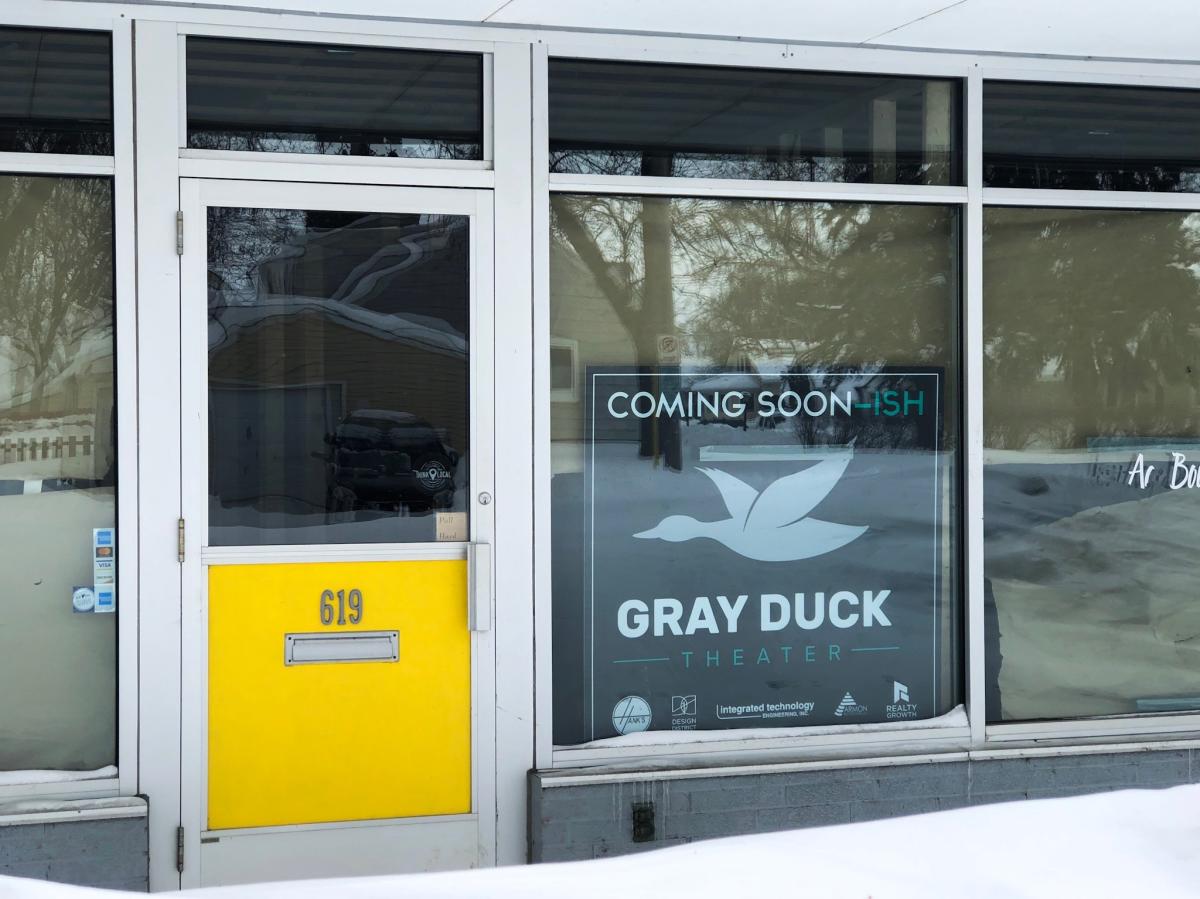 Gray Duck Theater | Becky Montpetit
Check out more opportunities for Arts & Culture in Rochester, MN, and visit our Events Calendar to find out what's happening during your visit.