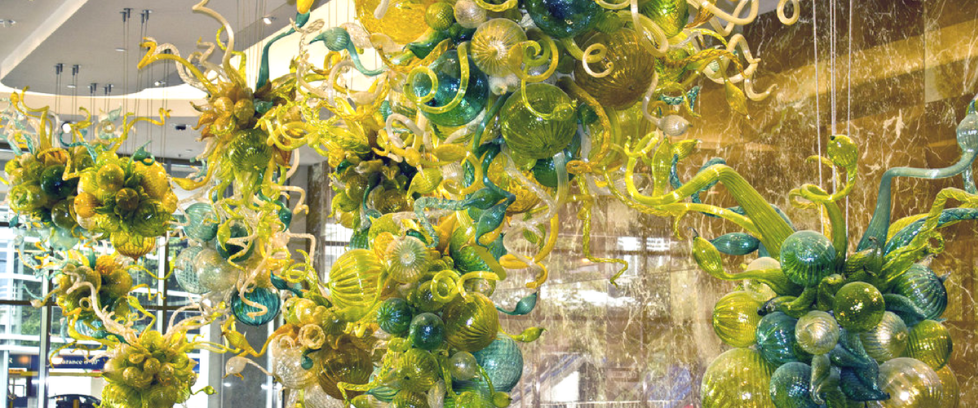 Becky Montpetit
Art abounds in Rochester MN, and visitors are 'wowed' by the variety and creativity of the public art works they can see around the city! With a longstanding commitment to enriching the experience of all who visit by proudly displaying public art, Rochester showcases the creative and inspiring artistic works of everyone from world-famous artists to those just starting out. There is an art gallery in Rochester MN, and here are just a few of the many other places you can enjoy Rochester MN art.
1. Mayo Clinic Campus
Rochester has a rich history, a vibrant arts scene, and many artistic treasures to share. The medical facilities and downtown Mayo Clinic campus contain several opportunities to observe and appreciate world-class art, whether Dale Chihuly glass in the Gonda Lobby (pictured above), a Paul Granlund sculpture in Annenberg Plaza, or in any number of courtyards or pocket parks. 
2. Rochester Art Center and Mayo Civic Center
The Rochester Art Center "offers the opportunity for all people to understand and value the arts through innovative experiences with contemporary art." Right next door to the Art Center are several wonderful additions to the Rochester art scene at the newly renovated Mayo Civic Center.  In late 2017, the Mayo Civic Center saw a yet-to-be-named brand new tapered arch shaped sculpture installed at the front of the building right at 2nd Street SW and 3rd Avenue SE. Interactive components will be added to the installation this spring, adding sound and light to the sculpture. After you're done admiring the new stainless steel sculpture, walk around to the back of the building to Mayo Park and see the statue of the Mayo brothers.  
Tapered Arch-Shape Structure // photo: AJ Montpetit
Discover 3 more Places to See Public Art in Rochester, MN on the Rochester MN Moms Blog...